WICKED Live In Clifton, NJ


By Rebecca Blaze, NYC Contributor
Tuesday, November 1, 2016 @ 11:15 AM


| | | |
| --- | --- | --- |
| | | At Dingbatz |
Allow me to set the scene: It was a little after 9pm, on a cool Saturday in mid-October. Dingbatz was dark, dingy, and covered in a fine layer of grime… but it didn't matter. The second the sexy, half naked, white-leather-clad boys in WICKED took the stage, the night got significantly brighter.

Chad Michael, Danny Döll, Scotty V, and Gunnar Coston, better known as WICKED, make up this larger-than-life glam rock group. You thought hard, glam, rock and roll had died? You were wrong. Everything from their long, flowing, platinum blond locks to the platform heels on their boots drips with pure, unadulterated, sexy old school rock and roll.

Beginning the night with "American Rock n Roller", the guys immediately caught everyone's attention with the heavy opening and their ownership of the stage. Being a huge KISS fan myself, a lot of the stage presence seemed to have a very KISS-like feel to it, such as Danny stalking the stage in ways quite reminiscent of Gene Simmons. During "In the Heat", I couldn't help but be distracted by their hair and by Chad's custom made WICKED guitar. The way both the guitar and everyone's hair—even Danny's sky high locks-seemed to shine in the stage lights was completely captivating and entrancing. It was a great song, even if somewhat overshadowed by the over the top, yet amazing look the boys have. There was an awkward and abrupt stop toward the end of the song, but overall it was extremely good.

Chad has a phenomenal voce that totally fits with the style they are going for. It was a small stage, but the boys completely owned it with their antics. At the beginning of "Seal It With A Kiss", Chad belted out "New Jersey! I'm gonna seal you with a kiss!" and continued to win everyone over with hip gyrations only comparable to that of a sexual deviant. I'm so glad that there are still bands out there that can pull off the 70s and 80s vibe and pull it off well, as opposed to failing miserably like some do. During "Sinner" I noticed Scotty V was kind of hanging out off in the shadows, not really showing off too much… and he really should have! He's a phenomenal guitar player and the solo he had in this song was absolutely orgasmic. There was a seamless segue into "Luv" and it was here that I was sold on the fact that a lot of Danny's stage presence was quite reminiscent of Gene Simmons… but it worked out well for him! Chad was back at it again with the entrancing hip gyrations during "Don't Fear The Night", which was one of the more catchy songs of the entire set list. Scotty stepped back into the spotlight for another to-die-for guitar solo, and I have to say, when he comes out of the shadows, he truly does shine.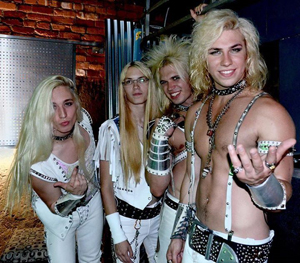 The one thing that got to me was that at three quarters of the way through the set, they still hadn't introduced themselves. Now, maybe this is a nuance of mine, but if I had just stumbled into this show with no prior knowledge of these guys, I'd kind of want to know who they are. Aside from that, the only other issue I had was that Chad's vocals needed to be a bit louder. After discussing with the band afterwards though, it was brought to my attention that someone who lives in the house right behind the venue was complaining about how loud it was, so they had to lower the volume just a little bit. It was unfortunate that at times he was drowned out by Danny and Scotty, but even so, their message came across loud and clear.
The last couple of songs passed with all the glitz and glam of everything prior, and they ABSOLUTELY accomplished everything they had set out to do. The way I see it, WICKED is one of the last bands that exhibits the rock and roll from days of yore, and they're most definitely worth checking out live if they're playing in your area. They're great musicians, and even more so than that, they're sweethearts. I've had the pleasure of speaking with all of them, and they're really great guys. Give them a listen, and go see them when they're around. You will not be disappointed—and, hey, it definitely helps that they look great!
Website: wickedrocknroll.com

Please log in to view RANTS