HAMMERFALL Built To Last


By Alex Yarborough, Orlando Contributor
Wednesday, November 2, 2016 @ 1:11 PM


| | | |
| --- | --- | --- |
| | | |
HAMMERFALL
Built To Last
2016 Napalm Records




Swedish power metal band HAMMERFALL were one of the ambassadors of the Nuclear Blast brand. But nothing lasts forever, and they left the label to sign with Napalm Records and release their tenth studio album, Built To Last, on November 4th. This album is appropriately titled, because the band has persevered for 20 years by producing memorable and true heavy metal. There was a lineup change since the release of (r)Evolution (2014). Drummer Anders Johansson left after 15 years with HAMMERFALL. David Wallin, most famous for playing drums in fellow Swedish band PAIN, is the band's new drummer.

Opening track "Bring It!" is one of the fastest and most aggressive songs in the band's catalog. Lyrics of tenacity and defiance convey a message of strength in the face of adversity. This is an amazing lead track. The recurring theme of hammers is revisited with the song "Hammer High", a creed of rebellion with an immense chorus. Guitarist Oscar Dronjak describes the track as "representing everything HAMMERFALL stands for" and notes that it would likely feature prominently in the band's live set. A 300-inspired concept video was made for the song, which you can view on KNAC.COM right HERE.

"The Sacred Vow" was also a single released from the album. This is a solid track in defense of heavy metal. "Dethrone And Defy" is one of the strongest songs on the album; this pounding hymn is entrenched in a medieval storyline and features several lead guitar breaks. Ballad "Twilight Princess" slows things down for a sing-along. This track features vocalist Joacim Cans hitting his highest notes on the album.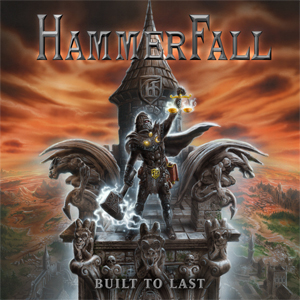 I was hoping "Stormbreaker" was about Beta Ray Bill's hammer, but that is not the case; still, it is a very cool song. Title track "Built To Last" is undoubtedly the band's proudest moment on this album, proclaiming, "Solid backbones cast in steel, we bow - but we never kneel" and featuring a sweet twin guitar solo. "The Star Of Home" is another standout track featuring some blistering riffs from Oscar Dronjak and Pontus Norgren, and galloping drumwork from Wallin. "New Breed" is a kick ass song, and eventually became my favorite on the album. The solo here is a real treat. HAMMERFALL are known for being defenders of the faith, and the chorus of "New breed, old breed–we are all the same breed, Heavy Metal, running through our veins" is sure to get fists pumping worldwide on the upcoming tour. Final track "Second To None" is a nice melodic mid-tempo finish to the album. Built To Last has 10 tracks, with a total time of 48 minutes. The band's mascot Hector proudly adorns the cover once again.
You know what you are getting with a HAMMERFALL album, and they have not deviated from their formula on Built To Last. Overall, I find it to be one of HAMMERFALL's most engaging albums, and I would put it in the upper echelon of the band's studio releases due to song quality and conviction. Napalm Records is releasing Built To Last in multiple formats: digitally, as a standard CD, a limited edition deluxe wooden box, mediabook, vinyl (in several different colors as well as picture vinyl), and a double CD with a Hector statue. Look for HAMMERFALL on tour with DELAIN in North America early next year.
4.5 Out Of 5.0
Pick up your copy of Built To Last in the KNAC.COM More Store right HERE.

Please log in to view RANTS