CANE HILL Smile


By Peter Atkinson, Contributor
Monday, November 7, 2016 @ 1:21 PM


| | | |
| --- | --- | --- |
| | | |
CANE HILL
Smile
Rise Records




Allow me to play a little catch up here, as this the full-length debut from New Orleans bruisers CANE HILL has been out since the middle of July. But it's certainly worthy of note, even in mid-Autumn, if only because the band's sound is such a far cry from the droney, lethargic sludge that has come to typify heavy music from the Big Easy.

The music on Smile is more akin to the nu metal/industrial histrionics of SLIPKNOT or, especially, KORN, flavored with ample metalcore/post-metal eccentricity a la EVERY TIME I DIE or NORMA JEAN. And where New Orleans fixtures like DOWN, EYEHATEGOD or CROWBAR tend to deliver liquor and THC-addled stagger and slog, CANE HILL is all meth-tweaking rage, irrationality and downright weirdness.

Frontman Elijah Witt leads the way with his vehement, often unhinged caterwauling – befitting of the psychiatric hospital from which the band takes its name - and his mates gleefully follow suit, taking what is an often familiar sound for a white-knuckle ride. Indeed, save for the grungy, wah wah-soaked ALICE IN CHAINS-like finale "Strange Candy" - the album's best song - or the eerie ballad "You're So Beautiful", Smile comes across as a prolonged shit fit.

Witt takes a deep breath and then erupts into the opener "MGGDA" - for "My Good God Damn America" - with the mutter and holler cadence of Corey Taylor over a gritty, surging clamor that sounds like a punkier take on something from SLIPKNOT's Iowa. "(The New) Jesus" follows suit, though with more of a MANSON/STATIC-X/ZOMBIE-esque electro-metal bounce and lots of samples, effects and creepy, chirping backup vocals. "Screwtape" revisits this later on and injects some effective clean vocals that Witt then counters more of his demented ramblings about "one more chance to meet your demons."

"True Love" veers into KORN territory with its dense bottom end powered by Ryan Henriquez's limber yet commanding bass lines, droning, discordant riffs and Witt switching gears into Jonathan Davis-like moan and scream mode. "St. Veronica" is more epic and earnest, but is again straight out of the KORN songbook, especially with its drum corps-like backbeat – all that's missing is the bagpipes. "Cream Pie" doubles down on the, umm, throbbing bass and grooves, and adds porn-movie sound effects reflecting its title. Delightful.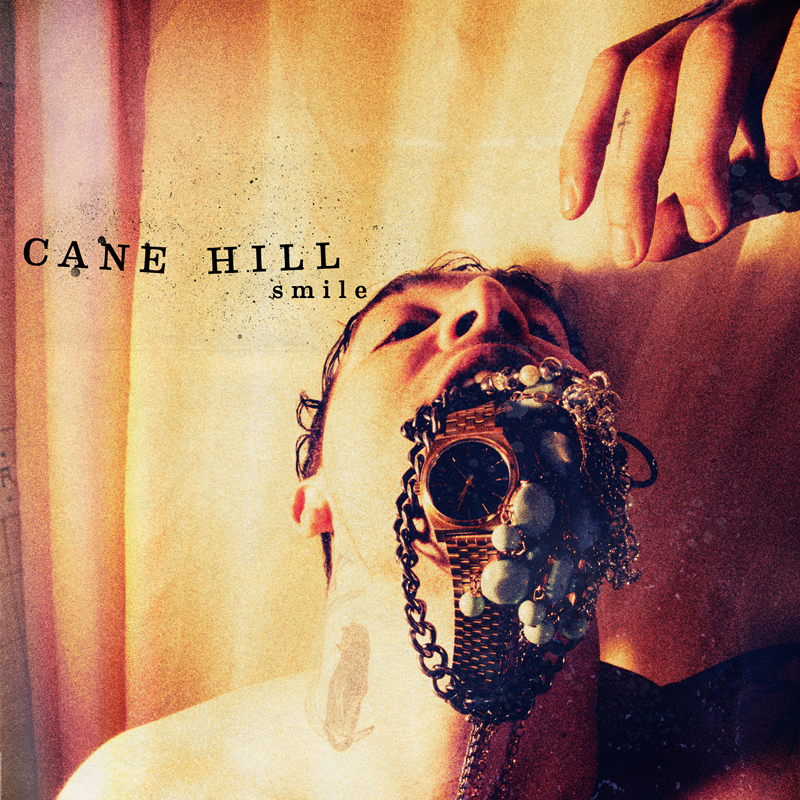 What's astonishing about all this is how CANE HILL seems so unconcerned about wearing its influences on its sleeves – if not outright copy-catting them. It's one thing to have a song or two, a few riffs or some mannerisms that ring familiar, but a good 60/70-percent of the material on Smile is spot on for someone else. The band just keep taking that ball, saying "fuck it all" and running with it.
Harder to peg are "Fountain Of Youth" and "Ugly Idol Mannequin", both straight up hard rockers that are noteworthy for their ordinariness, save for some eccentric flourishes. Here, the band just let it rip and sound about as close to natural as it gets. "Youth"'s clangorous metalcorey breakdowns deliver the album's heaviest moments.
One would hope that, going forward, CANE HILL might focus its efforts more along these lines and try to expand something that is at least contemporary, rather than looking backward and borrowing willy-nilly from bands whose creative peaks were arguably 15 years or so ago – though both SLIPKNOT and KORN still remain reasonably big draws. And while kudos are due to the band for not opting for the more obvious "New Orleans sound", hindsight has not been kind to nu metal, so hopping on that bandwagon now certainly is a puzzling, if potentially futile, career move. But maybe CANE HILL is as crazy as the material on Smile sounds. If so, then hats off to the insane.
2.5 Out Of 5.0
Grab your copy of Smile in the KNAC.COM More Store right HERE.

Please log in to view RANTS