METALLICA Hardwired...To Self-Destruct


By Curt Miller, Editor at Large
Saturday, November 19, 2016 @ 8:42 AM


| | | |
| --- | --- | --- |
| | | |
METALLICA
Hardwired...To Self-Destruct
Blackened Records




METALLICA is certainly a band that polarizes metal fans. Love them or not, though, they've earned their spot atop thrash metal. METALLICA not only did much to define the genre, they also successfully made it far more accessible even when doing so aggravated some of the band's original fan base.

November 18, 2016 brings METALLICA's highly anticipated tenth studio release, Hardwired...To Self-Destruct, the band's first record in just over eight years. Fans, wondering what to expect from the new album, got a preview three months early when METALLICA released the video for "Hardwired" on August 18th and then performed the song live two days later in Minneapolis. Fast and heavy, this teaser boded well for what was soon to come.

Just over a month later, on September 26th, METALLICA dropped another track, "Moth Into Flame". This song is a great representation of the development of METALLICA's sound over the years. There are fast and slow sections, chunky guitar riffs, a few Kirk Hammett solos interwoven throughout. All the while, Lars Ulrich is out back laying down steady rhythms, punching lyric-matched kick drum breaks or jumping into blast mode. Beginning to end the song remains heavy and offers a lyrical commentary on the pitfalls of seeking fame.

On Halloween, the band released "Atlas, Rise!", the third track from its new album. Coming in at just short of six-and-a-half minutes, this is not a likely radio track. Not quite as fast as the previous two songs, it's loaded with plenty of METALLICA's signature, driving riff. It also has a progressive side, breaking large sections of the song with odd time signature transitions.

In a move that pretty much "broke the Internet" METALLICA released the nine remaining tracks from Hardwired...To Self-Destruct beginning with "Dream No More" starting at noon, November 16th. They finished up at 6:00am the following morning with a tenth track, "Lords Of Summer", the first song from the album's Deluxe Edition. The band also performed a fun-filled version of "Enter Sandman" using children's instruments on The Tonight Show Starring Jimmy Fallon on the night of the 16th all of which ensured that the record's release would be one of the most memorable in quite some time.

So what about the rest of the album? Well, it's a mix. The one thing that permeates the overall sound of the record is that it's heavy. There are no wimpy tracks here. They're not all blazingly fast, but they are down right heavy. Some, such as "Dream No More", which pays homage to METALLICA's "The Call Of Ktulu" from Ride The Lightning, are kind of in the dark, slow, riffy, BLACK SABBATH vein. Then there are the tracks that fit somewhere between METALLICA's self-titled (The Black Album) material and that from its newer Death Magnetic style. The first few bars revive (The Black Album's) familiar sound, but the songs take it a bit harder, heavier, faster and in some cases all three. These tracks include "Now That We're Dead", "Halo On Fire", "ManUNkind", "Here Comes Revenge" and "Am I Savage?"

A couple of standouts are songs with particular dedications. "Confusion" is a track the lyrical content of which deals with the struggles of a soldier returning home from war finding it difficult to reacclimate into civilian life. It's yet another of several songs METALLICA has written over the years regarding the perils of war. Another of these tracks is "Murder One" a song dedicated to Lemmy Kilmister and named after one of Kilmister's amps.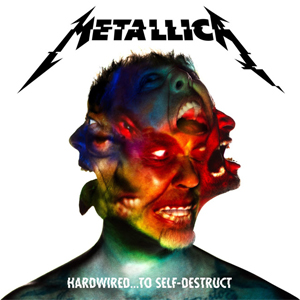 There really isn't a bad song on the album, but for dyed-in-the-wool METALLICA fans looking for a track that could have made it onto ...And Justice For All, this record's closing song "Spit Out The Bone" is a thrash metal tour de force. It's fast, heavy, brash, raucous and right up in your face. As much as METALLICA has evolved or refined its sound over the years, they clearly have not forgotten how to write extremely satisfying thrash metal.
Beyond the music itself, a few interesting things occurred with the release of Hardwired...To Self-Destruct that very much demonstrate the character of this band. Once labeled greedy for taking on Napster over free music downloads, METALLICA made every song from this record available via YouTube videos two days prior to its release. The album is also available to be streamed via Napster along with the rest of METALLICA's catalog. These really don't seem consistent with the actions of those bent on greed.
Just over thirty-three years ago METALLICA laid the foundation for thrash metal with Hit The Lights. They've consistently remained at the forefront of the evolution of the genre, sometimes taking a lot of flack from fans who had no interest in things changing. Without change, though, the music would not be where it is now and where it is now is pretty damn good.
There's maturity about Hardwired...To Self-Destruct that only comes from years of experimenting with the genre and playing songs outside of it. METALLICA has spent decades playing its catalog of old favorites live and it can be heard on this record. The band knows what its fans want to hear and they brought that sound forth here, doing so in a way that doesn't seem overwrought or revisited. Fans of thrash metal and those of METALLICA in particular are going to really like Hardwired...To Self-Destruct.
5.0 Out Of 5.0
Grab your copy of Hardwired...To Self-Destruct in he KNAC.COM More Store right HERE.

Please log in to view RANTS