LESS THAN JAKE Sound The Alarm


By Rebecca Blaze, NYC Contributor
Friday, February 3, 2017 @ 1:40 PM


| | | |
| --- | --- | --- |
| | | |
LESS THAN JAKE
Sound The Alarm
Pure Noise Records




Most of us have heard of LESS THAN JAKE before, or at least I hope so, since they've been around since 1992. If you haven't heard of them though, one, what rock have you been living under for the past 25 years, and two, allow me to provide you with some backstory. LESS THAN JAKE released their first record Pezcore in 1995, followed by a handful of seven inch, one track releases. The following two albums, Losing Streak in 1996, and Hello Rockview in 1998 were both released on Capitol Records which gifted them with higher exposure to the masses. However, it wasn't until the 2003 release of Anthem that included hits such as "She's Gonna Break Soon" and "The Science Of Selling Yourself Short" that LESS THAN JAKE found copious amounts of commercial success. After founding their own label, Sleep It Off Records, in 2008, and releasing their seventh album, GNV FLA, the band stated they prefer EP releases, which can be seen with their 2011 release of Greetings From Less Than Jake and the 2012 release of Seasons Greetings From Less Than Jake. These two albums together were released as a compilation in 2012 called Greetings And Salutations From Less Than Jake. I've always been a fan of these guys, but when they released Greetings And Salutations, I couldn't help but giggle. I loved it. LESS THAN JAKE released their eighth studio album, See The Light, in November of 2013. In 2016, they re-entered the studio to record this new EP, Sound The Alarm, due for release on February 3, 2017 on Pure Noise Records.

I've been bumping Sound The Alarm on my long commutes in and out of New York City since I got my copy, and I have to say, I just can't stop listening to it. From the first track, "Call To Arms", to the last track, "Things Change" I was so thrilled to realize that these guys never lost sight of their sound, and I sensed nothing that made me believe they'd sold out. Too often in today's society musicians lose sight of the fact that they should be in this industry for the love of music, not for the love of money, and I'm glad to see that LESS THAN JAKE has not forgotten that. The opening guitar riff of "Call To Arms" had me hooked from the start. There was no going back. LTJ has always utilized trombone and saxophone in such amazing ways, and it always perfectly fits. Not once have I come across one of their songs and thought to myself 'Self, what the hell what that?' Not once. "Whatever The Weather" is no exception to that.

"Bomb Drop" was one of my favorite songs on this EP. I've always been really big on songs that have one single lyric that sticks out to me, and "Bomb Drop" did not fail to deliver. My favorite lyric in this song is "…turned from a warning shot into a smoking gun." I can't explain why it's my favorite, but it stuck with me and I've found myself doodling it on things in the days since I first heard the song.

The one place that this EP faltered, in my opinion, is with "Welcome To My Life". First and foremost, I listened to SIMPLE PLAN in middle school—yes, I know, it was a dark time in my life—so the song title itself brought me out of the LESS THAN JAKE trance and dragged me into the "oh, SIMPLE PLAN is doing a 10-year anniversary tour…" trance. Second of all, it was just repetitive in the worst way. Once I stopped thinking of SIMPLE PLAN, I couldn't get my mind back into LESS THAN JAKE mode until the song was over. It was quite disappointing, but you're never going to please everybody, and as an artist, it really isn't your job to please everybody. It is your job to get your music out there and get heard. I said that before and I will repeat it until the day I die. Therefore, I'm willing to overlook the one song fallacy in favor of how amazing the rest of this release is.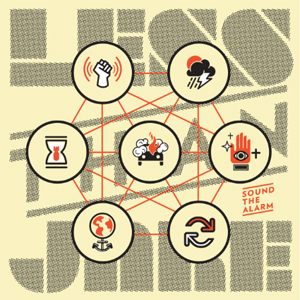 "Good Sign" has an amazing intro, and is wholly phenomenal throughout. It resonated with me so far as I can really relate to it, and I think that other people will be able to as well. The feel of disillusionment was absolutely enchanting, and I just can't seem to place my finger on why. I found myself falling in love with the song from the first listen-through, and there was just somewhat of a great familiarity in something brand new that captured my heart. "Years Of Living Dangerously" was another one I really enjoyed, if only for the fact that it also contained a lyric that stuck with me long beyond the song's completion; "Tell me the truth about this cruel, cruel world, cause I don't think I trust you." Maybe that's because of the turbulent times we currently live in, or maybe it's because of something else. Regardless, it's a damn good song. Rounding out the end of the release is "Things Change" which I think perfectly executed LTJ's use of saxophone and trombone. The lyrics were pleasant overall, and yet again, I was bopping my head along throughout the whole song. It was a good ending to the EP, and I think it tied the entire thing together nicely.
LESS THAN JAKE continues to hit it out of the ballpark with Sound The Alarm, so much so that I almost wish I could listen to it the first time all over again. While 'magical' might not be the correct word to use, 'eargasm' also doesn't seem to encompass what this EP has to offer. Bottom line is, you need this EP in your life, and I'll fight anyone who says otherwise.
Website: www.lessthanjake.com
Facebook: www.facebook.com/lessthanjake
Twitter: www.twitter.com/lessthanjake
5.0 Out Of 5.0
Pick up your copy of Sound The Alarm in the KNAC.COM More Store right HERE.

Please log in to view RANTS