SOEN Lykaia


By Peter Atkinson, Contributor
Friday, February 10, 2017 @ 4:04 PM


| | | |
| --- | --- | --- |
| | | |
SOEN
Lykaia
UDR Music




You can take the drummer out of OPETH, but taking the OPETH out of the drummer is a trickier proposition. The third album from Martin Lopez's post-OPETH band SOEN still boasts the fairly prominent influence of his former band.

That's not necessarily a bad thing – since it recalls the still metallic Watershed era, just after Lopez's departure but before OPETH's retro-prog inclinations got the best of it. Nor is it solely of the drummer's making, since SOEN obviously is no vanity project to show off his prowess given the almost unassuming role he plays in the band's sound – hard to believe he also played with AMON AMARTH back in the day. Still, three albums in, it's not asking too much for SOEN to have developed a more distinctive, or at least personal, sound.

Yet here we are with Lykaia, which, truth be told, is reminiscent of any number of prog/rock/metal acts – PORCUPINE TREE, KATATONIA, ANATHEMA, TOOL/A PERFECT CIRCLE being the most obvious – in its approach and delivery. And while the album's familiar ring is by no means a fatal flaw, it is readily apparent from the get-go and provides constant reminders throughout, especially in frontman Joel Ekelöf's melancholy Mikael Åkerfeldt/Maynard James Keenan-like croon and the music's tense, but expansive arrangements and lush, inviting melodies.

Lykaia is actually SOEN's most focused, absorbing and genuinely likable album, one that restrains the band's progressive impulses while at the same time revealing more of its expressive, hard rock side. Songs like the anthemic "Opal" or the brash "Sister" deliver an enticing blend of punchy riffs, rousing choruses and slow-simmering rhythmic turbulence that connect right away. The opening tandem of "Sect" and "Orison" boast a nice crunch as well, albeit at a more relaxed pace. Marcus Jidell's nifty slide guitar on "Sect" is an especially nice touch.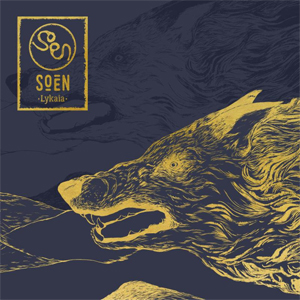 The bolder tunes play tug-of-war here with the more somber blues of "Lucidity" and its luxurious harmonies and ample keyboards or the Middle Eastern motifs of "Jinn", both of which make up in atmosphere what they may lack in relative heft. The power-ballady closing track "Paragon" echoes METALLICA's "Nothing Else Matters" with its sparse instrumentation – here predominantly a haunting organ - and measured vocals giving way to a crashing midsection and finale.
The lone brazenly progressive exercise is "Stray", which precedes "Paragon" with shimmering, shape-shifting riffs, frisky tempos and epic choruses. Given its liveliness, "Stray" might have been better suited concluding the album, as it really would have sent things off with a flourish. No disrespect to "Paragon", as it is a top notch tune in its own right, just somewhat meek by comparison.
Lykaia is a nicely balanced, carefully crafted and flawlessly performed effort, no question. Yet, were the band able to give it more of a uniquely "SOEN" sonic stamp, and not trespass into the firmly established territory of so many others, it could have been a masterpiece. And while SOEN never sink to mere imitation, the similarities in tone, tact and aesthetics are obvious enough that one might think the band would recognize that as well. Maybe next time.
3.0 Out Of 5.0
Pick up your copy of Lykaia in the KNAC.COM More Store right HERE.

Please log in to view RANTS