ANNIHILATOR, MORTOR, EXO-VEDATE In Ottawa, Canada

By Andrew Depedro, Ottawa Corespondent
Thursday, February 16, 2017 @ 6:44 AM

| | | |
| --- | --- | --- |
| | | Combination DVD Release Party, 70000 Tons Of Metal Prelude Performance For ANNIHILATOR |
It's my first concert review of 2017 and it's never a wrong time to cross out another band on the bucket list. That said, in a more perfect life, this would've been my fourth review of one of Ottawa's most prolific and underrated thrash metal bands by now - including at least one appearance at 70000 Tons Of Metal, where said band promptly took off to play afterwards. They did leave us with a fine assortment of copies of their latest live DVD for us to peruse over the hellish winter weather though so that made up for it. Eventually I'll get around to reviewing it but first I'll review the actual live show I was actually present at featuring some special guests.

Taking the stage first after having arrived earlier than expected (and astonished that the venue at Mavericks looked almost empty at first), local thrash hopefuls EXO-VEDATE make their presence known as they bring their no-holds-barred thrash to the masses. Incidentally, some of these same masses were likely at the NERVOSA show from last summer when they were one of the opening bands that night and the audience enthusiasm was just as tight. Commencing with "Red River", the quintet tear through a 40-minute set which includes the well-known thrash numbers "Maximum Overdrive" and "Cosmic Collision" as well as the introduction of a new song titled "Pyramid Of The Apocalypse" (about Sumerian mythology). Frontman Pat Czuba may have been overlooking a small crowd at first as he rallied the truest of the true to congregate in circular form throughout the first moments of EXO-VEDATE's set but by the climax, the moshpit was in full speed like a powerful 18-wheeler with a giant green goblin on its front end possessed by evil spirits. Can you imagine if someone made a movie out of that?

https://www.facebook.com/ExoVedate/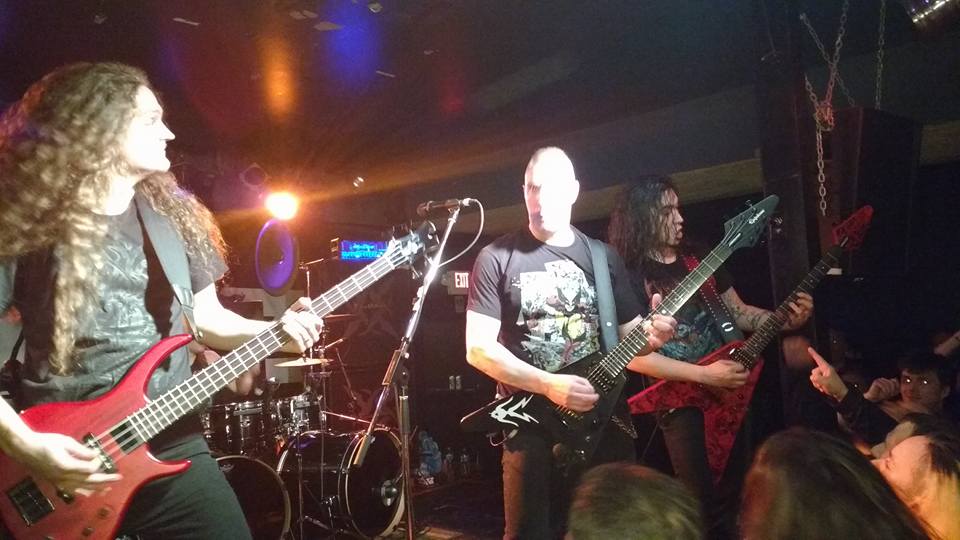 Continuing their comeback after toiling in obscurity for three years (excluding said NERVOSA show which EXO-VEDATE played at this past October), MORTOR undertake a brief soundcheck and their guitarist David Paquette politely allows a few of us to snap pics of the setlist. Then it's time for the band to revert into their crushing death metal persona as they open with the battle-born awesomeness that is "Under The Flag", and they're anything but polite in their ruthless attack. Most of MORTOR's set is comprised of songs from their first two albums and they deliver with a vengeance. Songs such as "Burn Up The Dead", "Napalm Jacket" and "Executioner" recall the early raw death crunch of SEPULTURA and KREATOR as the circle pit is in full swing. For those that survived long enough to see MORTOR's full set, the band had a special treat in the form of their former lead singer/occasional drummer Yolin Lafrenière, who joined current frontman Adam Pell on the last two songs of their set: "Death From Above" and "Swallow My Hate". Back with a vengeance, MORTOR's wild shirtless antics and furious pounding death metal was more than enough to grow hair on the crowd's chest that night.
https://http://www.mortor.net/
https://www.facebook.com/mortormetal
http://mortor.bandcamp.com/
After a quick raffle to locate about five lucky winners of their new concert DVD Triple Threat which was released five days earlier, those that didn't win still got to see ANNIHILATOR anyway as the latest incarnation led by frontman/guitarist/founder Jeff Waters take the stage and slam out the opening number "Suicide Society". With the newest members to the ANNIHILATOR family - local rhythm guitarist Aaron Homma, UK-born bassist Rich Hinks and Italian-born drummer Fabio "I Wasn't Even Born Until King Of The Kill Came Out!" Alessandrini - the band delivered a stunning array of powerful musicianship spanning back close to three decades and covering a wide berth of the various genres of metal which often only seem to co-exist inside the bat-ridden belfry of Jeff Waters' inner spectrum.
And did I mention that none of the members of the newest lineup were even conceived when their fourth album King Of The Kill was released?
Nonetheless, those young 'uns catch on fast as they take on the aforementioned ANNIHILATOR classics like established veterans. Homma's solos on "King Of The Kill", "Human Insecticide" and "Alison Hell" alone took the songs to newer levels while keeping the songs' authenticity intact, not to mention that his backing vocals provided the perfect tone and mood for the songs. His impersonation of Dr. Rockzo after delivering a solid rendition of "Second To None" (it is about cocaine, after all) was also a crowd pleaser. The rhythm section of Hinks and Alessandrini brought some solid bottom-end heaviness to the catalogue; Hinks especially proved himself worthy of handling Waters' vocals on "Alison Hell" and "Phantasmagoria" while Alessandrini delivered a killer drum solo which actually brought more people closer to the front rather than chase them away to the bar or the bathroom.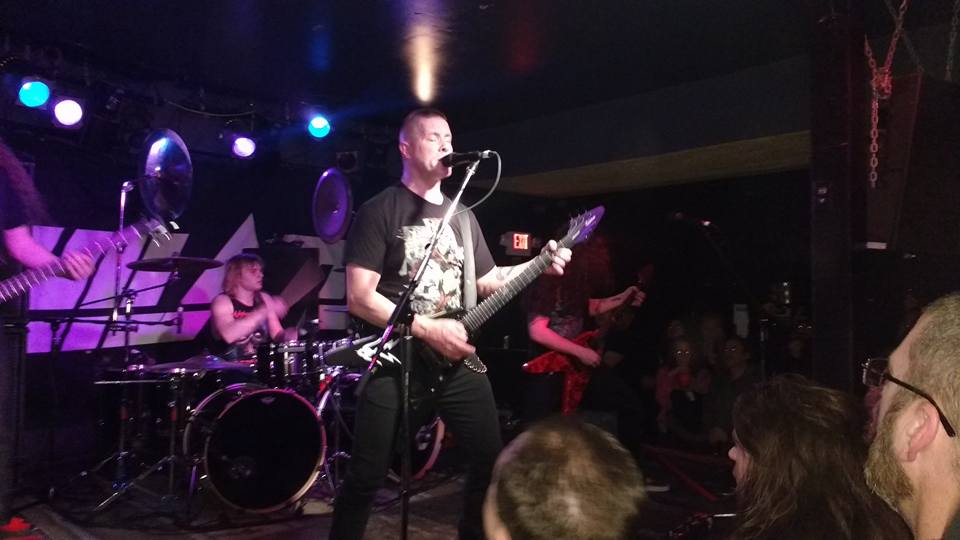 Finally, Jeff Waters and his often self-deprecating yet good-natured humor often broke up a tight setlist as his stage banter consisted of stories from the road, from how German audiences show their appreciation for bands at festivals by throwing things to how the band are often recognized as ANAL EATER on some venue marquees. Otherwise, he never strayed too far from delivering a solid show and keeping the circle pit energized and active. His on-stage energy was the equivalent of several dozen solar-powered wind turbines and for a guy at 50 who admitted that his vocal capacity hadn't been at its best form (he'd confessed to having taken up smoking again; I'm gonna simply attribute it to pre-70000 Tons Of Metal jitters), he still put on a hell of a show. And finally I was able to finally lay claim to having seen my first ANNIHILATOR show after far too many misses over time. Here's hoping that the upcoming review of the band's live opus Triple Threat can equally capture the same experience for any of us that had missed out on previous occasions.
Setlist:
"Suicide Society"
"King Of The Kill"
"Creepin' Again"
"No Way"
"Annihilator"
"Set The World On Fire"
"Syn Kill 1"
"No Zone"
"Brain Dance"
"Alison Hell"
"Second To None"
"Phantasmagoria"
"W.T.Y.D."
"Human Insecticide"
https://www.facebook.com/annihilatorband/
http://www.annihilatormetal.com/