Chris Slack Reviews QR & DT -- With Pics


By Chris Slack, Contributor
Thursday, August 7, 2003 @ 3:25 PM


| | | |
| --- | --- | --- |
| | | Slack Reviews the Queensryche/ |
First off, let me thank the kind people who assisted me in getting my 3 separate photo passes for his concert: Sefany from KNAC.COM, Michelle from Metal Blade, and Jason at Annie Ohayon Media Relations. You folks helped me in getting what I consider to be the best shots I've ever taken and I couldn't have done it without you. Cheers to you all! I showed up at the Paramount 45 minutes before the show was scheduled to begin. After downing my 2 traditional double kamikazes, I headed to will call to pick up my tickets and passes. I was quite disappointed by the seats I purchased from one of the artists fan club. They claimed their seats are among the best in the house but in reality they were 28 rows back, next time I'll take my chances with TicketBastard. However, it ended up not posing a problem as I spent the majority of the show right in front of the stage, my favorite place to be!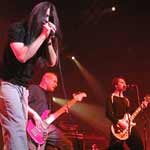 The concert started promptly at 7:30 when Fates Warning took the stage. I was a HUGE fan of the band through the Perfect Symmetry album but never paid much attention to the later releases due mostly to the toning down of their heaviness. Despite that, the 5-piece (including Frank Aresti on guitar!) put on a solid, though short, set for a crowd that was slowly trickling towards the 2800 mark. Their stage presence was definitely unique: they had a subtle "elder statesmen of prog metal" air about them, but seemed very down to earth at the same time. Ray Alder did a competent job as front man with his strong vocals and mobility getting the crowd going for the co-headliners. Jim Matheos showed his guitar prowess with some blistering leads and Mark Zonder pounded away on the drums with the greatest of ease. Unfortunately the quality of the performance was greatly affected by crappy sound. The kick drums were very low in the mix and the bass was muddy as all get out. Fortunately it wasn't bad enough to make the band themselves sound bad, one could easily tell that they were totally on the ball and very tight as a unit. I probably would have enjoyed it a lot more if I was more familiar with the material but regardless of that I was quite impressed by what I saw and heard. Click here for my Fates Warning photos.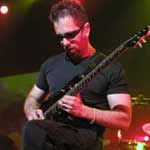 I was looking forward to seeing Dream Theater more than any other band this evening as they are my favorite band and I had not seen them since November 15, 1997 when they played the Fenix on the "Falling into Infinity" tour. The sellout crowd at the Paramount went nuts as soon as they came on stage playing "Overture 1928" and didn't calm down at all until the final song, "Pull Me Under" came to it's conclusion. Unlike other times I have seen and heard their live performances I couldn't make out a single mistake the whole time, they were simply on fire. John Petrucci reaffirmed his guitar God status by showing off some of the best shred work I've ever seen but unlike many other metal/hard rock virtuosos he was able to slow it down and make his instrument sing with tremendous emotion and power. It sounded as though James Labrie had been working quite a bit on his voice lately, as my only complaint about his vocals (trying to hit notes he couldn't do consistently) had been addressed, he was spot-on for everything and showed a great deal of flair with his facial expressions and hand gestures. Mike Portnoy and John Myung were equally impressive but, as with Fates Warning, the low end seemed to be plagues with muddiness that reduced the clarity of the kick drums and bass significantly. Since I am so familiar with their music it didn't hurt their performance much, but if someone was new to the band, it could have caused the music to be much less impressive. The high point of the set for me and many others was their 20-odd minute "instrumedley" that consisted of instrumental portions from a number of DT classics held together by segments from "Dance of Eternity." I've seen Dream Theater three other times and can honestly say that this was the best performance I'd ever seen from them -- the only things that could have made it better, apart from the sound issues, would have been an encore and a Mike Portnoy drum solo. I just hope they don't wait another six years before coming back again! Click here for my Dream Theater photos.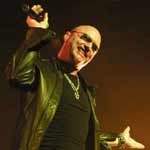 I didn't expect much from Queensryche as their material since Promised Land really didn't do anything for me, but since this is their hometown and the last date of the tour, I thought I'd give them a chance and see what they could do. After a very brief changeover they took the stage to a roar that was slightly greater than that which Dream Theater received, the Seattle fans were very happy to see their local rockers on stage again. As I anticipated, they started their set with "Open," a track off their latest album Tribe. While it sounded pretty good and the guys looked and sounded impressive while playing, it was not the Queensryche that I knew and loved. Once that was done, they got me paying attention and singing along by playing "NM156" off the Warning album, one of my all-time favorites. It only got better from there as they pumped out (mostly) classic after classic leading up to the highlight of "I Remember Now," "Anarchy-X" and "Revolution Calling," complete with visuals from the Video Mindcrime release and other sources. By the time they finished up their main set with "Eyes of a Stranger," my voice was pretty much shot from singing along and whooping it up after each song. The encore wasn't too bad, but I would have rather heard something other than "Walk in the Shadows." The crowd seemed to enjoy it though, and that's what really counts. The band played like the consummate professionals they should be after existing for so long, they were right on the money all the time with no signs of fatigue despite being on the road for a decent number of shows. Michael Wilton was as impressive as always with his solos and stage movements, Mike Stone did a great job on rhythm guitar (although it did strike me as odd that he was wearing the hood of his shirt up through most of the set) and Eddie Jackson and Scott Rockenfield provided a high quality rhythm section behind them all. Like Labrie, it seems as though Geoff Tate had been spending some time with a vocal coach before the tour, as he sounded better than he has for a long time. Click here for my Queensryche photos.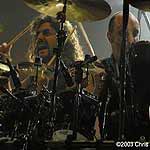 Although I knew it was coming (damned Internet), the crowd screamed louder than any other time in the night after the cover was lifted from Mike Portnoy's enormous drum kit and the members of both Dream Theater and Queensryche took the stage. They began with an incredible cover of Pink Floyd's "Comfortably Numb" that featured some incredible dual vocals from Tate and Labrie and ended with an extended jam by the lead guitarists from both bands. That was followed up by "Take Hold of the Flame" with the big moment for me being James doing the scream at the end of the song. Seeing Mike Portnoy on Scott Rockenfield's drum set, Scott on Mike's and both of them together on Mike's was simply amazing as well! Up next was the DT song "Peruvian Skies," a mellower number that had me and the rest of the loyal fans singing along. The mega-encore concluded with another cover, this time it was The Who's "Won't Get Fooled Again." Labrie did a pretty good Roger Daltrey impersonation and we finally got to see some Mike Stone solo work which wasn't too bad at all. This final encore was the high point of the entire evening for me, as it's not that often that one gets to see two great groups performing together, doing each others songs and looking like they were having the time of their lives. Click here for my QR/DT encore photos. The bottom line for this show is that it was among the best concerts I have ever seen in my life, and I have seen a lot of them, one that I will never forget. Being able to photograph my favorite band from up close made it even more special and the shots will allow me to remember the great time that was provided by the members of all three bands for the rest of my days. Fates Warning set list: One
Pieces of Me
Life in Still Water
Point of View
Shutdown (OSI)
Monument

Dream Theater set list:

Overture 1928
Strange Deja Vu
Fatal Tragedy
The Great Debate
Another Day
New Millenium
LONG instrumedley (Dance of Eternity, Erotomania, Dance of Eternity, Metropolis, Change of Seasons, Ytse Jam, Dance of Eternity, Paradigm Shift, Dance of Eternity, Universal Mind, circus type music, Dance of Eternity)
The Spirit Carries On
Solitary Shell
Pull Me Under

Queensryche set list:

Open
NM156
Screaming in Digital
I am I
Damaged
Desert Dance
Empire
Jet City Woman
Silent Lucidity
I Remember Now
Anarchy-X
Revolution Calling
Speak
Eyes of a Stranger

Queensryche Encore:

Walk in the Shadows
Best I Can

Queensryche/Dream Theater encore:

Comfortably Numb
Take Hold of the Flame
Peruvian Skies
We Won't Get Fooled Again



Please log in to view RANTS


ROBIN MCAULEY Alive

CRADLE OF FILTH, DEVILDRIVER In Santa Ana With Photos!

KAMELOT The Awakening

ALTER BRIDGE, MAMMOTH WVH In Houston, TX With Photos!

ACID KING Beyond Vision

STEEL PANTHER On The Prowl

NIGHT DEMON Outsider

YNGWIE MALMSTEEN In Ottawa, Canada

THEORY OF A DEADMAN, SKILLET, SAINT ASONIA In Houston, TX With Photos!

OFFICER X Hell Is Coming

PERIPHERY Periphery V: Djent Is Not A Genre

INSOMNIUM Anno 1696

STEEL PANTHER, CROBOT, TRAGEDY In Houston, TX With Photos!

BABYLON A.D. Live Lightning

ROTTING CHRIST, CARACH ANGREN, UADA, GAEREA In Houston, TX With Photos!

MOTÖRHEAD Bad Magic: Seriously Bad Magic

TRAGEDY I Am Woman

ROXANNE Stereo Typical

ANTHRAX, BLACK LABEL SOCIETY, EXODUS In Houston, TX With Photos!