NIGHTRAGE The Venomous

By Peter Atkinson, Contributor
Friday, April 21, 2017 @ 1:33 PM

| | | |
| --- | --- | --- |
| | | |
NIGHTRAGE
The Venomous
Despotz Records




Always-evolving Greek/now Sweden-based melodic death metal quintet NIGHTRAGE return to action with yet another set of new cast members for its seventh album, The Venomous. Joining the ranks this time around are drummer Lawrence Dinamarca and second guitarist Magnus Söderman, who team with lone original member, guitarist/clean vocalist Marios Iliopoulos, long-time bassist Anders Hammer and vocalist Ronnie Nyman, who made his debut on 2015's The Puritan.

A veritable all-star team of former/session members – founding guitarist Gus G, AT THE GATES frontman Tomas Lindberg, ex-SEPTIC FLESH drummer Fotis Benardo, AMARANTHE guitarist Olaf Mörck, ex-IN FLAMES guitarist Jesper Stromblad – however, hasn't really posed much of an obstacle for NIGHTRAGE – or Iliopoulos, its one constant – at least from a sonic standpoint. But having a seemingly solid lineup this time around, especially with the addition of Söderman, does pay some dividends on The Venomous.

Along with providing some added heft to the band's Swe-deathy bluster, Söderman teams nicely with Iliopoulos for solo tradeoffs, twin leads and melodic sweeps that bring an air of sophistication and even elegance to the table. Thus, The Venomous has a sound that recalls vintage IN FLAMES – the Jester Race-Clayman era, before things turned pedestrian – where grit, technicality and grace work in unison, with the results providing catchiness and crunch in relatively equal measure.

It helps that the songs are constructed in such a way as to maximize the effect – which certainly is a calculated move, but one that works in the band's favor here. And despite this being theme-based album about how we are sowing the seeds of our own self-destruction – or as the song "Bemoan", well, bemoans, "We should have always known, our biggest enemy is within ourselves" – the material is aggressive, hooky and fairly straight-forward, without the window-dressing and pomp one generally associates with "conceptual" works.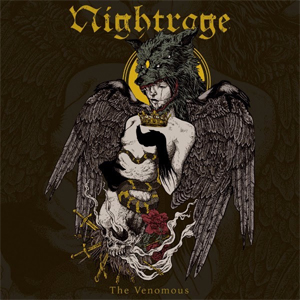 The delicate instrumental outro "Denial Of The Soul" is really the one exception in that regard, and truth be told, a wee bit more of that might have been welcome. The Venomous settles into its groove early, and pretty much stays there. And over the 11 tracks that precede "Denial", things have a tendency to blend together – especially given Nyman's monotone growl, feral though it is.
But when the band employ the aforementioned guitar interplay – which is established right from the start with the title track and is superb throughout - the elephant march rhythms and shuddering hooks of "Affliction" and "From Ashes Into Stone" or the sparingly used clean vocals from Iliopoulos to zazz up the chorus of "The Blood", The Venomous is first-rate melo-death.
3.5 Out Of 5.0
Pick up a copy of The Venomous in the KNAC.COM More Store right HERE.