STEPHEN PEARCY In Houston, TX With Photos!


By Larry Petro, News Monkey
Wednesday, April 26, 2017 @ 6:36 AM


| | | |
| --- | --- | --- |
| | | Pearcy 'Smash'es Proof Rooftop Lounge, April 13th |
All Photos By Larry Petro/Petrofyed Photography
With a new solo CD, Smash, under his belt and a slew of shows upcoming for his rebooted band RATT, vocalist Stephen Pearcy hit the road for a series of concerts, sliding into Houston, Texas for a performance at Proof Rooftop Lounge, a west-of-downtown venue that has partnered with local business Black Horse Limo to present many free concerts over the past several months. Normally and unfortunately for me, most of these free shows take place on Thursday nights and well, for this reviewer anyway, late shows during a work week make for a miserable following day, especially if the show ends as they normally do, around 2am. As luck would have it, Pearcy's show was the night before Good Friday and, being off the following day, this was one show I could actually make. Add to that the fact that because this venue is literally on the rooftop of a building they have to abide by the city's sound curfew of 11pm. It was win-win.
The first thing of note about this venue, being my first time there, is that the only real parking available at the club is a small parking lot with valet-only services. If you choose not to park there then you are relegated to parking on one of the surrounding streets and though it didn't seem to be a bad neighborhood, there is always the possibility of something going wrong, especially with the lack of security services to patrol around the venue's vicinity, but more on that later.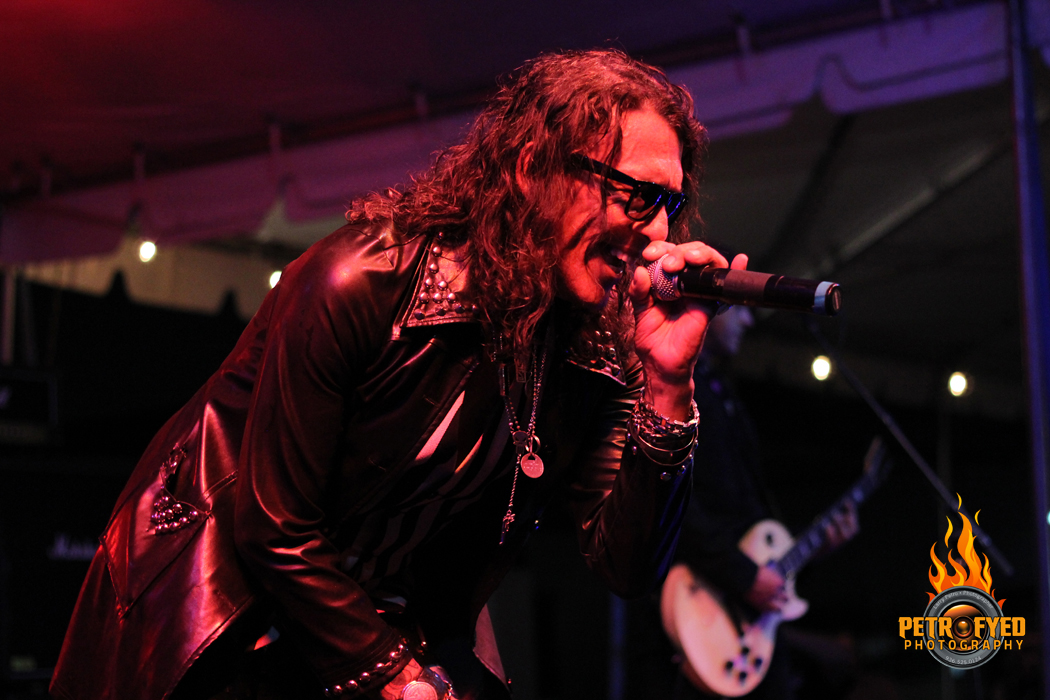 The opening act for the night, and for quite a few of the Thursday free concerts for that matter, was longtime SKID ROW singer Johnny Solinger. Solinger actually lives north of Houston in my neck of the woods and runs a local School of Rock. His backing band for the night was a trio of youngsters from this school, all of whom were under the age of 21. Despite their age, they were very solid as Solinger performed a set mixed with covers of bands like SKID ROW and MEATLLICA, along with a couple of brand new Solinger tracks. Since his unceremonious departure from SKID ROW he has remained somewhat low-key, but expect big things from Johnny Solinger in the future.
Nearing 9:30, Stephen and his entourage made their way to the stage as the place had become quite packed (well, it was a free show after all), despite the fact that Bay area rockers Y&T were also playing Houston the same night on the southwest side of town. Pearcy and company launched their predominently RATT-heavy set with "You're In Love". Now, if you've ever seen Pearcy live over the past few years then you know that it sometimes can be a bit of a crapshoot as to which Pearcy you're going to get. Sometimes good, sometimes bad and seemingly never the same twice in a row. For his part, Stephen was in fine form on this evening. He was all smiles and sober right from the start and you could just tell that the air was electric and the crowd fed off of Pearcy and he them.
Two more classic RATT tracks followed in the form of "Lay It Down" and Lack Of Communication" before he ventured into territory that prior solo shows I have attended had not seen. He played two tracks in a row from the Smash solo CD, "Ten Miles Wide" and "Want Too Much", arguably the two best songs on the disc (at least IMO). Though he has several solo discs behind him, Pearcy has hardly ever played tunes from them at solos shows, but Smash is his best so far and these songs deserved to be played and went over very well with the packed house.
The classics continued with "Way Cool, Jr." before another new track, "Hit Me With A Bullet", was played. From there on it was full RATT mode (mostly) with the usual suspects: "I'm Insane", "Wanted Man", "Back For More" and of course, set closer "Round And Round". The lone oddball in that home stretch was the JUDAS PRIEST cover "Heading Out To The Highway". Now, the last time I saw Pearcy perform here his second guitarist Chris Hager was a no-show, leaving all the guitar duties to Erik Ferentinos, who did an admirable job but as any RATT fan can tell you, their music is really meant to be played with two axemen to be fully enjoyed. This time around was different, with the second guitarist this time around being none other than Frank Wilsey, with whom Pearcy has played before in his band ARCADE. The venue's acoustics were spot on and other than bassist Matt Thorne being just a tad sloppy on a couple of occasions, the rest of the band was tight and in top form.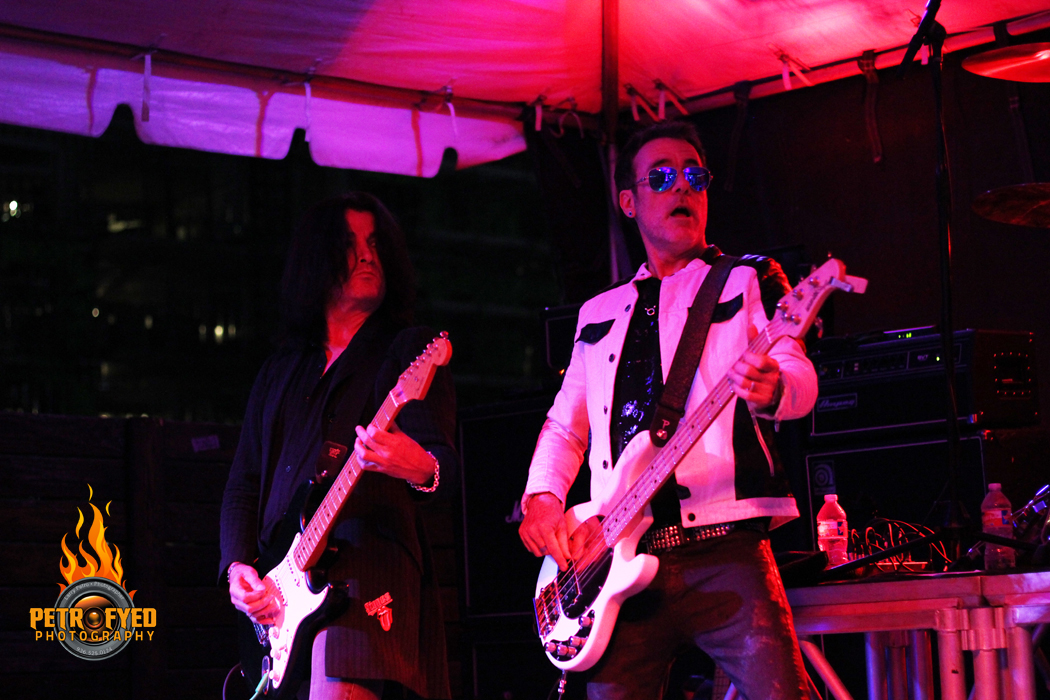 Exiting the venue I thought to myself that this was one of the best Pearcy performances I had ever witnessed and the overall experience was very satisfying. It was just such a shame that my euphoric mood would come crashing down when I arrived to find my vehicle's rear driver's side window had been shattered by some lowlife punk ass who had nothing better to do than target vehicles on the street (mine was apparently not the only one hit) not even a half block from the venue! Needless to say, it was quite ironic to have my window smashed at a show supporting Pearcy's new CD, Smash, but it will certainly give me pause to think about whether I want to return to this venue again, as nice a place as it was.
Setlist:
"You're In Love"
"Lay It Down"
"Lack Of Communication"
"Ten Miles Wide"
"Want Too Much"
"Way Cool, Jr."
"Hit Me With A Bullet"
"Slip Of The Lip"
"I'm Insane"
"You Think You're Tough"
"Wanted Man"
"You Got It"
"Heading Out To The Highway" (JUDAS PRIEST)
"Back For More"
"round And Round"
Check out some more photos from the show!
All Photos By Larry Petro/Petrofyed Photography

Please log in to view RANTS