TESTAMENT, SEPULTURA, PRONG In Cleveland, OH With Photos!


By Geoff Ketler, Cleveland Contributor
Wednesday, May 3, 2017 @ 11:49 AM


| | | |
| --- | --- | --- |
| | | Celebrating 30 Years Of Bay-Area Thrash |
All Photos By Geoff Ketler/Aces High Photography
2017 marks the 30 year anniversary of TESTAMENT's debut album The Legacy – taken from the band's original moniker, LEGACY. Ten studio albums later, the bay-area thrash pioneers are at the top of their game and amidst a headlining North American tour supporting Brotherhood Of The Snake along with tour mates PRONG and SEPULTURA.
"I'm gonna say it…hello Cleveland!" - Tommy Victor
The pit at the legendary Cleveland Agora was just starting to fill in when Tommy Victor & Co took the stage. Hailing from Queens, New York, PRONG's blend of crossover thrash has been shaking ear drums for 30+ years now. With the bulk of the material focusing on their latest record, X (No Absolutes), PRONG ripped off a quick 30-minute set. Tommy Victor was full of energy – constantly jumping off his monitors and getting a rise out of the audience. The crowd-pleaser "Snap Your Fingers, Snap Your Neck" stirred the pit. Drummer Art Cruz was easily one of the most entertaining drummers I have seen – throwing sticks, standing up mid-song and overall badassery. PRONG made quick work of their time, attacking the stage and working the fans into a frenzy.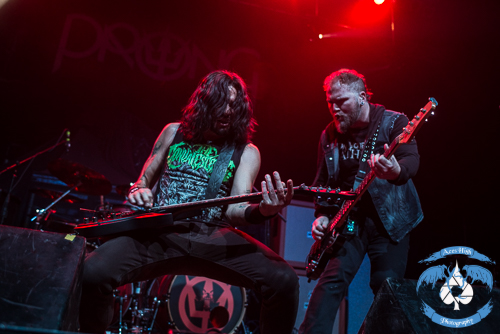 Setlist:
"For Dear Life"
"Unconditional"
"Cut-Rate"
"Cut And Dry"
"Another Worldly Device"
"Whose Fist Is This Anyway?"
"Snap Your Fingers, Snap Your Neck"
"Sense Of Ease"
The stage went black as Brazilian metal heavy hitters, SEPULTURA opened with "I Am The Enemy". The Cleveland-born vocalist Derrick Green bellowed guttural screams and added a little auxiliary percussion with a floor tom set in the center of the stage floor. Much like PRONG, SEPULTURA's set focused on new material, specifically off of 2016's Machine Messiah. Drummer Eloy Casagrande is an absolute beast, albeit a little unconventional, but a beast nonetheless. He can work the toms similar to Dave Lombardo and has plenty of power in his legs as well. Flanked on either side of Derrick were long-time members bassist Paulo Jr and guitarist Andreas Kisser. The set was rounded out by the anthem "Roots" – I mean, it wouldn't be a SEPULTURA show without it, right?

Setlist:
"I Am The Enemy"
"Phantom Self"
"Choke"
"Desperate Cry"
"Sworn Oath"
"Inner Self"
"Alethea"
"Resistant Parasites"
"Refuse/Resist"
"Ratamahatta"
"Roots"
At the strike of half passed nine on a sweaty Sunday in Cleveland, TESTAMENT rushed the stage with the title track off of their latest effort, Brotherhood Of The Snake. Vocalist Chuck Billy worked his way up and down his microphone handle like a fret board. Both openers supplied us with talented drummers. Following suit, TESTAMENT provided the crowd with the "Atomic Clock", Gene Hoglan. With precise footwork, Gene guided the band before ultimately reaching a drum solo of epic proportions.

The seemingly endless talent was on full display. You can't talk about TESTAMENT without mentioning Alex Skolnick. Alex barely broke a sweat as he noodled his way through stunning fretwork. He lit up the place with his rendition of Eddie Van Halen's "Eruption". Now on his second tour of duty with TESTAMENT following the band's falling out with bassist Greg Christian, Steve Di Giorgio spent most of his time center-stage winging his mop of hair around. He too had his time in the limelight for a bass solo, following "First Strike Is Deadly". TESTAMENT was firing on all cylinders. The accumulation of 3+ decades of song-writing, touring and building chemistry cultivates the massive set that flowed as smooth as silk. Stage production was killer to boot. Gene Hoglan was perched atop a massive drum riser. The backdrop featured the cover art from Brotherhood Of The Snake and the stage lighting was top notch.

With all the attention paid to "The Big 4" - TESTAMENT is often lost in the conversation even though the band was very much a part of the conception of the genre all those years ago. Armed with a rock solid lineup and dynamic catalogue, TESTAMENT has proven their place in thrash history. Don't sleep on this band.

Setlist:
"Brotherhood Of The Snake"
"Rise Up"
"The Pale King"
"Centuries Of Suffering"
Guitar Solo - Alex Skolnick
"Electric Crown"
"Into The Pit"
"Low"
"Throne Of Thorns"
"Stronghold"
Guitar Solo - Eric Peterson
"Eyes Of Wrath"
Drum Solo - Gene Hoglan
"First Strike Is Deadly"
Bass Solo - Steve DiGiorgio
"Urotsukidoji"
"Souls Of Black"
"Seven Seals"
"The New Order"
Encore:
"Practice What You Preach"
"Over The Wall"
Check out some more photos from the show!
All Photos By Geoff Ketler/Aces High Photography

Please log in to view RANTS




AVATAR, ORBIT CULTURE, THE NATIVE HOWL In Houston, TX With Photos!

THE DEAD DAISIES In Hollywood, CA With Photos!

KILL DEVIL HILL Seas Of Oblivion

THE DEAD DAISIES In Ottawa, Canada

MAMMOTH WVH In Santa Ana, CA

UADA Crepuscule Natura

BARONESS Stone

KAMELOT, BATTLE BEAST, XANDRIA In Houston, TX With Photos!

CRYPTOPSY As Gomorrah Burns

RAY ALDER II

GHOST, AMON AMARTH In Houston, TX With Photos!

U.D.O. Touchdown

DETHKLOK Dethalbum IV

STEVE VAI In Ottawa, Canada

PANTERA, LAMB OF GOD In Houston, TX With Photos!

OVERKILL, EXHORDER, HEATHEN In Los Angeles With Photos!

PUPIL SLICER Blossom