WARRANT Louder Harder Faster

By Daniel Höhr, European Correspondent
Monday, May 22, 2017 @ 4:17 PM

| | | |
| --- | --- | --- |
| | | |
WARRANT
Louder Harder Faster
Frontiers Records, 2017




WARRANT are finally back with a new studio album after their 2011 release Rockaholic and the sad passing of their former lead singer Jani Lane in the same year. Louder Harder Faster, the ninth studio effort by the LA-based glam metal outfit, features Joey Allen (lead guitar, backing vocals), Erik Turner (rhythm guitar, backing vocals), Jerry Dixon (bass, backing vocals), Steven Sweet (drums, backing vocals) and, for the second time, Robert Mason on lead vocals. Including a cover version of the Merle Haggard classic "I Think I'll Just Stay Here And Drink", which was already released as the first single, the album contains twelve tracks, of which "Only Broken Heart" is the longest one with a playing time of 5:02.

These are the statistics, which are admittedly, not very exciting. The music on WARRANT's new album, however, is, especially when played at appropriate volume levels (a minimum of 10 is definitely recommended) because this music needs to be played loud. Louder Harder Faster is exactly what you'd expect from WARRANT – party-compatible melodic hard rock that never gets old, yet sonically fresh and modern, thanks to the efforts of producer Jeff Pilson and Pat Regan, who was responsible for the mix (except for "I Think I'll Just Stay Here And Drink", which was mixed by Chris "The Wizard" Collier). The sound is powerful and goes straight in your face but is also transparent and well-balanced. The band sounds exceptionally good and lead singer Robert Mason, who occasionally reminds me of Steven Tyler and Jon Bon Jovi in their earlier days, is doing a superb job.

The album title, though, should not be taken too literally. Even though some of the songs do kick butt – and relentlessly so – there are also occasional laid-back and balladesque moments. The title track, which also opens the album, belongs to the former category. Bass players, take heed and check out Jerry Dixon's fills in the verses. The best thing about "Louder Harder Faster" is probably the great shout-along chorus, tailored to get your beer-fuelled party sufficiently going and to annoy the neighbours. "Music Man", despite its country-esque beginning, kicks seriously butt and grooves like hell. "New Rebellion" and "Hey Sandy", to name but two more, are also straightforward rockers that will make it impossible not to turn the volume up to criminal levels.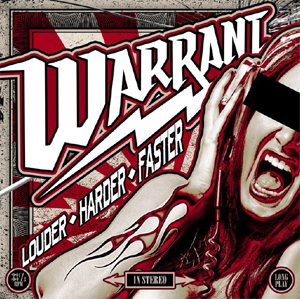 Among the more laid-back numbers, "U In My Life" deserves a special mention here: a nice piano ballad showcasing Robert Mason's outstanding vocal qualities. The catchy mid-tempo rocker "Faded" drips with heart blood and is perfect for playing in the car (cabrio, with the roof open), ideally with a few pals in it, so you can all practice singing along to the blazing harmony vocals on this track.
WARRANT's Louder Harder Faster is kick-ass melodic hard rock music that comes just in time for the beginning of summer. The band's stellar singing and playing, the crisp sound and the enormous fun factor of the twelve songs make this one of WARRANT's best albums. And as far as my neighbors are concerned, they will be listening to it quite often in the coming weeks but probably not voluntarily. You know what I mean.
5.0 Out Of 5.0
Pick up a copy of Louder Harder Faster in the KNAC.COM More Store right HERE.