SEPULTURA
Machine Messiah
Nuclear Blast Records




Whoops. This one kinda slipped between the cracks. The 14th album from Brazil's SEPULTURA was actually issued in January and the band has already wrapped up its first U.S. tour on its behalf – opening for TESTAMENT. Oh well, better later than never – especially since Machine Messiah is worth mentioning.

After the series of aimless releases that followed the ugly split with frontman Max Cavalera in 1996, SEPULTURA found its niche as "conceptual artists" with 2006's Dante XXI. And while it took the band a few tries to really get it right – with 2010's Kairos, which followed the departure of Max's brother Igor – SEPULTURA has had a decent run since then, and a stable lineup to boot since drummer Eloy Casagrande came onboard. Machine Messiah keeps that momentum going.

The album sets aside some of the loftiness of 2013's The Mediator Between Head And Hands Must Be The Heart, which was inspired by the classic film Metropolis from the 1920s, for a modern-age/futuristic tale of cyber gods and biomechanical saviors. But, at the same time, it maintains the delicate balance of progressive depth and metallic muscle that the band has been able to capture with increasing acuity over its last three outings.

And that's a particularly tricky proposition with Machine Messiah, which mixes and matches its heavier elements - thrash, hardcore, power metal and nu metally grooves that recall Roots – with ample orchestration and the usual jazz, Latin and tribal influences. But it all comes together here quite seamlessly – rarely seeming forced or calculated – giving the album a natural ebb and flow and maintaining the thematic thread all the way through without resorting to intrusive segues or interludes.

After opening on a somber note, the title track builds to a crescendo before "I Am The Enemy" explodes with hardcore vehemence. "Phantom Self" then sees its hulking groove countered by a wispy Middle Eastern string arrangement. The rather leaden "Alethea" gives way to the elegant, almost DREAM THEATER-like instrumental "Iceberg Dances", which showcases Casagrande's considerable rhythmic athleticism and finesse.

The band stumbles a bit at the midway point with the lumbering "Sworn Oath" and "Resistance Parasites" but regains its momentum with the bracing "Silent Violence" and "Vandals Nest" – buoyed by Casagrande's galloping tempos – that leads to the fittingly grand finale "Cyber God".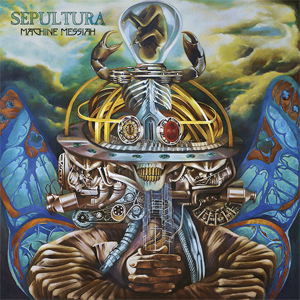 Jens Bogren brings much of his usual polish to the production on Machine Messiah, leaving enough of the band's signature grittiness to give the album bite, but not so much as to muddy things up, as could sometimes be the case in the past. This allows the classical instrumentation and more delicate elements room to breathe while not detracting from the overall heaviness. And the album is plenty heavy.
While Machine Messiah may not have quite the money shot tunes of old - a la "Roots, Bloody Roots", "Beneath The Remains", "Arise", "Refuse/Resist", "Dead Embryonic Cells", "Inner Self", etc. – it does boast arguably the best – or at least most consistent - batch of songs overall that SEPULTURA's put together in quite some time. And they are played with a conviction and confidence that sometimes eluded the band in the post-Cavalera era as it either tried too hard or just couldn't get things figured out.
If nothing else, Machine Messiah, and its immediate predecessors, have helped restore SEPULTURA's status as a viable act, even if its former glory remains just that. And with Casagrande injecting new blood and vitality, there's no reason why the 30-something year old band shouldn't keep soldiering on – despite what the Cavelera brothers might have to say in that regard.
3.5 Out Of 5.0
Grab a copy of Machine Messiah in the KNAC.COM More Store right HERE.