CHICKENFOOT Best + Live


By Andrew Depedro, Ottawa Corespondent
Monday, June 12, 2017 @ 12:47 AM


| | | |
| --- | --- | --- |
| | | |
CHICKENFOOT
Best + Live
eOne Music




I may have been a bit slow in getting this latest review released, but perhaps not quite as slow as the members of CHICKENFOOT have been in releasing a new song. But given that the all-star band featuring Sammy Hagar, Michael Anthony (ex-VAN HALEN), guitar god Joe Satriani and Chad Smith (RED HOT CHILI PEPPERS) all have their own successful careers outside of the fledgling supergroup - which first broke onto the hard rock scene with their self-titled debut and well-known song "Oh Yeah!" back in 2009 - one can forgive the band for being too busy with continuing a follow-up to their sophomore effort some five years later save for a couple of one-off reunion shows at Harrah's in Lake Tahoe back in May of 2016.

In fact, to many skeptics, wouldn't it seem rather presumptuous of CHICKENFOOT to have gone ahead with releasing a greatest hits album titled Best + Live after a five-year absence given their rather small discography? Granted, it's a modest collection of their best-known songs ranging from their obvious hits such as "Soap On A Rope", "Sexy Little Thing" and the aforementioned "Oh Yeah!" alongside some hidden gems such as "Big Foot" and "Dubai Blues" as well as their latest bone-crunching catchy number "Divine Termination". In this case, however, for the avid CHICKENFOOT connoisseur eager for some real cluck for their buck, it's the live segment of this album that'll ruffle some feathers in a good way.

The greatest hits part does feature three live performances from the same Phoenix show - specifically, high-level covers of "Highway Star" (DEEP PURPLE), "Bad Motor Scooter" (MONTROSE) and "My Generation" (THE WHO) with Joe Satriani's face-melting rendition of "The Star-Spangled Banner" improvised in between for good measure - which were previously only available as video on the DVD/Blu-ray Get Your Buzz On before appearing on CD form on this collection. But as solid as their own renditions of these classic songs are, the Lake Tahoe live recordings definitely showcase CHICKENFOOT as a strong live band in their own right with their own material. Wisely too, the setlist from the Phoenix show doesn't completely match the greatest hits segment of Best + Live, allowing for CHICKENFOOT to branch out with other songs that didn't make it on the greatest hits playlist. Opening with the rolling jam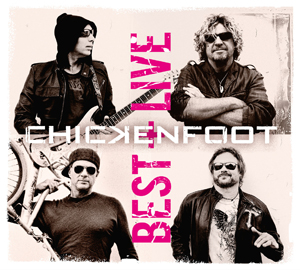 "Avenida Revolucion", Anthony and Smith's rumbling rhythm work pushes the momentum of the song along as Hagar narrates the treacherous legacy of the Mexican cartel in a gritty manner which would impress Zack De La Rocha while Satriani's high-piercing riffs resonate in the background. The band then effortlessly launch into "Sexy Little Thing" to lighten the mood followed by "Soap On A Rope" and "My Kinda Girl", Hagar sweet-talking the ladies in the audience while his onstage wingman Satch has his back with some crisp soloing. "Down The Drain", which first started off as a one-off random jam session between the four established musicians back at Hagar's Mexican retreat in Cabo San Lucas, is brought back to its roots as Anthony's thumping bass sounds off throughout the nearly-10 minute number, battling it out with Satriani's riffing. A previously unreleased B-side track, "Bitten By The Wolf", from the Japanese edition of the first CHICKENFOOT album, showcases Hagar's soulful and bluesy singing as Satch accompanies him on slide guitar, and is perhaps one of his most raw-sounding performances since his Montrose years. Finally, closing the set with the bouncy riff-heavy monster "Turnin' Left" (a song introduced by Hagar as "a celebration of NASCAR") and the anthemic "Future Is The Past", CHICKENFOOT confirm their strength as a consummate live band with a focus for giving their audience as much value for their entertainment as they can.
It's a secret recipe that CHICKENFOOT haven't had any need to change in spite of their off and on recording and touring career.
http://www.chickenfoot.us/
https://www.facebook.com/chickenfoot
4.0 Out Of 5.0
Grab your copy of Best + Live in the KNAC.COM More Store right HERE.

Please log in to view RANTS


ALTER BRIDGE, MAMMOTH WVH In Houston, TX With Photos!

ACID KING Beyond Vision

STEEL PANTHER On The Prowl

NIGHT DEMON Outsider

YNGWIE MALMSTEEN In Ottawa, Canada

THEORY OF A DEADMAN, SKILLET, SAINT ASONIA In Houston, TX With Photos!

OFFICER X Hell Is Coming

PERIPHERY Periphery V: Djent Is Not A Genre

INSOMNIUM Anno 1696

STEEL PANTHER, CROBOT, TRAGEDY In Houston, TX With Photos!

BABYLON A.D. Live Lightning

ROTTING CHRIST, CARACH ANGREN, UADA, GAEREA In Houston, TX With Photos!

MOTÖRHEAD Bad Magic: Seriously Bad Magic

TRAGEDY I Am Woman

ROXANNE Stereo Typical

ANTHRAX, BLACK LABEL SOCIETY, EXODUS In Houston, TX With Photos!