GOATWHORE Vengeful Ascension


By Nathan Dufour, Great White North
Wednesday, June 21, 2017 @ 10:47 AM


| | | |
| --- | --- | --- |
| | | |
GOATWHORE
Vengeful Ascension
Metal Blade, 2017




The irony of listening to a fully analog recording on a computer notwithstanding, we now find ourselves at the gaping maw of GOATWHORE's 7th proper release, Vengeful Ascencion. Somewhere, out there, there is a heavy metal album name and song title generator, I just know it.

Vengeful Ascension clocks in at just over 40 minutes but there is no fat here that really needs trimming - at this stage of the game GOATWHORE know exactly what they are doing and who their audience is. Experimentation can be a difficult mistress to master and does not always pay dividends, but there are movements and themes here that GOATWHORE hasn't pulled out of their cannon since the days of Acid Bath. I'm serious.

Instead of storming the gates with swords drawn, on opener "Forsaken" the listener is greeted instead with an almost tribal drum beat as an immediate and foreboding harbinger that this is not a usual GOATWHORE album. The tone is almost dancy and revelatory. And then it rips your face off. Off we go.

With "Under The Flesh, Into The Soul" (see, there really is a generator) we see that yes, Sammy still has the riffs and somehow GOATWHORE got a damn shiny tone for such dark music. This is likely the brightest and most ebullient the band has ever sounded on album, a fact no doubt informed by the recording process (this is their second fully analog recording for those keeping score at home) as well as the 3 years and a bit between albums . Full disclosure is Sammy already had the riffs in 2015 or at least was working on them. I know because seeing GOATWHORE in 2015 he was carrying a laptop and said as much and I have no reason to not believe in the power of the almighty Sammy Duet. The real surprise here though is in the overall arrangement of the song itself, somehow spiralling at an unholy nexus of punk (check out the sweet and succulent bass noodle and triplet chicken beat during the introduction and try not to smile), thrash, and d-beat crust weightiness, hitting all of the disparate hallmarks of the GOATWHORE sound in one song. Oh, and then there is the matter of the guitar solo, a serpentine shape-shifter of tone and whammy abuse (Whammy Sammy?) before lifting itself to the heavens with some divine licks that simply beg for air guitar. You know you're going to, I know you're going to, just submit.

Title track "Vengeful Ascension" starts off with the always excellent bellow of Ben Falgoust, urging all who bear witness to post haste grasp the ever elusive fruit that which does not exist and hoist it skyward. Upon descent is atmosphere heretofore only hinted at, flirted with, in the past, with an almost classical arrangement if I do dare say, the guitar, bass and drums all uniquely understated with an ethereal vocal treatment that sounds like the tortured gently weeping in the distance in Satan's basement. This of course does not last long come chorus time but the motif is repeated throughout the track. Such dynamics are, again, not alien to the aesthetic of GOATWHORE, but the interplay here is controlled chaos, the band really unfurling its ashen, coriaceous wings to stretch forward and challenge not only themselves but the listener as well to go beyond what is expected and come away with something new yet also hauntingly, and gratefully, familiar.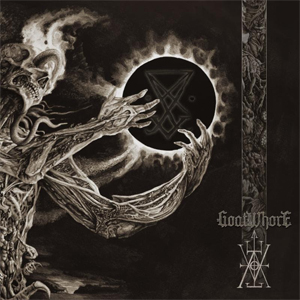 Not to become an exercise in the track by track breakdown, the rest of the album breathes fully its newfound oxygen and careens its way through the dark and desolate valleys of the mind and of the suffocating atmosphere of just the sort of blackness and bleakness that GOATWHORE have been peddling for 20 years now. They show no sign of slowing, but Vengeful Ascension is absolutely a slow burn, the effect being that portions of it will singe themselves onto your brain tentacles and pop up in the middle of the night like the monster lurking just beyond the edge of the darkness, just barely beyond that which you can clearly make out in pitch dark.
Remember Acid Bath? If the opening salvo riff of "Decayed Omen Reborn" doesn't tickle the sludge muscle you just aren't human, man. The double kick assault propels a vintage riff right into your ear holes and carries the song beautifully into a very sludgy midpoint without ever becoming a parody of a genre. It's just thick like molasses in January. It's just awesome.
The largest surprise comes at album closing time, with a violin. At least I think that's what I hear - an unusual and welcome change up and not a barnburner of a closing track per se, but a very apt bookend to this chapter of GOATWHORE's growth. The bottom line is that Vengeful Ascension is the sound of a band at the top of their game but also not afraid to step outside the circle and take their fans for a ride. Strap in.
4.0 Out Of 5.0
Pick up a copy of Vengeful Ascension in the KNAC.COM More Store right HERE.

Please log in to view RANTS