GRETA VAN FLEET Black Smoke Rising


By Peter Atkinson, Contributor
Monday, June 26, 2017 @ 1:14 PM


| | | |
| --- | --- | --- |
| | | |
GRETA VAN FLEET
Black Smoke Rising
Republic Records




While Michigan quartet GRETA VAN FLEET is being hailed by some with "the future of rock" hyperbole, the band's sound is very much rooted in the past, indeed from well before any of the fellas was born.

Though GRETA has been kicking around for five years, it is still just basically a group of kids, barely out of high school. Yet, the band's four-track debut EP revels in the bluesy hard rock sensibilities of the late '60s/early '70s, most obviously that of LED ZEPPELIN, which itself was born of an earlier era. It sounds like something out of their parents' record collections, and is certainly a far cry from the kind of stuff most "kids these days" seem to be bashing out.

And that's both a blessing and curse. It's definitely a welcome change from the swoop-haired, neck-tattooed screamo and metalcore one has come to expect from this demographic – and it's unquestionably more inspired. At the same time, those inspirations are worn way out on the band's respective sleeves – at least over the first three tracks on the EP. Yet, instead of opting for mere contrivance, or worse, sheer mimicry, GRETA's freewheeling exuberance and seasoned chops give its music a surprising genuineness and spark, despite it's familiar sound.

The LED ZEPPELIN resemblances here are undeniable and, to a certain extent, unavoidable. Singer Josh Kiszka, one of three brothers in the band – the others being Jake on guitar and Sam on bass and keyboards, with childhood friend Danny Wagner playing drums – channels Robert Plant to a frightening degree. It's like they share the same voice, from the soulful delivery, jaunty cadence, impassioned moans and leonine yowls. Josh has been graced with a truly glorious and agile set of pipes, and he takes full advantage. As well he should.

His band mates, for their part, take that ball and run with it too. The opening track, "Highway Tune", sounds right off of Physical Graffiti. Its gruff, shuffling guitar jangle, frisky rhythm and burly drums go hand in hand with Josh's howls and "oh mama," "oh sugar" hippy romanticism – a common theme here. "Safari Song" is a more direct hard rocker that recalls "Ramble On" from the Zeppelin II era and boasts some nifty licks from guitarist Jake.

The ample keyboards, acoustic guitar/mandolin strains and Josh's "she's outta sight" sentimentality on the mellower "Flower Power" come across as a "Going To California"/"Your Time Is Gonna Come" hybrid – especially in the long organ fade out. The song's hint of psychedelia befits the title.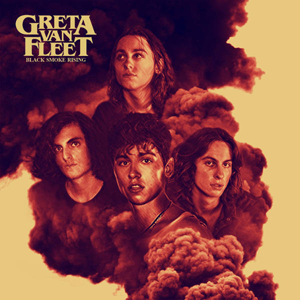 Things take on a comparatively contemporary air, though, with the title track, where Josh's delivery and tone sound more distinct and personal and his lyrics are more sedate, mature and current: "Many people are dividing, And a world apart with just one heart, Is bound to keel and fade away." There's no "baby's," "sugar's" or "mama's" here. The music has a sparse, laid back, "Under The Bridge"-era RED HOT CHILI PEPPERS vibe and its earnestness makes for a dramatic contrast to the more playful tunes that precede it. If this is where things are headed for the band, then the future holds promise indeed.
Still, even when GRETA is at is most ZEPPELIN-esque, it never feels as calculated or reverential as some of the more flagrant clones that have come before – anyone from KINGDOM COME to DAVID COVERDALE at his most covetous. Instead, it bears the sound of a young band trying to find its footing, and having some fun with it in the process. But when the moment comes, as it does on the title track, the serious, confident tone seem to indicate the foursome knows it might well be on to something. And it might very well be right.
3.0 Out Of 5.0

Please log in to view RANTS