AVATARIUM Hurricanes And Halos


By Daniel Höhr, European Correspondent
Monday, June 26, 2017 @ 1:57 PM


| | | |
| --- | --- | --- |
| | | |
AVATARIUM
Hurricanes And Halos
Nuclear Blast, 2017




Founded in 2012 by CANDLEMASS composer and bassist Leif Edling, the Swedish outfit AVATARIUM has stood out from other doom metal bands as an act bursting with creativity and constantly exploring new musical territories. Since its 2013 debut EP Moonhorse, the band has also been extremely prolific. After two EPs and two full-length albums, Hurricanes And Halos, AVATARIUM's third studio effort, has been on the shelves for about a month now. Thus it's high time to give it a proper listen.

It would be far too easy to pin down AVATARIUM simply as a doom metal band. Neither would it do singer Jennie-Ann Smith, guitarist Marcus Jidell, drummer Lars Sköld, bassist Mats Rydström and organist Rickard Nilsson justice. Yes, the BLACK SABBATH-style riffing is there as is the big, fat sound. But Jennie-Ann Smith's bluesy voice and extremely melodic and in some places extraordinarily catchy vocal lines, the use of an old school heavy rock organ as well as arrangements that go far beyond the usual unison riffing, which characterizes the doom metal genre, create a sonic world that is colorful, expressive and relentlessly mesmerizing.

The gloomy opener, "Into The Fire – Into The Storm", kicks in with a traditional, straightforward up-tempo heavy metal riff. The catchy half-time chorus makes you want to shout along straight away and the solo part, shared by guitar and organ, is somehow reminiscent of 1970's DEEP PURPLE. "The Starless Sleep" takes you to a totally different world: a stomping mid-tempo beat, a warm sound with less distorted guitars and enchanting melodies make this song one of the many highlights on the album. "Road To Jerusalem" blends psychedelic with folk elements and gets an appropriate oriental sentiment across. "Medusa Child" alternates between brooding, hypnotic doom metal riffing, a much more luminous and melodic chorus and features tempo and rhythm changes that may take an extra listen or two to get used to but which make it a real sonic feast, especially the spellbinding slow part that concludes the track. One of the definite highlights on this superb album is "The Sky At The Bottom Of The Sea": its heavy guitar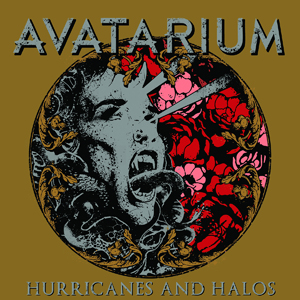 and organ riffs as well as its recollections of LED ZEPPELIN together with Jennie-Ann Smith's JEFFERSON AIRPLANE kind of vocals make this a classic rock song wrapped up in a modern sound. The contrast between this solid piece of rock music and the following ballad "When Breath Turns To Air" couldn't be any bigger. Monolithic riffs here, fragility and sorrowful enchantment there. "A Kiss (From The End Of The World)" starts off with an acoustic guitar intro but soon brings us back to back doom territory with somber BLACK SABBATH-style riffs in the verses, then develops into a more serene, melodic chorus and finally dissolves into an extended instrumental part. The title track "Hurricanes And Halos" is little more than a ghostly instrumental afterthought but the perfect conclusion to an almost forty-five-minute musical and sonic exploration of a vast variety of musical grounds far beyond the usual doom metal stereotypes.
Thanks to the production by Marcus Jidell, the recording and mixing by David Castillo and the mastering by Jens Bogren, AVATARIUM's new opus has an extremely warm and organic but entirely transparent sound.
Hurricanes And Halos is a cracking album that will please an audience ranging from doom metal fans to classic rock connoisseurs. There is absolutely nothing to complain and the five out of five are well deserved.
5.0 Out Of 5.0
Grab your copy of Hurricanes And Halos in the KNAC.COM More Store right HERE.

Please log in to view RANTS