ROB HALFORD The Complete Albums Collection


By CrpnDeth, Staff Photographer/Writer
Wednesday, July 26, 2017 @ 3:29 PM


| | | |
| --- | --- | --- |
| | | |
ROB HALFORD
The Complete Albums Collection
2017 Legacy Recordings/Sony Music




Just like everyone else, I was shocked when Rob Halford announced his departure from JUDAS PRIEST in 1992 (he had actually left the band in September 1991 after the Painkiller tour, but due to contractual obligations stayed on until May 1992). I loved the straight up metal vibe of Painkiller and hoped it was a sign of things to come with PRIEST (after all, we were coming out of the Turbo/Ram It Down era). I had caught the Operation: Rock 'n Roll tour in July of 1991, and the band was phenominal as always, with the new album giving them a reinvigorated thirst for heaviness. Who knew after this tour Rob was gone.

On May 19th, via Legacy Recordings, The Complete Albums Collection was be released, showcasing 14 discs of Rob's non-PRIEST material: four discs from FIGHT, the only 2WO release, and seven releases from HALFORD, bringing the Metal God back in to the spotlight.

Leading up to 'the heavier side of Rob', the song "Light Comes Out Of Black" was released in 1992 via the Buffy The Vampire Slayer soundtrack, and featured music from PANTERA. This tune is later released on Live Insurrection (released in Japan on March 27, 2001, and released worldwide in April 2001).

In September 1993, War Of Words was released, the debut disc from his new band FIGHT. The band was a slight departure from PRIEST as it contained thrashier elements, more so than any PRIEST release. The heaviness and riffs, with their thickness and grooves, followed suit along side PANTERA, who had released Vulgar Display Of Power the previous year. Many fans were delighted with the direction Rob/the band had taken. The disc contains the headbangers "Into The Pit", "Kill It", and "Vicious", among others. Rob's new pursuit in to heavier music was something he had stated he didn't feel he could write in PRIEST. In May of 1994, I caught the band opening for ANTHRAX and their live show proved the disc was no joke, and they were giving the heavier bands a run for their money. The disc hit #83 on the Billboard 200 chart, and the single "Little Crazy" hit #21 on the Mainstream Rock Tracks chart.

The band consisted of Rob on vocals, Brian Tilse and Russ Parrish on guitars (Russ has been Satchel in STEEL PANTHER since the band's inception), Jack 'Jay Jay' Brown on bass and Scott Travis on drums.

Mutations came out on July 12, 1994, and contained four live songs recorded in New Your City on Nov. 14, 1993: "Into The Pit", "Nailed To The Gun", "Freewheel Burning", and "Little Crazy". The remaining songs on the disc were "Bloody Tongue", "Dutch Metal", "Middle Finger", "Tolerance" and "Straight Jacket" remixes of five War Of Words tunes.

On April 12, 1995, FIGHT released A Small Deadly Space. This will be their last full length release of originals.

I always give artists credit and kudos for trying new shit, and venturing out of their element at least a little. I honestly wasn't sure what the band was trying to do with this release. It comes off as a watered downed version of War Of Words; An extremely disappointing sophmore effort. The previous precision riffage has given way to mediocre, generic metal riffs. Rob's epic and legendary pipes have been drowned out by way too many effects, and are often uninspired droning ("Blowout In The Radio Room" is a perfect example). Some solos could have been a lot catchier if they didn't suffer from the same fate as the vocals. A lot of fans amassed from the last release and tour were lost with this release, and it only hit #120 on the US charts (and only hitting about 67k copies in sales). Listening to the riffs and tones, it was very possible that the release was guiding us towards 2WO.

An interesting thing with these two releases is that at the 9:43 mark of "Reality...A New Beginning" off of War Of Words is a hidden track called "Jesus Saves", and after two minutes of silence in "In A World Of My Own Making" from A Small Deadly Space has a hidden track called "Psycho Suicide".

The band consisted of Rob on vocals, Brian Tilse and Mark Chaussee (replacing Russ Parrish) on guitars, Jack 'Jay Jay' Brown on bass and Scott Travis on drums.

In 1998, Rob, together with John 5, formed 2WO and went in to industrial overload with the Trent Rezner produced Voyeurs. Legions of fans were highly disappointed with this abrupt direction change. The album only charted at #176 in the US, selling just over 47k copies. Rob disbanded the group two years after the release.

Luckily for the metal community, Rob regrouped and came out with his new metal band HALFORD, featuring Patrick Lachman and Mike Chlasciak on guitars, Ray Riendeau on bass and Bobby Jarzombek on drums. On Aug 26 of 2000, the band released Resurrection. It hit #140 on the Billboard charts and was critically acclaimed. The disc was a true to form return for Rob, and contained such metal nuggets as the title track, "Cyberworld" (fitting as Napster was in full force prior to the disc's release), "Made In Hell" and the duet with IRON MAIDEN's Bruce Dickinson on "The One You Love To Hate".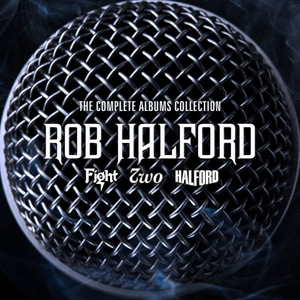 Resurrection is the result of thousands of hours of work from August 15, 1998 - June 27, 2000. The band returned in July of 2002 by dropping Crucible, a solid followup effort to Resurrection. The disc opens with the thunderous "Betrayal", and doesn't let up from there, unleashing even more on "Handing Out Bullets" and "Wrath Of God". The disc hit #144 on Billboard.
This is where the collection starts to taper out for me. I love live albums, but there really wasn't much difference between Live Insurrection and Live In Anaheim. I don't feel they actually capture Rob's true presence. Live In Anaheim was released June 22nd, 2010; it was recorded and filmed live in Anaheim, California in June 2003, months prior to reuniting with JUDAS PRIEST. Rob Halford debuts new members Roy Z and Mike Davis and contains four rare performances from Tokyo, Japan in February 2003 (I have yet to see the DVD, but that would have been better included). Live Insurrection was released March 28th, 2001.
The tapering continues. I am not a fan of demos. Rarely have I enjoyed a demo. Sometimes you hit a gem, but this is not one of those times. Included here is the FIGHT demos, released in 2007 (I love the original disc, why would I want to listen to underproduced versions of the same songs?).
Ah yes, we have Winter Songs - a Christmas/holiday disc mixed with original songs and new arrangements of classic Christmas songs. It was released on November 3, 2009, in the United States and on November 9, 2009, in Europe. The first single "Get Into The Spirit" was released on September 29, 2009. I for one just do not get in to much Christmas hard rock tunes, pretty much like demos. There are several that I crank every year to annoy the neighborhood, but for the most part they just don't work. I'll leave this disc up to your own personal taste, it might become a staple of the season for you.
Overall this release is perfect to add to your collection.
4.0 Out Of 5.0
Pick up your copy of The Complete Albums Collection in the KNAC.COM More Store right HERE.

Please log in to view RANTS