THUNDERSTICK Something Wicked This Way Comes


By Daniel Höhr, European Correspondent
Thursday, July 27, 2017 @ 12:24 AM


| | | |
| --- | --- | --- |
| | | |
THUNDERSTICK
Something Wicked This Way Comes
Independent Release, 2017




THUNDERSTICK is back with a new line-up and a new album. Dubbed in the December 1979 issue of the British magazine Sounds "the new face of heavy metal", the former IRON MAIDEN and SAMSON drummer is one of the icons of the NWOBHM. And an icon he definitely is. The masked drummer would play his drumkit inside a huge cage, which he would also demolish during a show – at least he did so at the 2000 Wacken Open Air, when I was fortunate not only to see what, sadly, was to be the last SAMSON show ever but also to meet the band afterwards.

Besides working with artists like Bernie Tormé and the ELECTRIC GYPSIES in the late eighties, Thunderstick, also known as Barry Graham Purkis, also released albums with his self-named band THUNDERSTICK, which went through several metamorphoses from 1981 to 1988. The band had a female singer and adapted a theatrical concept that was inspired by Rocky Horror, Alice Cooper and Hammer horror movies. In 2011, the 1983 EP Feel Like Rock 'n' Roll? and the 1984 full-length album Beauty And The Beasts were re-released on the compilation Echoes From The Analogue Asylum. In April 2016, Thunderstick's long-standing vocalist Jodee Valentine tragically passed at the age of 56. This prompted Perkis to revive his band THUNDERSTICK with a new line-up, which is now composed of singer Lucie V, Martin Shellard and Dave Kandy Kilford on guitars, Rex Thunderbolt on bass and Thunderstick himself on drums. The album Something Wicked This Way Comes is now available for download and on CD.

And what an album it is. As the first album with new THUNDERSTICK material in thirty years, its ten tracks literally burst with ideas. Driving grooves, thundering drums – Thunderstick and Rex Thunderbolt are a formidable rhythm section – kick-ass riffing, exciting solos and, above all, Lucie V's characteristic and expressive vocals make Something Wicked This Way Comes an entirely superb album. Stylistically it is rooted in the music of the NWOBHM: there are parts that sound very much like early IRON MAIDEN or Bruce-era SAMSON. It blends heavy rock with occasional punk elements but it also has quite a few surprises in store. To employ a rather hackneyed but in this case absolutely appropriate phrase, the album contains no fillers but all killers. Its absolute highlights include the uptempo track "Don't Touch I'll Scream" with its triplet groove and soaring vocals as well as "Go Sleep With The Enemy (I Dare Ya)", whose chorus will stick in your head for days once you've listened it. There's also some great guitar work on this track, which is altogether just incredibly good fun to listen to.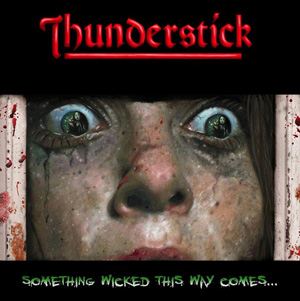 "Encumbrance" is a good-time rock 'n' roller, "Fly 'n' Mighty" comes across as a bit punky and features impressive lead guitar onslaughts in the solo part. The seven-and-a-half-minute long "Blackwing" with its relentless eighth note groove in the bass guitar, its sometimes spoken, sometimes sung but always poignant vocals, the memorable chorus and a few unexpected rhythm and mood changes is the most complex composition of the album and showcasts the stellar musicianship of the band. "Thunder Thunder" is a fast rocker that best exemplifies what this album is basically all about – incredibly good drumming, tempo, melodies, tension and a lot of fun. The following power ballad "I Close My Eyes", which stands in intense contrast to the preceding number and which concludes this album, is hauntingly beautiful: a steady acoustic guitar, a melodic bass line and laid-back drums provide the basis for Lucie V's wonderfully expressive singing and excellent guitar work – the solo is really touching – while a few unexpected chord changes as well as constantly rising and falling tension make this song extra special.
Rather than warming up old NWOBHM formulas, THUNDERSTICK's Something Wicked This Way Comes translates late 1970's/early 1980's heavy rock into a modern and quite heavy but colourful sound. There are so many details that you are bound to discover something new each time you play it. The album never gets boring but is increasingly good fun to listen to and definitely deserves five points.
5.0 Out Of 5.0
You can purchase your copy of Something Wicked This Way Comes right HERE.

Please log in to view RANTS