HINDER The Reign


By Halo, Heavenly Contributor
Thursday, July 27, 2017 @ 12:26 AM


| | | |
| --- | --- | --- |
| | | |
HINDER
The Reign
The End Records




HINDER is back with a vengeance! The sixth studio album The Reign is set to release August 11th and is the followup to 2015's When The Smoke Clears, which reached Top 10 success on the Billboard charts, top rock Album #10, Top Alternative Rock #8 and #3 Top Hard rock album. When The Smoke Clears was Marshal Dutton's first album as the new lead vocalist after Austin Winkler left the band in 2013. Dutton was officially named lead vocalist, in which the position was well-deserved and no shocker to HINDER fans. Dutton had been with the band as step-in vocalist and producer for many years previous. Marshal is a breath of fresh air and has helped to bring a refreshing sound to the band. Current members consist of Mike Rodden (bass), Mark King (rhythm guitar), Joe "Blower" Garvey (lead guitar and background vocals), Cody Hanson (drums) and Marshal Dutton (lead vocalist). Cody and Marshal actually produced The Reign.

There are 11 tracks on this album. So far two singles have been released; "Remember Me" In April and the title track "The Reign" within the past two weeks. "Remember Me" is a song that goes dives right into dealing with depression and weathering the storms of life. If you were to leave this world, how would you be remembered? With all the recent untimely deaths in the music world, this track is eerily relevant. "The Reign" is the first song on the album and it's three minutes and twelve seconds of rock 'n' roll rush. It sets the tone for the entire album which is full of solid Rock: Songs about life struggles, new beginnings, consequences of choices we have made and new starts. Of course, what would an album be without sexy innuendos? As all kickass Rock albums usually need, this album's 7th track is one sexy song. "Making It Hard" is one track to listen to when your little rockers aren't around! It's probably one of my favorites on the album. If another single gets released, "King Of The Letdown" would be my choice. It's chaos and badassery all wrapped up into one song with an intro that sucks you in. Guitars and drums in this one are off the charts. The musicianship is awesome throughout this entire project.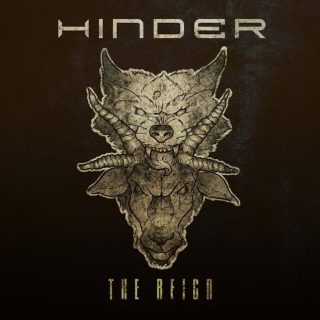 There aren't any tracks on this album that you want to skip. Unlike some albums that you tend to listen to only a few of the songs, this is quite the opposite. You will listen to the album in its entirety over and over. Too many albums released these days are being put out because the band is fulfilling a record deal, with no heart or emotion attached to the production. HINDER seems to be reenergized. This album kicks ass start to finish and the band has made an album that HINDER fans will appreciate.
Other outlets describe this album as Alternative rock and Post-Grunge rock. I will have to 100% state that this album is simply Rock n roll. Any other description of the genre is not doing it justice. Get this album August 11th, it's money well spent. Watch for show dates as HINDER and NONPOINT are on tour together this summer.
5.0 Out Of 5.0
Pick up a copy of The Reign in the KNAC.COM More Store right HERE.

Please log in to view RANTS