SLAYER, LAMB OF GOD In Baltimore


By Peter Atkinson, Contributor
Wednesday, August 2, 2017 @ 1:36 PM


| | | |
| --- | --- | --- |
| | | At Pier Six Pavilion, July 28, 2017 |
All Photos By Peter Atkinson
Blame it on the weather. Or blame it on Jimmy Fallon. Or even just blame it on Baltimore. But for whatever reason, the militantly reliable SLAYER was just a bit off its game during its Apocalypse Summer Tour stop at Pier Six Pavilion on the Inner Harbor.
The show came a night after the band played "Raining Blood" on The Tonight Show followed by a sold-out gig at Theater at Madison Square Garden, so it's understandable if the guys were a bit knackered. Mother Nature certainly didn't help, as the mid-Atlantic was in the midst of a 24-hour super-soaker that was downright biblical, making the typically awful drive along I-95 that much worse – it took me 2-1/2 hours just to get from D.C. to Baltimore, and the ride home was a genuine white-knuckler because it was raining so hard.
And the last time I saw SLAYER in Charm City, in 2010 on its final tour with late guitarist Jeff Hanneman and drummer Dave Lombardo still onboard, the band was somewhat sluggish and out of sorts then too. A lame crowd didn't help.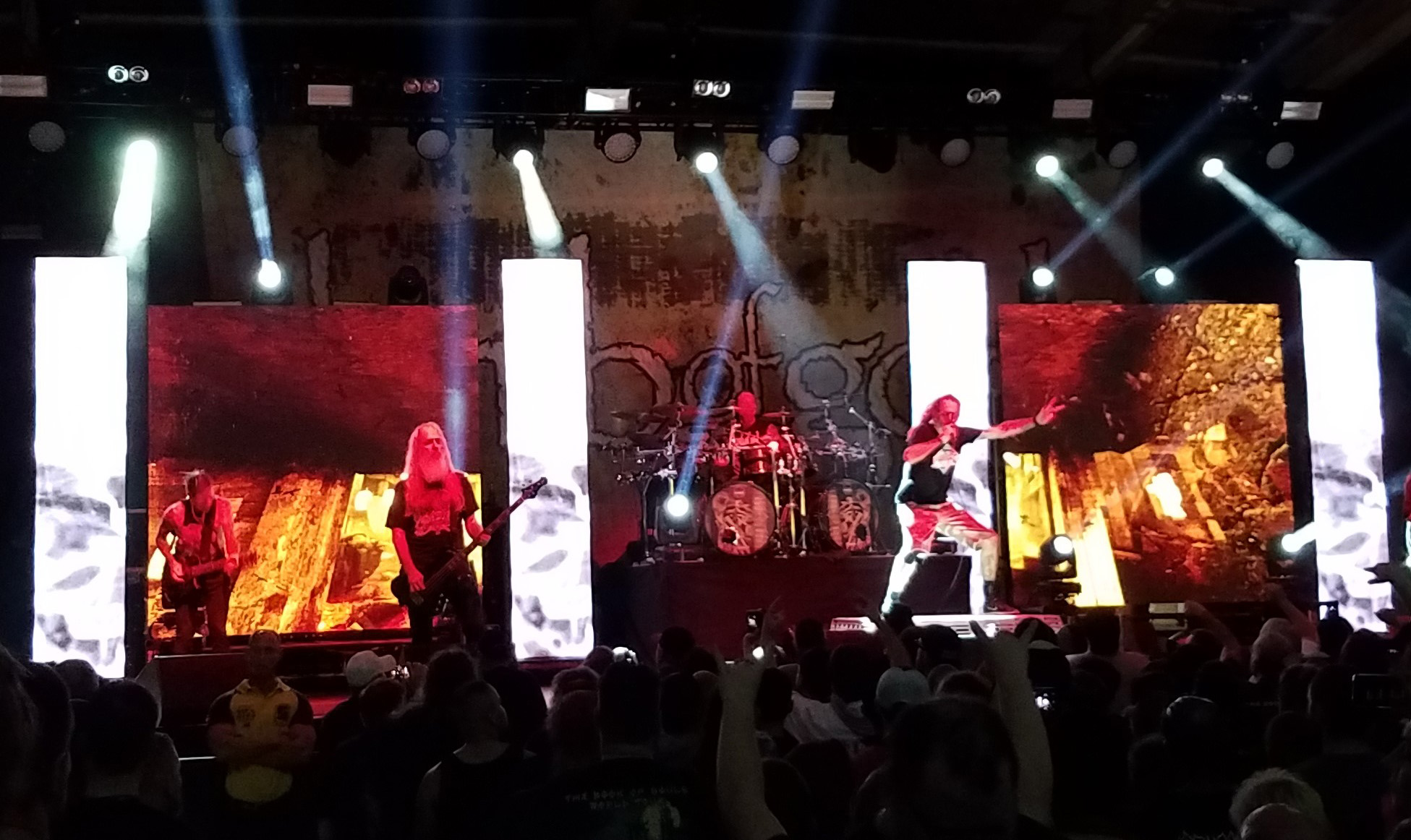 While there was no lack of energy on this late July Friday, something nevertheless was amiss. Frontman Tom Araya was a hair late with his vocals on a number of songs, usually coming in from lead breaks, and missed entire lines a couple times as he ambled back to the mic. And guitarists Kerry King and Gary Holt weren't their usual lock-step selves, being a trifle off timing-wise here and there as well. For his part, though, drummer Paul Bostaph seemed pretty spot on.
Granted most people probably didn't even notice — or perhaps even care. The miscues were minor, brief, quickly rectified and just as soon overwhelmed by the band's legendary intensity, which remained unaffected. But anyone who's seen SLAYER a number of times would have picked up on it — if only because the band is typically so relentlessly in sync. In the end, though, it didn't matter a whole lot, since the band can still blow anyone away even without it's good fastball. It just was so out of character — and it just so happened in the same city as the one other time, out of the nearly 30 shows, that I'd seen SLAYER scuffle a bit.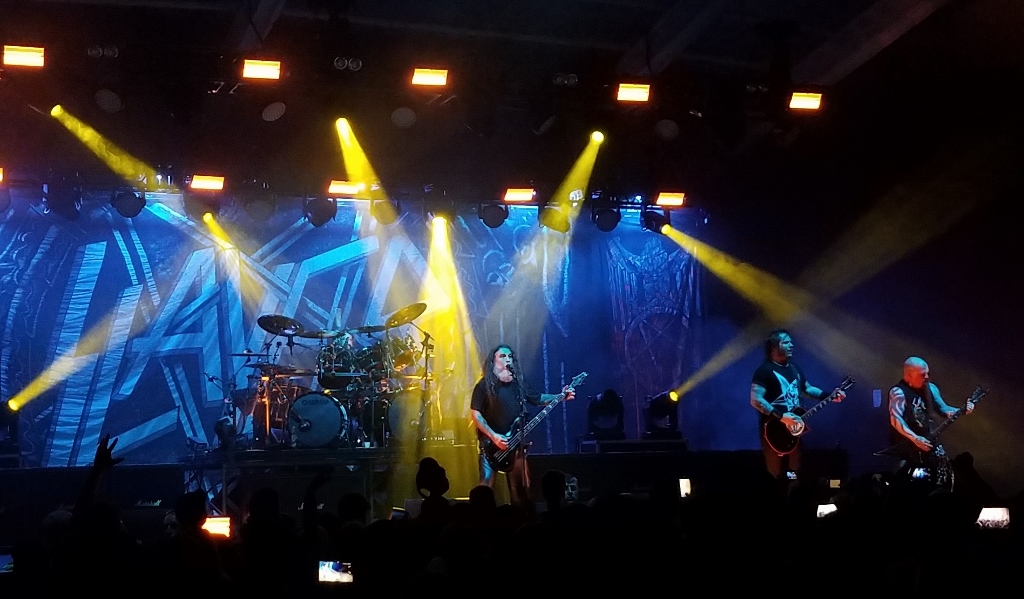 The band certainly didn't seem phased by the slip-ups. Araya wore his usual wry smile and cracked a few jokes on the rare occasions that he addressed the crowd. King stalked stage like a caged animal and Holt headbanged with abandon and peeled off his leads — well, actually, Hanneman's leads, save for new tracks "Repentless", "You Against You" and "When The Stillness Comes" — with cocksure nonchalance.
It was still a very enjoyable show - and worth the slog from D.C. and back in a deluge – even if we weren't treated to the pyro display that some tour stops were. But given the low clearance of Pier Six's circus-tent like cover — and its potential flammability — that was no surprise. And, again, it didn't seem to, umm, dampen the enthusiasm of the crowd that stuffed themselves in under it to get out of the rain.
Everyone went apeshit once the lights went down and the SLAYER logos panned across the stage-front curtain as "Delusions Of Saviour" was piped through the P.A. And once the curtain dropped and the band ripped into "Repentless", that's pretty much how things remained for the duration of SLAYER's 90-minute set, which was a mix of the requisite classics — "War Ensemble", "Dead Skin Mask", "Hell Awaits", "Mandatory Suicide", "Postmortem", "South Of Heaven" — the aforementioned new songs along with 2009's Hate Worldwide and tunes like "Bloodline" and "Hallowed Point" that rotate in and out from tour to tour.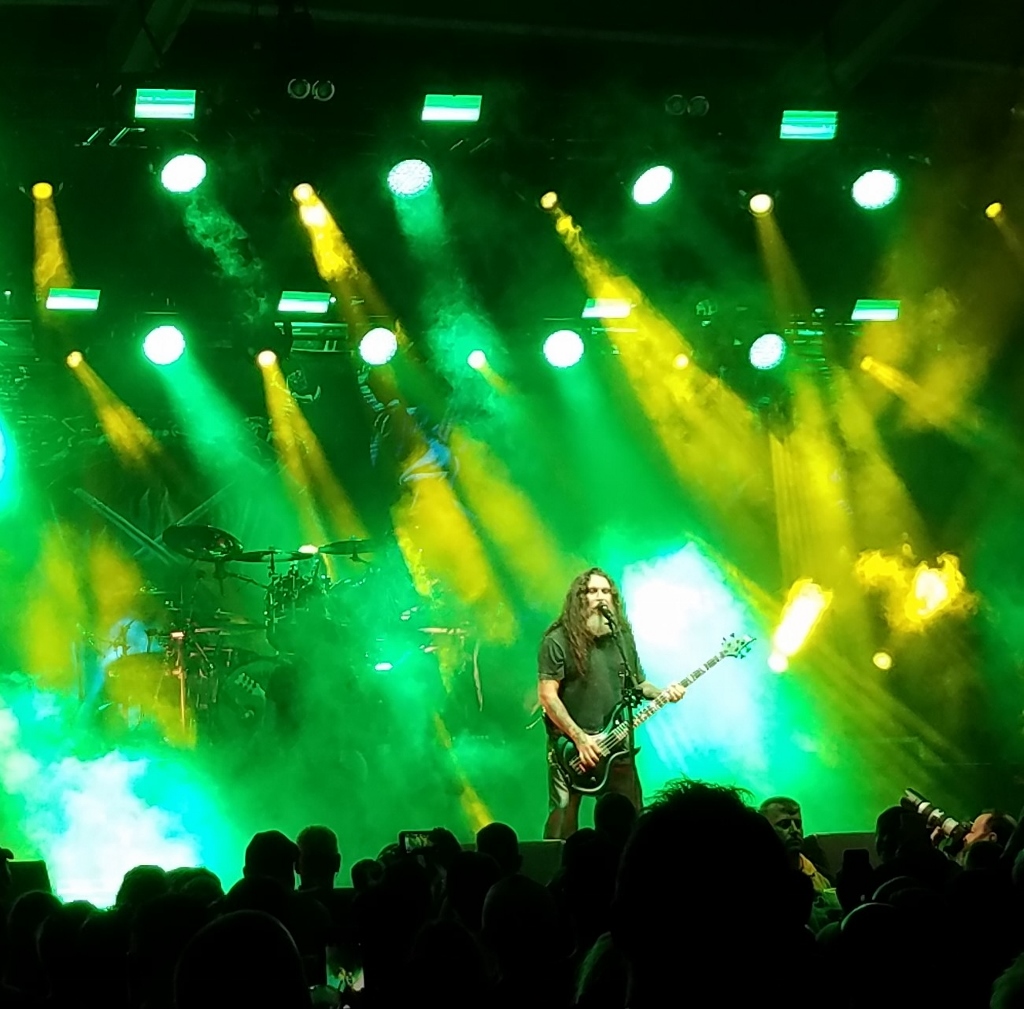 The carpet-bomb finale of "Raining Blood", "Chemical Warfare" and "Angel Of Death" is about as good as thrash metal gets, and was delivered with the authority that makes SLAYER SLAYER. It was a resounding end — especially with "Seasons In The Abyss", "Hell Awaits" and "South Of Heaven" coming right before it to help build momentum — and more than made up for any hiccups.
SLAYER topped an imposing bill that included Poland's mighty BEHEMOTH and Virginia's LAMB OF GOD. It took so damn long to get to the show that I missed BEHEMOTH, which was a shame because the band had played barnstorming sets each of the half-dozen times I'd seen it previously, be it an opening slot, festival set or headlining.
LAMB OF GOD, the "local band" on the bill hailing from three hours south in Richmond, Va., brought its usual ferocity. Exuberant frontman, and Maryland native, Randy Blythe led the way during a brisk 50-some minutes, loping and leaping about the stage and cajoling the audience with his profane between-song rants and raves. LAMB OF GOD fittingly wrapped its 10-song set with "Redneck" and it's "This is your motherfucking invitation …" chorus, ensuring everyone had "a good fucking time."

Please log in to view RANTS