RIOT Inishmore Bonus Edition Reissue


By Rob McNees, Vinyl Aficionado
Friday, August 4, 2017 @ 1:45 PM


| | | |
| --- | --- | --- |
| | | |
RIOT
Inishmore
Reissue Metal Blade Records



The story behind RIOT's album Inishmore, released at the tail end of 1997 (November 12th to be exact) was that band leader Mark Reale wanted to write an album paying tribute to Irish & traditional Celtic music, with a Hard Rock touch obviously. Except for THIN LIZZY, these ears had never heard a rock band attempt to pull that off for more than the occasional song. An ambitious proposition to say the least, but with his band of merry minstrels (Texas rhythm section Pete Perez - bass, Bobby Jarzombek - drums), (vocalist extraordinaire Mike DiMeo) & (guitarist and writing partner Mike Flyntz) they set out to do that very thing. And I believe they nailed it.
Instrumental album opener "Black Water" sets the tone with twin LIZZY leads, keyboards and military cadence drumming. That leads into the Power Metal pounder "Angel Eyes", one of my faves off the album. An uptempo banger, Mike's soaring vocals along with the chorus hook will keep this one in your head for awhile. Pure magic!!
"Liberty" follows, and keeps the energy going. It amazes me how effortlessly RIOT made writing such great songs seem. "Kings Are Falling" brings the tempo down a touch, but the galloping riff will most assuredly keep your head banging mightily. Another favorite here, especially with the harmony chorus echoing in my mind.
"The Man" brings the fire back up, and the driving rhythm guitar might have you checking your speed if your in a motorized vehicle. I caught myself screaming down the road on my Harley with the throttle WFO shall we say! "Watching The Signs"' intro touches back on the Irish influence before the meaty riff kicks in. More exquisite harmony vocals only add to flavor, and the twin leads are the topping to this Metal sundae.
"Should I Run?" fires back up with that RIOT energy that made them so special. If Thundersteel was your first introduction to RIOT, then this will be right in your wheelhouse, no doubt about it. "Cry For The Dying" starts with a touch of Bobby's precision drumming before it kicks into high gear and keeps it there. The speed riffing and harmony vocals is something that plenty of bands have tried, but few can attain this level of greatness.
"Gypsy" starts with classic twin harmony leads before more high energy riffing consumes your Metal mind. Seamless and smooth guitar solos are the icing on the cake. Which leads into the Irish Trilogy, the real 'Irish' part of the album. "Inishmore (Forsaken Heart)" was written by Mark, but truly sounds like a time-honored Irish standard, with Reale even playing Mandolin. "Inishmore" is an instrumental with all those elements, but with a Hard Rock edge, thanks to the twin harmony leads. Mike Flyntz has said that himself and Reale painstakingly harmonized one note at a time till they got it worked out exactly as Mark had envisioned.
With the ocean roaring in the background, the finale "Danny Boy" rounds the album proper up in fine style. The venerable Irish standard has been covered by such icons as Jim Reeves and the Man In Black himself, Johnny Cash, just to name a couple. But RIOT changed the game a bit, opting for a instrumental version here. But it didn't lose a thing, as it's as poignant as any version with vocals this Scotsman has heard. I've had the extreme pleasure to have visited the Emerald Isle and when I listen to this and close my eyes, I can see Ireland in all it's beauty and splendor. Well done indeed.
And that closes the regular album proper. But this new rerelease has some bonus tracks. If you're a RIOT completist, you may already have them as they are the songs off the Angel Eyes EP, released in December of '97 as a kind of companion to Inishmore. "Turning The Hands Of Time" fits right in with the album proper, with its sleek styling and semi-fast tempo. Of course DiMeo's vocal prowess is second to none on this whole album. I'd say his star has risen ten-fold in my eyes after hearing his stunning work throughout. "15 Rivers" is one of the only mid-tempo tracks on offer, but make no mistake, it doesn't make it any less of a song. Smooth soloing gives the song it's subtle appeal, and DiMeo's voice is the glue that binds it together. "Red Reign" is the last proper bonus track, and with its gang vocal chorus, sounds more reminiscent of the 80's than the late 90's to these ears. That's not a slight either, just an observation. The last track, "15 Rivers (Acoustic Writing Demo)" is as advertised, and has Mark & Mike working thru the song acoustically. Not a proper full song, as there's a couple of different versions all tacked together. Cool to hear how the song was born, and how they could have easily made just an acoustic album that would have blown people's minds.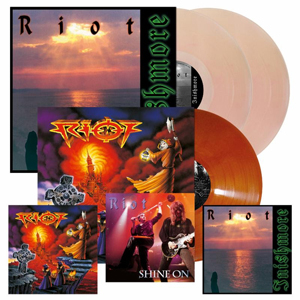 So there you have it. I'm hoping that these rereleases get through to more folks, as I do believe it's a real corker of an album deserving of your attention and hard earned dollars if you don't already own it. For the Old Guard, it won't make you stop wearing out your Fire Down Under album, but at least hopefully you'll take away that Mark Reale was under appreciated and he wrote quality Metal music of the highest order. A true Warrior till the end. The pipes, the pipes are calling........
And for my Vinyl brethren, I was well chuffed to see that for the 1st time EVER, there was to be a Vinyl release of Inishmore!!! I pre-ordered it as soon as the press release hit the airwaves. On Clear Dawn Red, and extremely limited. 100 copies. I am the proud owner of #031 of 100. I hope you gals & guys out there got it or can get a copy. It's WELL worth it.
4.6 Out Of 5 Skulls
Grab your copy of the Inishmore Bonus Edition Reissue in the KNAC.COM More Store right HERE.

Please log in to view RANTS