RIOT Sons Of Society Bonus Edition Reissue


By Rob McNees, Vinyl Aficionado
Monday, August 14, 2017 @ 7:28 AM


| | | |
| --- | --- | --- |
| | | |
RIOT
Sons Of Society Bonus Edition Reissue
Metal Blade Records




For my final review of this round of RIOT rereleases, I thought I'd throw the caveat in that I'm reviewing them on their merit, and not really stacking them up against the legendary RIOT albums I grew up with and were/are the cornerstone of the RIOT legacy.

So with that point being made, let's delve into 1999's Sons Of Society.

The instrumental "Snake Charmer" starts out with a very Middle Eastern flavor that flows nicely into "On The Wings Of Life", a quality banger with a mean riff to drive it home. And the band on "S.O.S" is the same as the previous reviews, Reale, Flyntz, DiMeo, Jarzombek & Perez.

The title track is next and is one of my faves off the album, with the melody and musicianship on this second to none, as you have come to expect from this band, no matter who the players are. "Twist Of Fate" has some tasty harmony vocals, and "Bad Machine" has Bobby's drums keeping this mid-tempo fist-pumper rocking in fine style.

"Cover Me" is a balladesque track that keeps the speed down but is no dud. And at almost 7 minutes, is easily the longest track here. "Dragonfire" is the 1st full-on Speed Metal track so far, but still has more than enough melody to make even the tamest of rockers get that head banging. "The Law" is a tad slower, but damn sure no less aggressive and should have the air rhythm players happily riffing along.

"Time To Bleed" takes that tempo back up a notch, and with some robust duel-leads and Mike's vocals, makes it another winner indeed. "Queen" is the lone vinyl bonus track and was the Japanese bonus track. Mid-tempo, with a quick chord in the song that made "Music Man" from another legendary US Metal band, THE RODS pop in my head. "Somewhere" has Bobby throwing down his best RUSH-inspired drum fills inside this solid offering with glorious twin leads by Mark & Mike. "Promises" ends the album proper with a strong statement with DiMeo's vocals soaring over a Power Metal smorgasbord of the highest caliber.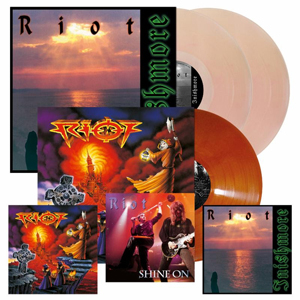 Extras include instrumental rough mixes (that sound damn good btw) of "Sons Of Society", "The Law", "Time To Bleed", "Somewhere" and "Promises" rounding it out. Pretty cool to hear instrumental versions of these tracks, but if you're anything like me you'll be singing the words over the music irregardless. With the extras it most definitely makes it value for money IMHO.
With Mark gone, his father Anthony now is in control of the RIOT legacy, and you can't fault a dad from wanting to see his son's music reach as many people as possible. More especially since the late 90's saw Metal fall on hard times, at least what I remember of it anyway. Or if you missed the boat 1st time around, no time like the present to make amends for that bad decision. Either way, I think you'll be proud to add these to your Metal collection.
Vinyl aficionados rejoice!! For the very 1st time ever, SOS is available on wax, but in extremely limited quantities. 100 copies on Orange/Brown Vinyl. I'm the proud owner of #60 of #100.!! Shine On!!
4.3 Out Of 5 Skulls
Grab your copy of the Sons Of Society Bonus Edition Reissue in the KNAC.COM More Store right HERE.

Please log in to view RANTS