BRITISH LION In Cologne, Germany With Photos!

By Daniel Höhr, European Correspondent
Monday, August 14, 2017 @ 11:38 AM

| | | |
| --- | --- | --- |
| | | At Luxor August 11, 2017 |
All Photos By Daniel Hohr
Cologne's Luxor is exactly the kind of venue where, in case you have forgotten, you will get a roaring reminder of what rock 'n' roll is quintessentially all about. The club holds about 400 people, it has a low ceiling and quite a small stage. As BRITISH LION singer Richard Taylor remarked during the show, the place was like Hamburg's legendary Star-Club, where THE BEATLES started their international career. Whether or not this is true I don't know, but the pure energy of the two outstanding bands and the boiling sweat and beer-drenched atmosphere in Cologne's Luxor on Friday night guaranteed a bona fide rock experience with a good dash of back-to-the-roots vibes but in a good way, especially because the star of the evening was none other than IRON MAIDEN's own Steve Harris who, having just toured the big arenas in the UK, Europe and North America with MAIDEN, is now on tour playing mainly clubs with his 'other' band, BRITISH LION.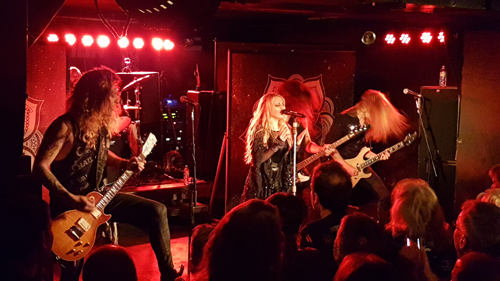 A great main act deserves an oustanding support act, even though that doesn't always happen. BRITISH LION had a superb support act: KOBRA AND THE LOTUS hit the stage at 19:15 hrs, even though the show was supposed to start at 19.30 hrs. Never mind, the Luxor was packed anyway and it took the five-piece around singer Kobra Paige from Calgary, Canada only few minutes to win the audience over. "We're just five kinds from Canada and we love heavy metal", Kobra Paige introduced the band. And that love for heavy metral truly showed. Deeply rooted in traditional, classic but timeless, no-frills heavy metal of the 1980s and fronted by their classically trained and charismatic singer who can definitely stand a comparison with female vocal legends such as Doro Pesch and Jutta Weinhold, KATL's energetic and tight performance of their 45-minute set went down extremely well. If it had been up to the crowd that evening, they could have carried on for much longer. And if you don't know the band, do check them out.
After a thirty-minute changeover, BRITISH LION came on at 20.30 hrs and opened their set with "This Is My God", the opener of their hitherto only album, which was released in 2012. Frankly, I'm not the biggest fan of this album but the songs clearly work way better live than on the recording. BRITISH LION's music, which is more along the lines of classic rock and hard rock with a heavy edge to it and unmistakably British, is tailored for live performances allowing David Hawkins (guitar), Grahame Leslie (guitar and backing vocals), Simon Dawson (drums), Richard Taylor (lead vocals) and Steve Harris (bass) to play up to their full potential, which they did on Friday night. Especially singer Richard Taylor, who on some songs also played acoustic guitar, came across live so much better than on the album. Since I had last seen the band, which was at the end of November 2016, I found they had enormously improved. However, the main attraction of BRITISH LION is certainly Steve Harris, whose bass playing surely dominates the band's performance in as much as it provides a solid basis for the other instruments. Even though the signature sound of his Fender Precision bass – complete with the West Ham United club crest – is just as much a vital element of the BRITISH LION sound as it is of IRON MAIDEN's. BRITISH LION, whose music isn't anything like MAIDEN's, allows him to play differently. From the very first chords of their 90-minute set, Steve Harris led the band throughout the show, was completely immersed in the songs, sang along, put the foot on his wedge monitor as we know it and even 'shot' with his signature bass rifle into the crowd a couple of times. The band were obviously enjoying themselves, delivered a top notch performance and got the audience sufficiently sweating in that tiny place. And then there was the human factor – Grahame Leslie's guitar intro to one of the songs, I can't remember which one it was, didn't sound exactly as it was intended to be, so he stopped, went to his microphone and said: "Let me do that again." Steve Harris, just like many in the crowd, burst out laughing. And this is also part of the experience of live music.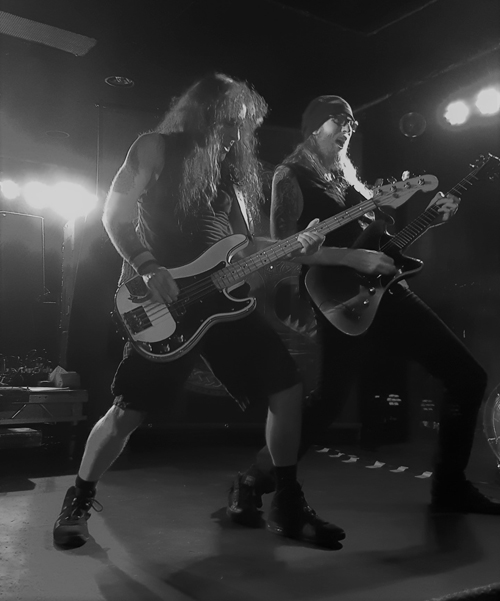 The setlist contained seven songs from BRITISH LION's self-titled album: "This Is My God", "Lost Worlds", the good-time rock 'n' roller "The Chosen Ones", definitely one of the highlights on the album and a real killer live, the mid-tempo groover "These Are The Hands", "Judas" and "Eyes Of The Young". "Spitfire" and "Bible Black" have been part of the band's live set since the summer 2015 tour. It should be interesting to hear what the road-tested material that is not on the 2012 album will sound like when it eventually comes out on a new studio album. However, according to what Mr. Harris has said to other media, material recorded on recent tours will find its way on a live CD, which is, given the band's outstanding live qualities, something to look forward to. But back to the Cologne show.
As it is often the case when bands play clubs, there is no real break between the regular set and the encores. The Luxor show was no exception and thus BRITISH LION didn't leave the stage after "Judas", which concluded the regular set. Following a little pause, Steve Harris and his bandmates kicked off the encore part of the show with the UFO cover "Let It Roll", followed by – what else? – the enormously catchy "Eyes Of The Young", which the assembled fans surely didn't get rid of for hours to come. This KNAC.COM contributer certainly didn't.
A BRITISH LION show is the perfect opportunity to get as close to Steve Harris as you would never do during an IRON MAIDEN show, unless, of course, they decide to play venues such as this one. Musically, BRITISH LION show a different side of Steve Harris. To be fair, the band is by far not just about him. You could have got that impression when you saw his bandmates basically standing by and watching the considerably long queue of fans more or less patiently waiting to have a photo taken with a patiently smiling Steve Harris, giving a thumbs up each time a crew member took a photo of the bass legend with a blissfully happy fan. Each member of the band is an outstanding musician in his own right and there is no doubt that the already awesome band is developing into something really huge. And huge they were in Cologne's small Luxor club on Friday night.
BRITISH LION Setlist
"This Is My God"
"Lost Worlds"
"Father Lucifer"
"The Burning"
"Spitfire"
"The Chosen Ones"
"These Are The Hands"
"Bible Black"
"Guineas And Crowns"
"Last Chance"
"Us Against The World"
"A World Without Heaven"
"Judas"
Encore:
"Let It Roll" (UFO cover)
"Eyes Of the Young"
Check out some more photos from the show!
All Photos By Daniel Hohr