ALESTORM No Grave But The Sea


By Rob McNees, Vinyl Aficionado
Wednesday, August 30, 2017 @ 7:04 AM


| | | |
| --- | --- | --- |
| | | |
ALESTORM
No Grave But The Sea
Napalm Records




Pirate Metal. It's seriously hard to fathom that's it really a 'thing'. Everyone needs a gimmick, I get that, to set you apart from the thousands of other bands out there. The 1st party that I knew of guilty of PM was Germany's RUNNING WILD. After releasing 2 hellish-tinged but legendary albums in the mid-80's, somehow they decided to start writing albums & songs about all things pirate. 1987 saw Under Jolly Roger released and the rest, as they say, is history. Which brings us to Scotland's purveyors of 'True Scottish Pirate Metal', ALESTORM. Proudly waving the Skull & Crossbones flag since 2007, they, along with New Jersey's SWASHBUCKLE are sailing the seas of Metal on a quest of booze, treasure, and booty. The human and monetary kind.

The first thing of note is these Scotts, lead by vocalist, keytar player and all around hooligan Christopher Bowes, are here for a good party and a hearty laugh. Make no mistake, they take the music seriously, but Live and also lyrically, it's fun had by all. On their latest treasure trove of pirate goodness No Grave But The Sea, I think you'll see what I'm talking about. The title track kicks things off as a nice mid-tempo rocker, with some violin to enhance the song. ALESTORM will definitely appeal to fans of Folk Metal as well I believe. "Mexico" is next and lyrically speaks of sailing to that country for wenches and free alcohol. Oh, and a donkey show! As I said, the lads don't take themselves too seriously and in today's world, nothing like a hearty laugh or two methinks.

"To The End Of The World" reminds me a touch of TURSIAS, and talks of sailing to the ends of the world. I guess this should be the theme song of these Flat-Earthers cult of stupidity currently making the rounds. A tasty guitar solo by new Axeslinger Maté Bodor. Even some accordion thrown in for good measure. And plenty of gang vocals, on this and all songs. Pirates are a gang, aren't they? Self-titled "Alestorm" is next and surprised the shit outta me, with a heavy riff and almost Metalcore vocals, before settling into more familiar territory. A nice change of peace. "Rum, beer, quests and mead, these are the things that a pirate needs". Who am I to argue? "Bar Ünd Imbiss" tells the tale of a bar owner who welcomes the ALE boys in with open arms, only to have his bar drank dry, shot in both knees, and his ugly wife kidnapped. Well, they are pirates after all.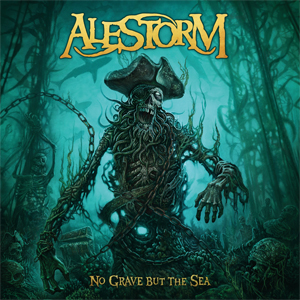 Side 2 starts with "Fucked With An Anchor" and starts right with a mighty F.U. and tells the story of being cursed by a witchdoctor, along with a plenty of cursing. If this doesn't get a drunken crowd yelling FUCK YOU at the top of their lungs, I'll walk the fucking plank. "Pegleg Potion" kicks off with a little Thrash and headbanging before settling into the ALESTORM pirate groove. "Pour me a glass of the Pegleg Potion, drink to the end of time". And maybe a first for me, a little guitar/Keytar twin lead action. Well done indeed. "Man The Pumps" tells the tale of a leaky ship, and the young lad tasked with saving the ship, as it were. A grim tale, and a slower but epic music journey. "Rage Of The Pentahook" tells the story of man with 5 rusty hooks on his right hand. A touch of Thrash with a crunching riff and some fine double kick by drummer Peter Alcorn. You might even expect a moshpit and some serious headbanging if you were to witness these rogues live. Maybe. "Treasure Island" brings the album to a close with how they sold their souls for treasure. Think Captain Jack Sparrow to get the mental picture. Musically plenty of sing-along pirate action about. A nice acoustic interlude as your ship sails away on the Seven Seas.
To me, this is a tongue-in-cheek party album, sure to bring a toothless smile to ye ugly mug. But I don't want to discount the musical prowess of the ALESTORM crew, as they are indeed proficient on their instruments and tighter than a Innkeeper's wallet. But they aren't FATES WARNING, or U2 on social issues. So enjoy accordingly. Ahoy!!!
And yes Vinyl Fiends, ALESTORM is available on limited edition Vinyl. So get ye copy now, or forever live in Davey Jones's Locker!! Aarrgghhhh
4.0 Out Of 5.0 Skulls Filled With Rum
Grab a copy of No Grave But The Sea in the KNAC.COM More Store right HERE.

Please log in to view RANTS