JACK STARR'S BURNING STARR Stand Your Ground


By Alex Yarborough, Orlando Contributor
Thursday, August 31, 2017 @ 8:36 AM


| | | |
| --- | --- | --- |
| | | |
JACK STARR'S BURNING STARR
Stand Your Ground
2017 High Roller Records




Guitarist Jack Starr was a founding member of the legendary American band VIRGIN STEELE. Starr played on the first two classic albums, Virgin Steele (1982) and Guardians Of The Flame (1983). After releasing the solo album Out Of The Darkness (1984) under his own name, Jack then formed BURNING STARR, which has been the name of his band since 1985. This band may not be well known, but they should be, as they helped pioneer American power metal. They released their classic first album, Rock The American Way, in 1985, and three more albums in the '80s alone. BURNING STARR was dormant for nearly 20 years until reforming for the Magic Circle Music Festival in 2008. They then released the studio albums Defiance (2009) and Land Of The Dead (2011). That brings us to recent years, which finds the band touring much more and recording Stand Your Ground, which is the band's seventh studio album overall.

Jack Starr has recruited numerous well-known musicians over the years, including vocalist Mike Tirelli (MESSIAH'S KISS), David DeFeis (VIRGIN STEELE), Bruno Ravel (DANGER DANGER), Mark Edwards (RIOT, STEELER), and Greg D'Angelo (WHITE LION). BURNING STARR currently features the same lineup as the band's 2011 release Land Of The Dead: Todd Michael Hall (RIOT V) - vocals, Kenny 'Rhino' Earl (MANOWAR) – drums, Ned Meloni (PHANTOM LORD) – bass and of course Jack Starr on guitar. Quite an all-star lineup of talented musicians!

First of all, the workload here is impressive: Stand Your Ground features 12 tracks and clocks in at 76 minutes. That's pretty lengthy for a single album, and only a few minutes shorter than PINK FLOYD's double album The Wall. You definitely get your money's worth of material, that's for sure! Jack described the album as "an old school type metal album with modern production and great songs", and that seems like an appropriate description to me. Any fan of traditional and classic heavy metal is going to love what the band has done here.

The album opens with two five-minute tracks, "Secrets We Hide" and "The Enemy", both of which are solid balls of rock with the traditional American heavy metal components of catchy choruses, double bass drumming, high-pitched vocals, and plenty of infectious guitar riffs. "Stand Your Ground" is third, and it's a beast of a track, clocking in at 10:25. This is Jack Starr's favorite song on the album, and I can see why. Compelled throughout by a slick guitar lick, this song starts quickly and never slows down. Thankfully, the song is not repetitive and doesn't feel drawn out at all. The middle features an extended solo from Jack. Todd's cry of "Stand tall, stand proud…the storm is coming, stand your ground!" makes you want to go out and seize the day. This song proves what heavy metal does best, motivates you like no other form of music. Also, the outro at the end is a nice touch!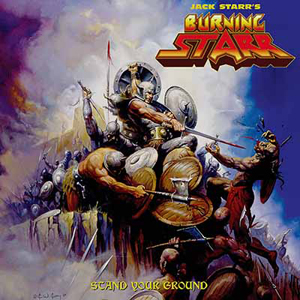 That brings us to two of my favorite tracks, "Hero" (you can view the video on KNAC.COM right HERE), and "Destiny". "Hero" is another good representation of the spirit of this album, while "Destiny" is a little more commercial, and could be a hit single. "The Sky Is Falling" is another winner, with a catchy chorus. "Worlds Apart" is the requisite ballad, and it's a fairly good track. The album loses a little steam with "Escape From The Night" and "We Are One", which are decent songs, but to me are not as strong as the first half of the album.
The album gets back on track with "Stronger Than Steel", a riff-heavy up-tempo song with a big chorus. "False Gods" features an edgier riff and more attitude. Jack's solo here is pretty tasteful. "To The Ends" has that "till the end of time" mid-tempo stomp to it, and the acoustic section in the middle is a nice touch. This is a good song choice to close the album with.
Stand Your Ground should rightly be hailed as a modern classic heavy metal album, and the band should be proud of what they created, for it is a monster achievement. The album cover even features another classic work of art by Ken Kelly (MANOWAR, KISS, RAINBOW). Fans of RIOT, MANOWAR, JUDAS PRIEST and pure metal will really enjoy this album. Stand Your Ground is available now from High Roller Records.
4.3 Out Of 5.0
Grab your copy of Stand Your Ground in the KNAC.COM More Store right HERE.

Please log in to view RANTS