SHAMAN'S HARVEST Red Hands Black Deeds


By Brian Davis, The Velcro Merkin
Thursday, August 31, 2017 @ 8:41 AM


| | | |
| --- | --- | --- |
| | | |
SHAMAN'S HARVEST
Red Hands Black Deeds
Mascot Records




When a band releases their sixth studio album a fan tends to have a general feel for the sounds and style(s) that are the band's playground; but although SHAMAN'S HARVEST have been increasingly successful and effective delivering exceptional driving hard rock and powerful melody, with Red Hands Black Deeds we find them taking an unexpected turn into the moody, unhurried world of blues rock. And while the album might catch the familiar fan a bit off guard in its divergence from the band's previous harder rocking offerings, there is a sustained flow and subtle power that makes Red Hands Black Deeds a legitimate blues rock offering and the band's most mature material to date.

The first few trips through will have the listener adjusting to a flow that is structured more around the album as a whole than the individual strength of any given song. Although there are plenty of exceptionally strong tunes to be found ("Soul Crusher" will make visions of stripper poles dance in your head and "The Devil In Our Wake" may be the band's most intelligently crafted tune since "Dragonfly"), the album's greatest element is its rolling slow-to-mid-tempo sauntering blues feel that seethes from the subtle guitar tones and emotively soulful vocal melodies, growing with every track and ultimately permeating the majority of thealbum. By the fourth or fifth spin you've tapped into a mantric flow of slow bluesy swagger and mid-tempo hard rock perfectly tailored for road trips, lazing about the house or the stony atmosphere of epic smoke-n-chill sessions.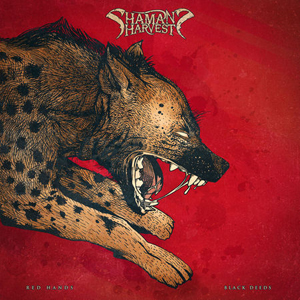 With the exception of the slightly sub-par songs "Broken Ones" and "The Come Up", Red Hands, Black Deeds is the most solid, consistent and well-matched set of tunes SHAMAN'S HARVEST has ever conjured; by eschewing focus on individual guitar riffs & climactic passages and committing to layered instrumentation with a more subtle vocal approach they have demonstrated a level of musical maturity not present in previous releases. Considering the trajectory of excellence over the past few albums it's hard to imagine this band not breaking through into arena-level globetrotting, and when they do it will be with a level of integrity and inherent musical strength sorely needed in the mainstream rock world. In the meantime it will be interesting to see what black deeds their red hands conjure next: "You know that idle hands are made for Devil's work and I ain't done nothing but keep them from around your throat."
4.0 Out Of 5.0
Pick up a copy of Red Hands Black Deeds in the KNAC.COM More Store right HERE.

Please log in to view RANTS


THE WINERY DOGS, BLACK HEART SAINTS In Houston, TX With Photos!

ROBIN MCAULEY Alive

CRADLE OF FILTH, DEVILDRIVER In Santa Ana With Photos!

KAMELOT The Awakening

ALTER BRIDGE, MAMMOTH WVH In Houston, TX With Photos!

ACID KING Beyond Vision

STEEL PANTHER On The Prowl

NIGHT DEMON Outsider

YNGWIE MALMSTEEN In Ottawa, Canada

THEORY OF A DEADMAN, SKILLET, SAINT ASONIA In Houston, TX With Photos!

OFFICER X Hell Is Coming

PERIPHERY Periphery V: Djent Is Not A Genre

INSOMNIUM Anno 1696

STEEL PANTHER, CROBOT, TRAGEDY In Houston, TX With Photos!

BABYLON A.D. Live Lightning

ROTTING CHRIST, CARACH ANGREN, UADA, GAEREA In Houston, TX With Photos!

MOTÖRHEAD Bad Magic: Seriously Bad Magic

TRAGEDY I Am Woman