NERVECELL Past, Present...Torture


By Brian Davis, The Velcro Merkin
Wednesday, September 13, 2017 @ 7:47 AM


| | | |
| --- | --- | --- |
| | | |
NERVECELL
Past, Present...Torture
LifeForce Records




Rising from the deserts of the Middle East like an ancient monolithic demon-god held aloft by scorching desolate winds, enveloped in a sweeping tornado of frenzied sand flaying flesh from bone and raining down ancient wrath with malevolent fury, NERVECELL confidently & consistently unleash fierce riff-laden brutal Death Metal interwoven with ancient traditional Middle Eastern music, bringing the unique distinction of their homeland into the fray of original Death Metal. Much like peers such as MELECHESH, NERVECELL have meticulously crafted distinction into their potent brutality by rooting it in the ethnic musical & historical culture of their ancestors, capturing foreboding atmospheric darkness in a deft blend of regional instrumentation & song structuring with an endless flow of eviscerating Death Metal with a savage consistency very rarely seen in today's overcrowded industry.

Unleashing the EP Human Chaos in 2004 by guitarists Rami Mustafa & Barney Ribiero and bassist/vocalist James Khazaal, NERVECELL rose from the Middle East in the wake of global disorder and violent distrust throughout the world, their music a powerful statement that we are all human and geographic, ethnic & racial difference are irrelevant in the face of the power of Metal - a common thread shared by people across the globe, intimately binding and far stronger than superficial differences and capable of bridging any cultural gap. In the years since they have released two full length seminal Death Metal masterpieces (Preaching Venom and Psychogenesis) supported by exhaustive touring across the globe (with the sad exception of the US, where previous attempts to book touring have fallen through) that has established NERVECELL as a fan's band, never skimping on the quality brutality and ever-humbly sharing their passion at every opportunity.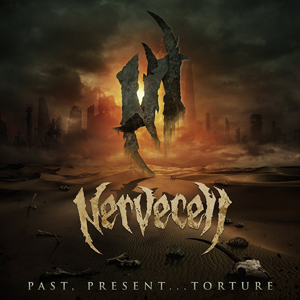 Now with the release of Past, Present...Torture, their third full length and most exceptional album to date, NERVECELL once again deliver a pristinely produced slab of head stomping, neck wrecking brutality wrought with crushing vocals, blasting drums and infectious yet savage riffing specifically crafted for high velocity headbanging. While there is an adrenaline-fueled consistency of exceptional brutality through the entire album, certain songs are able to evoke truly euphoric Metal moments with a particularly incisive rhythm shift (check out "Proxy War", "Malice Within", the title track and particularly the 4:29 mark of "Maqabre"), while "Habitual Deceit" is a riff lover's dream from start to finish and the band's single finest moment thus far. At this point there can be no doubt that NERVECELL are the Death Metal kings of the Middle East, having established total Metal dominion over their corner of the world; and with the release of Past, Present...Torture they officially earn the hard fought & well deserved distinction of being one of the ten best brutal Death Metal bands to have ever existed - Past, Present...
4.7 Out Of 5.0
Grab your copy of Past, Present...Torture in the KNAC.COM More Store right HERE.

Please log in to view RANTS


ROBIN MCAULEY Alive

CRADLE OF FILTH, DEVILDRIVER In Santa Ana With Photos!

KAMELOT The Awakening

ALTER BRIDGE, MAMMOTH WVH In Houston, TX With Photos!

ACID KING Beyond Vision

STEEL PANTHER On The Prowl

NIGHT DEMON Outsider

YNGWIE MALMSTEEN In Ottawa, Canada

THEORY OF A DEADMAN, SKILLET, SAINT ASONIA In Houston, TX With Photos!

OFFICER X Hell Is Coming

PERIPHERY Periphery V: Djent Is Not A Genre

INSOMNIUM Anno 1696

STEEL PANTHER, CROBOT, TRAGEDY In Houston, TX With Photos!

BABYLON A.D. Live Lightning

ROTTING CHRIST, CARACH ANGREN, UADA, GAEREA In Houston, TX With Photos!

MOTÖRHEAD Bad Magic: Seriously Bad Magic

TRAGEDY I Am Woman

ROXANNE Stereo Typical