ENSLAVED E


By Peter Atkinson, Contributor
Tuesday, October 17, 2017 @ 12:41 AM


| | | |
| --- | --- | --- |
| | | |
ENSLAVED
E
Nuclear Blast Records




One of the most challenging and unpredictable bands in "extreme metal" over its first 25 years, Norway's ENSLAVED enters its second quarter-century with that spirit still very much intact. And while the band's 14th and latest album E may be its most accessible, it continues to push boundaries and explore territory others in its ilk would never dare to venture, combining progressive and metal elements with all manner of sounds and textures and yet again straying a bit farther away from the black metal of its earliest days.

E marks debut of new keyboard/vocalist Håkon Vinje, who takes over from Herbrand Larsen in the first lineup change ENSLAVED has made in a dozen years. And it is a key move as Larsen's clean vocal contrast to bassist Grutle Kjellson's phlegmy growl and keyboard dabblings figured prominently in the band's ever-evolving sound. But Vinje shows himself to be more than up to the challenge, and makes his presence known from the get-go, being the first vocalist heard on opener "Storm Son" - after chirping birds, battle horns, whinnying horses and other scene-setting effects.

At 11 minutes, "Storm Son" makes for a genuinely monumental start to E as it alternates from spacy, ethereal PORCUPINE TREE-like prog-rock to surging, triumphant death metal a la AMON AMARTH, all while injecting haunting harmonies. "The River's Mouth" follows and, at half the length and boasting a steady, driving groove not unlike, of all things, MOTORHEAD's "Orgasmatron" it might have seemed a more obvious choice for the opener. But ENSLAVED has never had much use for conventionality, so there you go.

"Sacred Horse" is the most aggressive track here, at least over the front half, and the very end, as it rides Cato Bekkevold's galloping tempo to more death metal majesty. But the DEEP PURPLE-ish organ peels that erupt midway give way to tribal drum beats and meditative hymns that sound more American Southwest than Viking battlefield.

"Axis Of The Worlds" then detours into something more closely resembling classic hard rock. The rather unexpected bluesy swagger of Arve "Ice Dale" Isdal guitar lead intro begets a simple, riffy chug that is undeniably catchy, in spite Kjellson's gruff vocals. Vinje's soaring harmonies help take even more of the edge off. Album closer "Hindsight" alternates serene passages with moments of brooding doom and throws in a blaring sax for good measure before drifting to its conclusion after nine-some minutes in a haze of PINK FLOYD-like trippiness.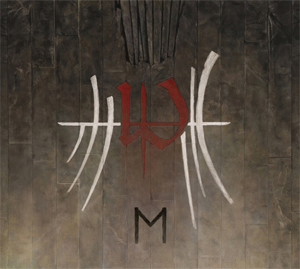 For something more distinctly progressive, there is "Feather Of Eolh" with its jammy, CRIMSON-esque spider-walk guitaring and Gregorian-style chanting punctuated by metallic swells and clean sung verses and some momentary electronic mischief that brings RADIOHEAD to mind. Even here, though, the music is as inviting as it is compelling, which has not always true of ENSLAVED's proggier inclinations, which could come across as clinical or cold.
Indeed, what really sets this album apart from ENSLAVED's expansive body of work is its almost playful spirit. The mood here is dramatically lighter, dare I say fun, with a looseness to the material and performances that you don't often hear from this often cerebral band – at least on its studio work. And while some of the songs overstay their welcomes – averaging more than 8 minute each – they always engage and, better yet, entertain.
4.0 Out Of 5.0
Pick up your copy of E in the KNAC.COM More Store right HERE.

Please log in to view RANTS