CANNIBAL CORPSE Red Before Black


By Peter Atkinson, Contributor
Tuesday, November 7, 2017 @ 12:44 AM


| | | |
| --- | --- | --- |
| | | |
CANNIBAL CORPSE
Red Before Black
Metal Blade Records




CANNIBAL is as CANNIBAL does, to borrow a phrase from Forrest Gump. And the death metal machine that has been grinding away for nearly 30 years shows it can still slay with the best of 'em. The band's 14th album Red Before Black makes for another solid, though somewhat workmanlike, addition to the CANNIBAL CORPSE catalog as it takes a step back to a rawer, more primal sound that echoes its earliest days.

CANNIBAL has been on a rather remarkable run since 2006's Kill marked a resurgence for the quintet, both sonically and commercially, that continued to build with each subsequent release. So it's inevitable that the band would peak at some point, as it did with The Bleeding way back in 1994 at the end of the Chris Barnes era. And that appears to have been the case again 20 years later with 2014's titantic A Skeletal Domain – though no one has left the band this time.

Red Before Black follows up with an approach that is more vicious, but less ambitious. And there's nothing really wrong with that, since the band has been setting the bar ever higher for itself for quite a while. But there does seem to be some cruise control going on here as CANNIBAL streamlines and simplifies things, focusing on aggression at the expense of some of the depth and character that made Kill, etc., so exceptional – like the quaking drone of "Evisceration Plague", the pummeling groove of "Scourge Of Iron" or the crafty hookiness of "Shatter Their Bones" or "Kill Or Become".

The album opens in typical slash-and-burn fashion with the fluid, complex fury of "Only One Will Die". But it takes a quick turn to a more direct, hardcore/thrash-like crunch on the title track with its punchy riffs and the blunt, barking cadence of frontman George "Corpsegrinder" Fisher that harks back to CANNIBAL's first couple of albums.

"Code Of The Slashers" seems to be headed into the imposing death march territory of "Scourge Of Iron" before blasting off in a flurry of surging guitar and d-beat/double-bass gallop. Same goes for the grittier, even grislier "Remaimed". "Shedding My Human Skin" marks the technical high point here with its chug-and-churn back and forth and dramatic, emphatic chorus.

When Red Before Black reaches its midway point, though, CANNIBAL hits the sort of rough patch it has been able to largely avoid from Kill onward. "Firestorm Vengeance", "Heads Shoveled Off", "Destroyed Without A Trace" and, to a lesser degree, "In The Midst Of Ruin" revisit the title track's brutish, straight-ahead delivery and come off as kind of redundant and pedestrian. Even though CANNIBAL has a reputation as "the AC/DC of death metal" for its militant consistency, there is a repetitiousness here that is rather uncharacteristic.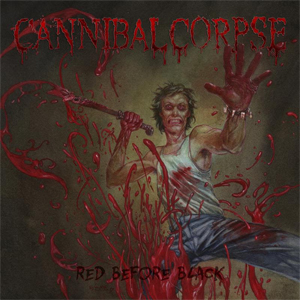 Betwixt and between, however, are some of the Red Before Black's meatiest morsels. "Corpus Delecti" brings swaggering hooks and grooves in abundance, ratchets up the complexity and absolutely crushes. "Scavenger Consuming Death" and album closer "Hideous Ichor" ride Alex Webster's lithe, thrumming basslines and rumble mightily along. They've got plenty of the band's more typical spunk, and help lift what is a spotty back half of the album.
Still, even when CANNIBAL is a bit off its game, it brings the heaviosity like few bands can. And Red Before Black does not disappoint from that aspect. HATE ETERNAL guitarist Erik Rutan returns as producer here, after sitting out A Skeletal Domain, and adds the rough edges back to Rob Barrett and Pat O'Brien's massive guitar sound to ensure the riffs hit hard and cut deep. And the relatively relentless pace means that even when the album hits a bit of a rut, it's still pretty darn lethal.
3.0 Out Of 5.0

Please log in to view RANTS