JAG PANZER The Deviant Chord

By Rob McNees, Vinyl Aficionado
Monday, November 13, 2017 @ 12:41 AM

| | | |
| --- | --- | --- |
| | | |
JAG PANZER
The Deviant Chord
SPV/Steamhammer Records




When I first stumbled upon the debut EP from Coloradoís JAG PANZER around 1983, like most things back in the caveman days (before internet or smart phones children) I bought it strictly because of the cover, which featured a chainsaw wielding Lass laying waste to a group of evildoers no doubt, in an devastated large metropolis. I surmised that no band that had a cover like that could suck. And I was dead right, as that EP crushed my cranium with Heavy Metal POWER!!! Songs like "Battle Zones", "Death Row" and "Metal Melts The Ice" were deadly slices of prime U.S. Metal, at a time when I just had a handful of bands that could compete with their European counterparts. This 4 piece was truly onto something, led by guitarist Mark Briody, the rhythm section of John Tetley on bass and Rick Hilyard on drums, and The Tyrant, Harry Conklin on face-melting vocals. And as unbelievable as it was, they stepped it up a notch in 1984 with their Ample Destruction full length. The addition of shredder Joey Tafolla on lead guitar took the greatness of their Power Metal to an even higher plain! The whole album seethed with Metal rage but with class and virtuoso that really no one else possessed back then. Yngwie was just really getting RISING FORCE started, but it was nowhere as savage as The PANZER!

Fast forward to 2017, and with 9 albums under their belt and the band calling it quits on a couple of occasions, JAG PANZER has returned with The Deviant Chord. And itís nice to say that almost the whole band is intact from those early hallowed days, save for Rikard Stjernquist, who has been with JP since 1994ís Dissident Alliance album.

So will The Deviant Chord have the same earth shattering songs as the early catalogue? Well, no. But in all fairness, not many, if any bands can keep that adolescent intensity 30+ years later. JP now are a more refined, less frantic band. Not to say that theyíve become Perry Comoís backing band though!! Album opener "Born Of The Flame" is a double bass pounder with more than enough Metal to get those heads banging. And The Tyrantís voice hasnít aged a bit it seems, just as smooth but yet as powerful as ever. "Far Beyond All Fear" is another uptempo crusher, with a driving riff by Mark and Joey laying down some tasty licks in the background, and Rikard throwing in some fills of his own. Classic PANZER! The title track starts with a toy music box, acoustic guitar and strings, and The Tyrant showing that he can sing delicate & subtle and impress as much as with his Metal voice. Why his name isnít mentioned more with the vocal greats of Metal is nothing short of a travesty. The song itself is a powerful slow dirge, but with Joeyís guitar heroics taking it to another level.

"Black List" has that prime 80ís JP sound with a riff that will make you scrunch your face! A bit slower than you might expect, but none of the grit has been lost. "Foggy Dew" is an old Irish folk tune (recorded by THE DUBLINERS & THE CHIEFTAINS for example) givin the Power Metal treatment much like the legendary THIN LIZZY gave the Irish classic "Whiskey In The Jar" a Rock & Roll makeover. This version works very well and I hope I hear it in a fine Irish pub the next time I make it over to Ireland. "Divine Intervention" (no, not a SLAYER cover) is a epic track with the layers of backing vocals giving the song a grand vibe, while "Long Awaited Kiss" again shows the many vocal talents of The Tyrant, a ballad but sounding more like a song from The Renaissance era instead of an 80ís flashback. Fear not, as it still rocks as well. JAG PANZER shows the multiple hues that they can use to paint not only a song but a whole vivid landscape as well.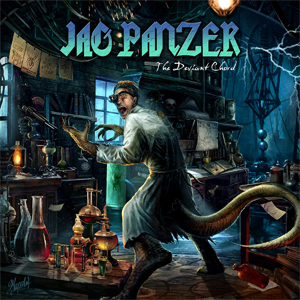 "Salacious Behavior" brings the Metal back with an uptempo swift fist to the head, as JP brings back the intensity lest you were thinking they had gotten soft on you. As it should be. "Fire Of Our Spirit" continues that energy with the fire unleashed with some fret-smoking by Joey and Rikard pounding for all heís worth. Markís steady rhythm keeping everything crisp too. Album closer "Dare" has a military cadence feel at first, but settles into a more melodic groove with a galloping riff and The Tyrantís vocals soaring. A fitting end to an album that is 6 long years after their last. JAG PANZER play Power Metal with a touch of class. An award-winning wine in a room full of beer shall we say. Now, would I like to see them kick it in the ass with a tad more aggression? Absolutely. But no one is in their 20ís anymore and I dare say if youíre fortunate enough to catch them live, youíll not leave disappointed. Letís hope itís a bit less than 6 years for the next one eh lads??
It grew on me after repeated listens.
And for the Vinyl faithful, there IS Vinyl for this album. A 2-Record set in fact. And I still need my own, so letís get cracking!!
4.3 Out Of 5.0 Skulls