SAMMY HAGAR AND THE CIRCLE In Clearwater, FL With Photos!


By Travis Failey, Planet Earth Contributor
Tuesday, November 21, 2017 @ 6:10 AM


| | | |
| --- | --- | --- |
| | | With NIGHT RANGER At Coachman Park |
All Photos By Travis Failey/Rocket Sports & Entertainment
It was a cool early winter evening on Tuesday night at Coachman Park but it heated up quickly as SAMMY HAGAR AND THE CIRCLE returned to play their rescheduled performance in Clearwater. They were joined by NIGHT RANGER and Sammy's son Andrew who started off the night with a short acoustic set.
The alt-country and punk rock-inspired singer/songwriter got a late start in his musical career due to other interests like Muay Thai fighting but his drive, talent, and connections have opened some big doors. As a member of THE APPALACHIAN MURDER BUNNIES, he opened up on two tours with Willie Nelson and another for Kris Kristofferson. Andrew Hagar played 4 original songs that included "Dead Awake" and "Slipping Through" and his talent shined when he finished his set with "Free Falling" as a tribute to the musicians that have passed away this year. As he was leaving the stage, he thanked the crowd with a promise to return in 2018.
After the quickest stage change that I have ever seen, early 80's hitmakers, NIGHT RANGER, took the stage and instantly surprised the crowd by opening up with a new song, "Somehow, Someway" from their 2017 release Don't Let Up. NIGHT RANGER served up a 10 song set that included tracks that spanned their career with some unexpected suprises. An early surprise was when NIGHT RANGER played 2 songs by the 1989 supergroup, DAMN YANKEES. NIGHT RANGER's bassist, Jack Blades, was a member of DAMN YANKEES, along with Tommy Shaw, Ted Nugent, and Michael Cartellone. The fans got warmed up as they sang along with every word of "Coming Of Age" and "High Enough".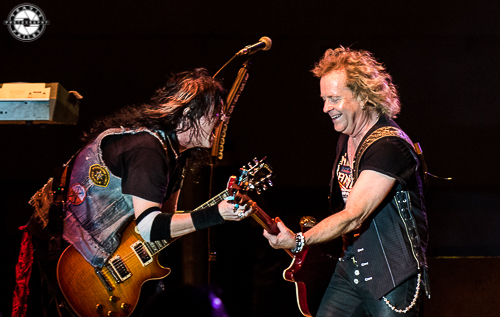 Sandwiched in between the DAMN YANKEES hits was "The Secret Of My Success" from the Michael J. Fox movie of the same name. Fox requested that NIGHT RANGER write and record the song for the movie and guitarist Brad Gillis mentioned they were honored to write it. He stated it took NIGHT RANGER one day to write the song but gave it to the studio in two weeks so that it didn't seem too easy.
The other surprise of the night was when NIGHT RANGER played "Don't Tell Me You Love Me" combined with "Highway Star" by DEEP PURPLE with drummer Kelly Keagy killing it on the lead vocals. NIGHT RANGER completed their set with their 3 biggest hits: "When You Close Your Eyes", "Sister Christian" and "(You Can Still) Rock In America".
NIGHT RANGER was the perfect primer for another supergroup that would not disappoint the now warmed up crowd on the waterfront's Coachman Park.
Sammy Hagar and the guys in THE CIRCLE put on a set that included something for everyone, encompassing five different bands and four decades of rock. Kicking the party off with "There's Only One Way To Rock", Sammy Hagar was once again on top of his game and seems to be fully recovered from his illness that plagued him for a couple early shows during his annual Birthday Bash in Cabo.
You couldn't mistake the next song as Vic Johnson got the drill cranked up during the opening of VAN HALEN's "Poundcake". LED ZEPPELIN was also represented throughout the night as "Good Times, Bad Times", featuring drummer Jason Bonham, was next. A semi-intoxicated Sammy introduced the one time Clearwater resident Jason Bonham who allegedly got a ticket on his way to the show, leading into, you guessed it...."I Can't Drive 55".
Sammy Hagar's first well known band MONTROSE and his other supergroup, CHICKENFOOT were represented at Tuesday's festivities when THE CIRCLE played "Rock Candy" and "Sexy Little Thing". Guitarist Vic Johnson shined throughout the night and is a really underrated player. Johnson performed the lead guitar duties throughout the evening, perfectly playing music written by legends Eddie Van Halen and Joe Satriani, without issue or error. During their cover of ZEPPELIN's "When The Levee Breaks", Johnson broke out an 18-string guitar and crushed the blues classic, showcasing his skills during the slide guitar segments of the song.
One of the funnier moments from the show was when Sammy told us why he wears long pants more these days, saying, "Lately I've been wearing long pants because my fucking legs are getting ugly. When you get old, your shit gets all fucked up looking, you know what I mean? So ugly." Sammy also talked about how he learned from friends that watched MTV that he was thrown out of VAN HALEN, which was the inspiration for the next song, "Little White Lies".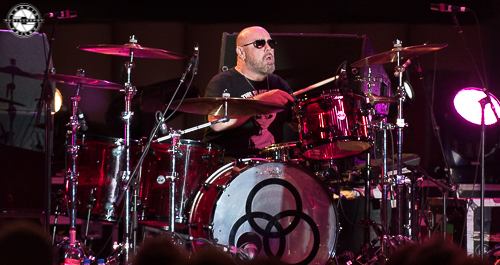 Bassist Michael Anthony helped Sammy out not only with his unmistakable harmonies, but also handled some of the lead vocal duties throughout the night, including the monster scream during "Best Of Both Worlds". It is obvious to anyone watching the show that Anthony is having a blast performing with Sammy and THE CIRCLE and from recent interviews, any type of reunion with his former bandmates comes with the drama that he wants no part of.
VAN HALEN songs were played during the set, "Why Can't This Be Love" and "Right Now", which got a huge pop from the crowd. The only issue I had with the entire show was their use of backtracking the piano segments during "Right Now". Now, I'm not sure if anyone was backstage playing the piano, but they weren't on the stage with the band. Unfortunately, it seems that the use of backtracks is becoming commonplace during live performances, and frankly, I'm not a fan.

Sammy and THE CIRCLE started the final 3 songs of their set with an amazing version of "Dreams" where Sammy and Vic sat on the edge of the stage and performed it acoustically. Couples held their partners tightly, and some fans in the audience even had tears tears in their eyes. Saying it was a special moment is an understatement.

After "When It's Love", Jason Bonham got the finale started by kicking into the opening notes of one of his dad's biggest hits, "Rock N Roll". It was the perfect way to conclude a great night of music at Coachman Park with Sammy and THE CIRCLE and Sammy himself, even at 70 years old, isn't slowing down, and he still... Can't Drive 55.

Check out some more photos from the show!
All Photos By Travis Failey/Rocket Sports & Entertainment

Please log in to view RANTS