LEAVES' EYES Sign Of The Dragonhead


By Andrew Depedro, Ottawa Corespondent
Thursday, January 18, 2018 @ 2:37 PM


| | | |
| --- | --- | --- |
| | | |
LEAVES' EYES
Sign Of The Dragonhead
AFM Records




Mermaids! Vikings! Mythical Nordic shipwrecks! Actual Nordic rulers and conquerors!

LEAVES' EYES haven't been bestowed with the honor of being metal's newest historians for nothing over the years. True, that title's been passed on for generations from IRON MAIDEN and onward, but after seven studio albums, the lively symphonic metal quintet aren't anywhere close to even consider reeling in the anchor anytime soon with their latest sea shanty titled Sign Of The Dragonhead. And there's a new captain at the helm by the name of Finnish vocalist Elina Siirala, who took over duties from original vocalist Liv Kristine back in April of 2016, making her debut in front of over 20,000 Indonesian metal maniacs at the Hammersonic in Jakarta. Since then, the lineup comprising of her, Alexander Krull (vocals), Thorsten Bauer and Pete Streit (guitars) and Joris Nijenhuis (drums) have been cruising the seven seas in style, hitting up shows across the globe such as Metal Female Voices, Wave Gotik Treffen, Masters of Symphonic Metal, and, obviously, Full Metal Cruise.

Sign Of The Dragonhead continues along much of the proverbial aquatic territory LEAVES' EYES had previously covered their first three albums, but with Elina's first official studio album with the band, it not only tests her sea legs, but also takes the theme of Nordic mythology to greater sonic depths. Opening tracks such as "Volva", "Like A Mountain" and the title track are classic-sounding LEAVES' EYES, notable for their choir-like choruses and their swinging harmonic shanties coupled with some powerful driving riffs. But the standout track would definitely be the bouncy and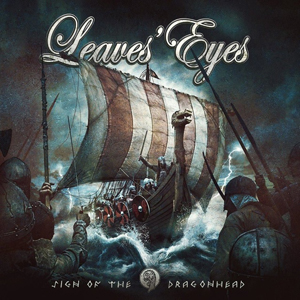 catchy-sounding "Riders Of The Wind", which is the sound of LEAVES' EYES unleashing their inner Newfoundlander with its heavy Celtic influence balancing the song's overall heaviness. It's also probably one of their most joyful-sounding songs in their entire catalogue. Rather than attempt to channel Liv Kristine's previous approach to past work on the new material, Elina merely tests the waters of the songs at first, before breaking into her own unique take, pushing both herself and the band. The lush-sounding ballad "Fairer Than The Sun" also sees LEAVES' EYES at their most authentic and genuine, while Elina's powerful voice is at perfect sync with Krull's anguished growls in "Shadows Of The Night". "Jomsborg" sees LEAVES' EYES delving deep into Viking mythology like never before, with Krull's battle cries taking the focal center of the song (as his ancestors happen to hail from that particular fortress-like location in Norway, he does have a vested interest in the song). "Fires In The North" has both a catchy goth-rock swagger and an anthemic symphonic chorus. And the closing number "Waves Of Euphoria" is an eight-minute number that changes tempo just as fast as Thorston and Pete can switch riffs, with their solos suddenly slipping in by surprise, changing the course of the song but keeping its vibe intact.
In short, Sign Of The Dragonhead has lots of sea miles covered for the novice Viking metal warrior ready for conquest. Glory to the blade indeed!
4.5 Out Of 5.0
http://www.leaveseyes.com/
https://www.facebook.com/leaveseyesofficial

Please log in to view RANTS


ACID KING Beyond Vision

STEEL PANTHER On The Prowl

NIGHT DEMON Outsider

YNGWIE MALMSTEEN In Ottawa, Canada

THEORY OF A DEADMAN, SKILLET, SAINT ASONIA In Houston, TX With Photos!

OFFICER X Hell Is Coming

PERIPHERY Periphery V: Djent Is Not A Genre

INSOMNIUM Anno 1696

STEEL PANTHER, CROBOT, TRAGEDY In Houston, TX With Photos!

BABYLON A.D. Live Lightning

ROTTING CHRIST, CARACH ANGREN, UADA, GAEREA In Houston, TX With Photos!

MOTÖRHEAD Bad Magic: Seriously Bad Magic

TRAGEDY I Am Woman

ROXANNE Stereo Typical

ANTHRAX, BLACK LABEL SOCIETY, EXODUS In Houston, TX With Photos!