LOUDNESS Rise To Glory


By Andrew Depedro, Ottawa Corespondent
Tuesday, February 6, 2018 @ 9:52 AM


| | | |
| --- | --- | --- |
| | | |
LOUDNESS
Rise To Glory
earMUSIC




Since their inception in the Land Of The Rising Sun back in 1981, LOUDNESS and their brand of loud fiery powerful heavy metal have enabled lots of rock 'n roll crazy nights, making them the heroes to many fans around the world - including otologists. Credit (or blame) the pleasant ear drum abuse on the dynamic vocals of frontman Minoru Niihara and the insanely proficient flashy riff work of guitarist Akira Takasaki for allowing a career spanning 30+ years and 27(!!) studio albums including their latest album Rise To Glory. Filled with equal parts of unbridled aggression, melody and lots of positive vibes, it's an album that, as Minoru Niihara puts it, "makes you feel fresh." I'm somewhere between calling it the musical equivalent of Irish Spring and the album that 3/4 of VAN HALEN's Balance should have sounded like myself, but there's more to Rise To Glory that raises its profile.

First, Minoru evidently still has the powerful chops from the Thunder In The East and Lightning Strikes era, particularly on songs such as "Soul On Fire" and the war cry-like title track. Even the fast and loose lead off single "I'm Still Alive" plows like a warhead and is perhaps one of the fastest songs LOUDNESS have ever recorded, with "Massive Tornado" probably being their second fastest song in parts.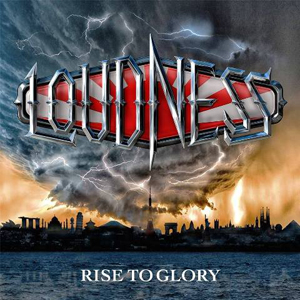 Their secret to sounding just as technically proficient in the here and now as they did back then? Deviating slightly from their wild traditional metal side and including more progressive elements in their music. The instrumentals such as "8118" and "Kama Sutra" certainly helped but it's "Until I See The Light" that showcases their stronger rhythm side courtesy of Masayoshi Yamashita (bass) and Masayuki Suzuki (drums). And sometimes they'll slow the pace down a bit on a moody-sounding song like "Rain" which makes its point at half of the hi-octane speed of its previous songs. Finally, LOUDNESS call upon the fans to make their presence felt at their live shows with the groovy-sounding closer "Let's All Rock", which wouldn't sound out of place on any of the last couple of SCORPIONS albums. It's honest, direct, catchy and accompanied with a thick accent, making the whole process work. Akira was right about "soul in the sounds" throughout the entire album when he discussed how he'd recorded his parts on the album with several guitars and captured a different vibe on each song.
LOUDNESS will eventually be hitting the road for another mammoth world tour following Rise To Glory's release, with the European and North American versions of the album to be accompanied by Samsara Flight, a collection of 13 of the band's early classics re-recorded. There's no denying or defying the gravity of LOUDNESS' unstoppable ascent three decades later.
4.5 Out Of 5.0
http://loudnessjp.com/
https://www.facebook.com/LOUDNESS_OFFICIAL-222003877819441/

Please log in to view RANTS