IGNITOR
Haunted By Rock & Roll
EMP Label Group




It's no secret that I am a huge NWOBHM fan. I think it's one of the greatest genres every created. But I'm also a HUGE fan of Texas Hard Rock & Metal too. My vinyl collection boasts everything from WITS END, BLACKHORSE & the amazing early works of ZZ TOP to metal merchants like MILITIA, WARBEAST and Houston's own HELSTAR. I'm proud of being a Texan and try to support my state's heavy musical endeavors.

So I jumped at the chance to review the latest from Austin's metal sons IGNITOR, as they along with fellow Austinites ETERNAL CHAMPION are at the forefront of our 'True' Metal brigade.

IGNITOR was formed from the ashes of AGONY COLUMN, another killer Austin band that has the distinction of having a Metal magazine named after one of their albums, Brave Words & Bloody Knuckles. When guitarist Batlord decided he was looking for something different, IGNITOR was born. IGNITOR's original sound had guitarist Beverly Barrington and vocalist Erika Morgengrau, whose Leather Leone-styled vocals helped put the Metal underground on notice that IGNITOR was no flash-in-the-pan. When both ladies moved on to greener pastures the band had come to a crossroads. Erika's voice and stage presence was not easy to replace, so Batlord went in a completely different direction. The call went out and was answered with Texas Music Hall-Of-Fame member and lead singer extraordinaire Jason McMaster (he of DANGEROUS TOYS, WATCHTOWER, BROKEN TEETH and more if you've somehow been in hibernation for the last several decades). Robert Williams of Texan metallers WITCHES MARK joined on 2nd guitar, along with longtime skin basher Pat Doyle and AGONY COLUMN teammate Billy Dansfiell on bass and IGNITOR now had a new lease on life and a gleam in their eyes!

Fast forward to 2017 and the release of the bands sixth full length, Haunted By Rock & Roll. The cover immediately grabbed my attention with an altar to Rock & Roll built around the holy (or unholy maybe?) turntable. The fact that IGNITOR themselves haven't released any vinyl since 2007 is not lost on me, but I'll bitch about that later. The 9 songs on display here are full of Texas sized piss & vinegar, and beg to be devoured like a hungry dog to a bone.

"To Brave The War" immediately starts off with the band in full throttle assault, even featuring some a little speed to shake your heads to! A punishing opening salvo that shows IGNITOR isn't dicking around. A fave track right off the hit!! The title track has a little 80's era riff to kick things off, and Jason flexing his vocal chops with a few upper register screams. Some tasty harmony leads too for good measure. "Heavy Is The Head That Wears The Crown" has a killer galloping groove to go along with the epic scope of the song itself. Add Jason hitting some ball-squeezing notes to top it off.

"Hatchet (The Ballad Of Victor Crowley)" starts off in full thrash mode in case you didn't think the boys had it in them. It's not all fury however, with a grandiose section showcasing the light vs dark songwriting skill. This should be a stormer live! "Leather Forever" is a fist in the air anthem of the highest order, with IGNITOR's own spin of course. Not your average radio sing-along however, so don't expect commercial drivel. "Nomad" is the album's longest track at just a tick over 6 minutes, and its peaks & valleys keeping you enthralled throughout. No slacking or boredom here.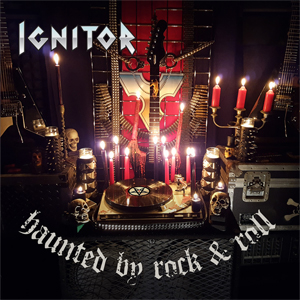 "No Sanctuary" is an uptempo pounder that has one of those teeth clenching riffs and a memorable chorus guaranteed to make your neck sore from headbanging. Another fave for this scribe. "Throw Them From The Cliff" has tempo changes aplenty and sheer metal power to boot. Surely this album should bring kudos from fans of bands like VISIGOTH as it shows a band firing on all cylinders writing monumental songs with ease. Album closer is a massive cover of NWOBHM Legends and "Athletic Rock" musos RAVEN and their deadly track "Hung, Drawn & Quartered", off their seminal release All For One from 1983. The lads most assuredly do the song justice and the Gallagher brothers proud. Bringing the fire and grit of the original with a Texas sized jalapeņo kick in the ass to boot! No neck shall be spared with this final metal volley lobbed.
This is easily the most mature but metal offering to date from these Austin heavyweights. While I don't know who the most popular metal band in Texas might be, I'll state for the record that our scene is vibrant and IGNITOR is at the forefront leading the charge. I'd love to see them get on a larger scale tour to show the masses what they've been missing. So do yourself a favor and go grab this essential slab of Texas Metal NOW!
How can IGNITOR be on such a massive label but have no vinyl?? A travesty!!! It took well over a year for Houston's HELSTAR to have Vampiro released on wax, so hopefully B>IGNITOR will get the same treatment. So hurry up EMP! Dammit!
4.5 Out Of 5 Skulls