VISIGOTH Conqueror's Oath


By Daniel Höhr, European Correspondent
Tuesday, February 20, 2018 @ 1:28 PM


| | | |
| --- | --- | --- |
| | | |
VISIGOTH
Conqueror's Oath
Metal Blade Records, 2018




Amidst all the complications of a myriad of metal subgenres, it is great to know that there some bands holding the banner of straight-down-the-line heavy metal and doing a bloody good job at not only keeping the traditions of heavy metal alive but also breathing true fire into it. Among these bands are the Salt Lake City based outfit VISIGOTH, who released their acclaimed debut album The Revenant King in 2015. Now their sophomore album, Conqueror's Oath, has been released through Metal Blade Records, so the best you can do is don your armour, light the torches, swing your hammers and join singer Jake Rogers, guitarists Leeland Campena and Jamison Palmer, bass player Matt Brotherton and drummer Mikey T. in battle.

If the opener "Steel And Silver" doesn't make you get you into this album and swing your sword, nothing else will and you should probably listen to something else. Groovy mid-tempo riffing, anthemic vocals and a catchy, shout-along battle cry as a chorus – what else can you ask for? "Warrior Queen" is next, another battle anthem based on a kind of SAXON-style riff with twin guitar parts that never seem to get old and definitely do the trick here. The solo flute and the acoustic guitars in the middle part give the song some campfire romanticism. Then the up-tempo number "Outlive Them All" kicks in with full force (we're definitely on power metal territory here, never mind what I wrote about subgenres above), featuring ultra melodic vocal lines – kudos to Jake Rogers – double bass onslaughts and awesome lead guitar work at breathtaking speed. "Hammerforged" slows down the tempo a bit but not at all the intensity. Despite the atmospheric and balladesque beginning of "Traitor's Gate", the track soon bursts out into another full-speed battle hymn with soaring vocals, relentless double bass attacks, heavy riffing and cunning lead guitar work. This is definitely one of the highlights on the album. My favourite track, however, is "Salt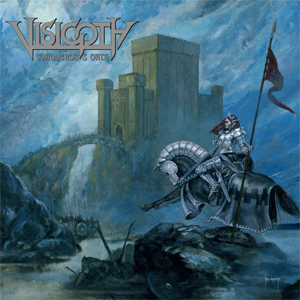 City", bringing a good dash of KISS-infused rock 'n' roll to the album, which is kind of refreshing. With "Blades In The Night" we're back to the high-octane battle stuff with thundering riffs, soaring melodies, a chorus that is difficult not to shout along to, a melodic mid-tempo part that will be a killer live, and shredding lead guitars. The title track, which concludes the album, is an epic, testosterone-filled groover, gradually building up to an over-the-top climax.
Carefully avoiding the trap of sounding quite samey on each track, VISIGOTH present eight tracks that not only burst with energy and awesome singing and playing but that are also enormously good fun to listen to. Thanks to Andy Patterson's outstanding engineering, the album sound has both power and clarity. Needless to say, for optimum enjoyment you will have to crank up whatever device you play it on to battle noise levels.
If you're into battle axe-swinging true metal or not, VISIGOTH's Conqueror's Oath is definitely for you. In any case, it is a captivating array of powerful riffing, hook lines that will stay in your head for a while after you've listened to the album only once. VISIGOTH's Conqueror's Oath is highly recommended, whether you are about to burn down the enemy's camp or not. So polish your swords and get the album.
5.0 Out Of 5.0

Please log in to view RANTS