Photos By Andrew Depedro
"You might be a bit sore the next day" - Max Cavalera during my interview with him prior to the show.
To be honest, I'd been more concerned about whether the frequency of my early trips to Mavericks to interview the musicians I love during regular working hours would be hurting my chances of continued employment. Such was the case when I was called into the office of team lead Shauna - along with other team lead Sumayeh who was probably calculating the number of my missing hours at the time - and was given the opportunity to plead my case in making up these lost hours of punching the time clock for metal. Which I did, citing the importance of such interviews helping me develop new career leadership skills especially as I'd be taking part in a future mock interview project with Vanguard, our workplace's government career advancement group. Team lead Shauna was impressed with my case, as was other team lead Sumayeh who was/is the regular Vanguard chairperson. After my approval for the interview and the time off and copious amounts of promises to both team leads of payment in labor, peppermint tea and possibly a spare kidney, I was off to rage to the glorious and chaotic sounds of extreme metal at Mavericks.
Life is all about being able to take risks after all, right? And I'd have used the example of the famed NAILBOMB side project comprised of Max Cavalera and FUDGE TUNNEL's Alex Newport to boost my case at the time, but team leads Shauna and Sumayeh, like all of the bands on this bill, would likely settle for a positive mention in this review instead.
Kicking off the night's events would be local old school death metal ragers CRUEL FATE featuring the wild shoeless lyrics of frontman Yolin Lafreniere, a large Zakk Wylde-looking behemoth of a man unafraid of performing barefoot to the masses. He's presumably a hippie at heart but with the solid guitar work of Claudio Del Conte and Xavier Legault by his side, CRUEL FATE don't exactly evoke many memories of Woodstock with songs such as "Through The Grindstone", "The Crucifer" and the devastating closing number "Skinning Of Life". But while the crowd appear subdued at first glance, Yolin whips 'em into shape with his deep growling vocals midway before a small circle pit takes shape, commanding the stage in his exposed in-step. All in all, a well-done set by a band whose frontman's only obstacle between him and fame could've been someone tossing pieces of Lego blocks on the stage that night. Now that would've been the cruelest of fates.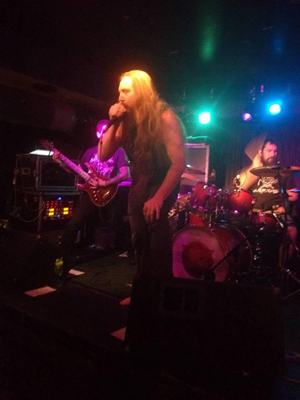 P.S.: Please don't toss Lego blocks onto the stage or any other sharp objects on CRUEL FATE's stage at any time as it's mean-spirited and straight-up cruel.
https://www.facebook.com/cruelfateottawa/
https://cruelfate.bandcamp.com/releases
"We're fuckin' stoked to be playing Ottawa for the first time!"
"....it's actually our second visit."
Can you tell that two of the members of NYC-based progressive tech metallers UNCURED are brothers? If the similar haircuts weren't an obvious giveaway, the on-stage banter likely was. Regardless, since their inception in 2016, brothers Rex and Zak Cox, along with bassist Jon Kita (ex-DIECAST) and drummer Liam Manley, have been focusing on landing on as many big name tours as possible, sharing the stage with the likes of CRADLE OF FILTH to 36 CRAZYFISTS, KATATONIA and, ultimately, CHILDREN OF BODOM (including the said Ottawa date I'd missed them at last November. Stupid neighborhood watch meeting!). Their debut album Medusa, released last March, boasted many a hybrid of progressive stylings of DREAM THEATER and OPETH alongside more of the modern aggressive breakdowns of FEAR FACTORY and mid-90's SEPULTURA. Songs such as "Antipsychotic", "Stygian Valley" and "Opium Den" are definitely the go-to jams for the first-time UNCURED fan, of whom many were in attendance that night. And either Rex or Zak would be literally amongst that same audience too, often jumping off the stage to rock out either individually or together. Cordless electric guitars were definitely their friends that night. Though while I wasn't one of those immediate fans myself, I can otherwise attest that UNCURED did deliver a rather healthy performance. Look for them to be shakin' and a-bakin' after this tour with CRADLE OF FILTH by month's end.
https://www.uncuredband.com/
https://www.facebook.com/uncuredband/
It's time to roll out the barrels for it is on like LODY KONG! They would be the Phoenix, Arizona-based doom/sludge metal upstarts comprised of Max's two sons Igor Jr. (bass/vocals) and Zyon (drums) and guitarist Travis Stone. They've been around since 2011, taking their band name from their friend Cody Long by merely switching the initials around and cut their debut album, the optimistically-titled Dreams And Visions back in 2016. Much of their setlist that night came strictly from that album, including numbers such as "Chillin', Killin'", "Rumsfield", "Smashed And Blasted" and other high-quality tracks which run the gamut from doom/sludge to manic-sounding death metal and crossover punk in parts. This was high-level, high-octane heavy music for the soul that fed off lots of energy from the crowd, whether it was in the form of Igor Jr. bashing away at his four-string particularly during "Smashed And Blasted" or Zyon beating the hell out of his drumkit like it owed him money. Travis Stone unleashed some solid downtuned riffs though his stage presence seemed somewhat subdued, and for good reason once many of us got closer to his side of the stage where he was playing: He'd torn a quad bicep a few nights earlier during a show - possibly from jumping around - and was wearing a black knee brace to bond the ACL muscles in place - and he was also helping with the stage setup and take down for all of the bands! But it's the fury and tenacity of LODY KONG's work ethic that's making the fans go very ape just as much as their music is.
https://www.facebook.com/lodykong7
They've been mistaken more than once as a Christian rock band because of their name and their lineup previously featured half of MASTODON. And they'd also been working on the follow-up to 2014's Animal Mother prior to getting the call-up for this tour. But despite pressing deadlines, Nashville, Tennessee-based experimental noise merchants TODAY IS THE DAY deliver a sonic assault of everything louder than everything else. They've somehow managed to tie with MOTORHEAD on my list of all-time loudest concerts ever - quite the accomplishment considering that MOTORHEAD's show had been so loud that the week-long ringing in my ears afterwards made me forget to review that same show for KNAC.COM back in 2005. Unlike MOTORHEAD, there weren't that many songs by TODAY IS THE DAY that I was immediately familiar with. As they are pretty much the forefathers of a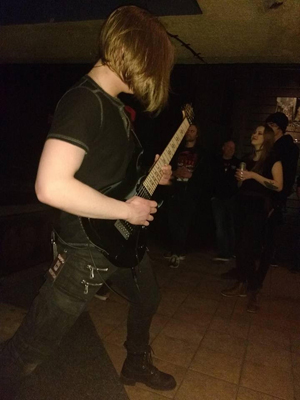 genre of metal I rarely follow closely, it was usually hard for me to tell when the songs started and finished. That's not to say that frontman/guitarist Steve Austin and his rhythm section comprised of DJ Cox (bass) and Tom Bennett (drums) weren't clicking with the audience, but it was usually the more groove-oriented songs like "High As The Sky" and "Going To Hell" and an intense version of "Sabbath Bloody Sabbath" that piqued my interest moreso than for the true diehard fans who'd known what to expect. That said, did anyone expect the tweaker who looked like Cliff Burton's long-lost fraternal twin brother to suddenly rush the stage during the last couple of minutes of "Animal Mother" and press his head against the monitor for 5 minutes straight before passing out? Steve Austin likely didn't but he appeared bemused by the whole spectacle nonetheless. I too also enjoyed the show as an outsider to TITD's music, proving that they're far from yesterday's men after over a quarter century of experimentation and so much volume.
https://www.facebook.com/todayisthedayofficial/
http://todayistheday.us/
Finally, with the stacks of Marshall amps covered in some form of green mesh and the mic stands adorned with gas masks, the lineup of SOULFLY AS NAILBOMB spare no time in taking the stage and getting the crowd riled up with opening number "Wasting Away". As the tour billing would suggest, the entire set would be comprised of the tracklist to NAILBOMB's only studio album Point Blank - a chaotic mix of extreme death metal and industrial born from the partnership of Max Cavalera and former FUDGE TUNNEL frontman Alex Newport. It channeled rage, it challenged the hypocrisy of societal ills, and its opening number "Wasting Away" was featured in the Nicole Kidman movie To Die For (that would be the scene where Nicole's character Suzanne Stone briefly attracts the attention of a young Joaquin Phoenix who is listening to the song on his Walkman during a class presentation). With Alex Newport having long since retired from touring/performing, his backing vocals and samples were taken over by Igor Jr. Rounding out the lineup would be Zyon Cavalera once more on drums, Mike Leon on bass and Marc Rizzo on lead guitar as they blasted out the numbers from the critically acclaimed 24-year old album.
The crowd faves throughout the set, depending on the intense circle pit action that Max Cavalera was doing his best to rile up, would definitely be the faster numbers such as "24 Hour Bullshit" and "For Fuck's Sake". Bearing in mind that pretty much all of Point Blank is fast and aggressive anyway, those two tracks in particular definitely stood out for managing to be twice as fast. "Vai Tomo No Cu" was probably the more sedated song in the whole set if only because the crowd weren't fluent in Portuguese as they tried to chant along but it still created some moshpit action. A cover of DOOM's punk rock classic "Exploitation" somehow managed to earn Marc Rizzo an actual tip of $25 which a female fan had placed on his guitar pedal; not wanting to offend the gift bearer, he graciously accepted the money with a smile. And somewhere around the time when "Religious Cancer" was being played, the tweaker Cliff Burton lookalike made a resurgence once more at the front of the stage. It was also the same location where I happened to be and evidently I was in the guy's way as he wanted to get closer to Max Cavalera. Either my 7-hour old newfound celebrity status after the interview was becoming even more infamous or I'd consumed enough IPA's that night that I'd grown man boobs, but I still wasn't expecting to engage in a game of Tune In Tokyo with Tweaker Guy as he practically grabbed me right by the pectoral to help himself to the front of the already-crowded stage while I was snapping shots. It was 5 minutes of pulling tit without any anesthesia before security had my back and tossed Motorbreath out for the night. Boob solo, take NONE, bitch!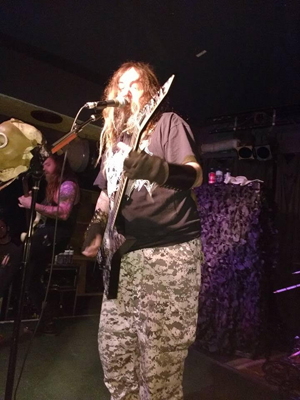 Somehow, an unexpected purple nurple wasn't what Max Cavalera was referring to when he said I'd be a bit sore the day after the show. But he did promise a loud and intense performance from each and every band that had the honor to pay homage to his first-ever solo project. And 24 years on, NAILBOMB's Point Blank still manages to shoot to thrill both on record and on stage.
Thanks to all who made this event possible, including:
Max, Gloria, Sara Lutz, the entire SOULFLY camp and Larry Petro from KNAC.COM for allowing me to get a chance to conduct my interview with the legend himself. (Editor's Note: I did not 'allow' him the chance for the interview...He asked and I delivered :) ).
Mavericks for hosting the event and security for keeping the peace.
Christina and CHORD Productions for bringing this event to Mavericks.
All the bands for performing at the event.
And, finally, team leads Shauna and Sumayeh for once more allowing me to attend this event.
Interview soon to follow!
https://www.facebook.com/SoulflyOfficial/
http://www.soulfly.com/
Setlist:
"Wasting Away"
"Vai Tomo No Cu"
"24 Hour Bullshit"
"Guerillas"
"Blind And Lost"
"The Sum Of Your Achievements"
"Cockroaches"
"For Fuck's Sake"
"World Of Shit"
"Exploitation" (Doom cover)
"Religious Cancer"
"Shit Piñata "
"While You Sleep, I Destroy Your World"
"Sick Life"