JUDAS PRIEST, SAXON & BLACK STAR RIDERS In Youngstown, OH With Photos!


By Geoff Ketler, Cleveland Contributor
Tuesday, March 20, 2018 @ 10:51 AM


| | | |
| --- | --- | --- |
| | | The "Firepower Tour" Heads To Youngstown |
All Photos By Geoff Ketler/Aces High Photography
Only a few days following the release of one of the most anticipated albums of 2018, the mighty JUDAS PRIEST kicked off their North American "Firepower" Tour. Having been announced for some time, the "must-see" tour of the Spring gained new meaning when it was determined that guitarist Glenn Tipton would be unable to tour with the band following his Parkinson's diagnosis. It was quickly determined that producer Andy Sneap would step in to fill the void, but more importantly, the situation can't help but make one think that eventually we are destined to lose our heroes, whether it is to retirement, physical ailments, or worse. It is truly amazing that a band such as JUDAS PRIEST could last so many decades, transcending generations and reinventing the metal genre, but alas, no one is getting any younger and every show of every tour becomes more and more precious as time marches on.
Kicking the night off was BLACK STAR RIDERS featuring THIN LIZZY guitarist Scott Gorham. The quintet is rounded out by guitarist/vocalist Ricky Warwick and a myriad of hired guns: Robbie Crane on bass, Damon Johnson on guitar and Chad Szeliga behind the drum kit. The group that once was considered a reincarnation of THIN LIZZY but endured some lineup changes and eventually settled on the name BLACK STAR RIDERS was supporting their recent effort, 2017's Heavy Fire. The brief set focused around new material but offered "The Boys Are Back In Town" for the real diehards. Ricky is quite the frontman, raising the mic stand and sliding over to Scott's side of the stage often to get a rise out of the audience that was still filtering into the 3/4-house arena.
Setlist:
"All Hell Breaks Loose"
"Bloodshot"
"Heavy Fire"
"The Killer Instinct"
"When The Night Comes In"
"The Boys Are Back In Town"
"Kingdom Of The Lost"
"Bound For Glory"
SAXON will likely have to file as Ohio residents on this year's tax return. Youngstown makes the third show in less than a year that I was fortunate enough to review the new wave of British heavy metal legends. The English powerhouse has been on a tear as of late, dropping albums every 2-3 years and touring relentlessly to support them. 2018 proves to be no different as SAXON is out in support of Thunderbolt. Vocalist Biff Byford was perched up on the monitors, center stage, cloaked in his dark overcoat while bassist Nibbs Carter frantically spun his hair as SAXON tore into the title track off of the new record. The set was clearly focused on the new material, which is really great stuff quite frankly. "They Played Rock n' Roll" – a speedy little diddy, was dedicated to MOTORHEAD and the epic "Crusader" were both well received and naturally the set ended with the anthem "Denim And Leather", during which denim vests and leather jackets rained down onto the stage from audience members. Biff then occasionally wore them and eventually autographed them and returned them to their rightful owners. "Denim And Leather" provided a great segue for the night cap – a group synonymous with leather so much so that one might describe them as "Hell Bent" – for leather.

Setlist:
"Thunderbolt"
"Power And The Glory"
"Nosferatu (The Vampire's Waltz)"
"Motorcycle Man'
"The Secret Of Flight"
"Dallas 1PM"
"They Played Rock n' Roll"
"Crusader"
"Princess Of The Night"
"Denim And Leather"
With nearly a half-century of metal under their leather, studded belts as well as an unprecedented amount of influence that forever changed the hard rock and metal landscape, JUDAS PRIEST took to the stage as the curtain dropped and guitarist Richie Faulkner played the opening riff to "Firepower" – the opening track off of their new album of the same name. The mighty PRIEST was back.

Like I mentioned earlier, producer Andy Sneap took over touring duties for Glenn Tipton on guitar. Although KK Downing had retired a few years prior, Richie Faulkner had settled into his role; becoming part of historically one of the most dynamic duos in metal history. Would Glenn's departure result in a failed attempt to emulate this once balanced attack? Not by a long shot. Although Richie subsequently took over several of Glenn's parts, including the solo in "Painkiller" – Andy held his own, especially with the new material, which he produced. He seemed extremely comfortable with tracks like "Firepower", "Lightning Strike" and "Evil Never Dies" and vocalist Rob Halford made every attempt to include Andy in parts of the show; the synchronized rocking motion, etc.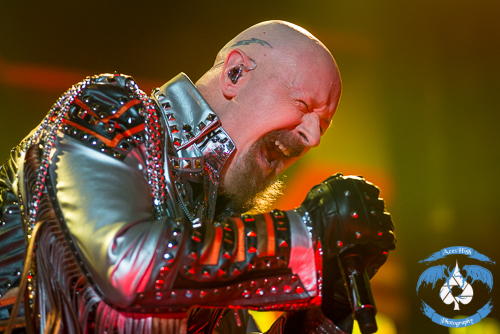 JUDAS PRIEST brought with them the total package of a big production show. Drummer Scott Travis was high atop a drum riser, the lighting was top notch and the backdrop featured the sort of video screens that have become ever so popular. The screens would display an album cover, typically to rousing shrieks and screams from the 4,000+ crowd before Rob would announce which song would be played. It was like a history lesson since the set was peppered with hits, both new and old along with the occasional obscure track such as "Angel" and "Saints In Hell". The "Metal God" himself, Rob Halford was on his game. Although he doesn't necessarily get around as quickly as he used to, Rob's pipes are still on par with the classic PRIEST sound. Rob's signature motorcycle and bull whip made an appearance during "Hell Bent For Leather". The ample set included not one but two encores and ended with an avalanche of classic . Be sure to see this tour or any followup tours from JUDAS PRIEST. They still put on a killer show with all of the trimmings and if anything else, Glenn's condition should remind us that time is precious and we are not getting any younger – get to a show.

Setlist:
"Firepower"
"Running Wild"
"Grinder"
"Sinner"
"The Ripper"
"Lightning Strike"
"Bloodstone"
"Saints In Hell"
"Turbo Lover"
"Angel"
"Evil Never Dies"
"Some Heads Are Gonna Roll'"
"Breaking The Law"
"Hell Bent For Leather"
"Painkiller"
Encore:
"The Hellion"
"Electric Eye"
"Metal Gods"
Encore 2:
"You've Got Another Thing Comin'"
"Living After Midnight"
Check out some more photos from the show!
All Photos By Geoff Ketler/Aces High Photography

Please log in to view RANTS




AVATAR, ORBIT CULTURE, THE NATIVE HOWL In Houston, TX With Photos!

THE DEAD DAISIES In Hollywood, CA With Photos!

KILL DEVIL HILL Seas Of Oblivion

THE DEAD DAISIES In Ottawa, Canada

MAMMOTH WVH In Santa Ana, CA

UADA Crepuscule Natura

BARONESS Stone

KAMELOT, BATTLE BEAST, XANDRIA In Houston, TX With Photos!

CRYPTOPSY As Gomorrah Burns

RAY ALDER II

GHOST, AMON AMARTH In Houston, TX With Photos!

U.D.O. Touchdown

DETHKLOK Dethalbum IV

STEVE VAI In Ottawa, Canada

PANTERA, LAMB OF GOD In Houston, TX With Photos!

OVERKILL, EXHORDER, HEATHEN In Los Angeles With Photos!

PUPIL SLICER Blossom