MONSTER MAGNET Mindfucker


By Andrew Depedro, Ottawa Corespondent
Monday, April 23, 2018 @ 8:36 AM


| | | |
| --- | --- | --- |
| | | |
MONSTER MAGNET
Mindfucker
Napalm Records




Danger! Mayhem! Groovy psychedelic imagery! Lots of possible gratuitous lyrical sexual innuendo! And some light cussing!

Who is honestly making these types of records in 2018 and still able to get away with it anyway? Clearly, the masterful lords of space from out of Red Bank, New Jersey known as MONSTER MAGNET who have released their tenth studio platter Mindfucker and are as musically acerbic and biting as ever. But this time, their stompin' SABBATH-inspired hallucinogenic sounds have come together with more of the proto-punk fast and loose RAMONES-style riffs and rhythms that they've been mildly flirting with off and on for about the past two records. Proof in this case would be the chaotic opener "Rocket Freak" as frontman/guitarist Dave Wyndorf belts out the uber-catchy chorus of "She's a rocket freak and it's the end of the world" with the unabashed exuberance of a 10-year old. And it's not the only song whose lyrics dare to dream outrageously on this album. The title track is a fiery tantrum of unrequited love thanks to classic lines like "You're a mindfucker baby/Setting fire to my bed/Soul crushing love child/Deep inside of my brain". Ditto the heavy-sounding brilliance of "I'm God", written from the perspective of any spiritual deity overlooking the outcome of their work created and how it has been upheld - with questionable results, of course, since we've been overdue in having such a song written about all of us.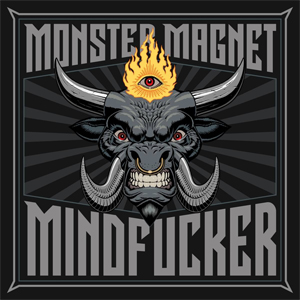 The lead-off single "Ejection" is perhaps the real jewel of the entire album. Mostly because it's an obscure HAWKWIND cover which only further captures MONSTER MAGNET's initial influences from the early 70's spacecore/prog scene that solidified their sound over time. But moreso because they've made the song into more of a bouncy riff-heavy number that encompasses much of the garage rock spirit that the band have been known for without sounding like a product of its past time. When Dave Wyndorf boasts that fateful lyric of being "too fast to die" he really does mean it especially as the song is the harbinger of doom's version of Bowie's "Space Oddity" just as HAWKWIND themselves had intended in their version decades ago. And his posse of Phil Caviano (rhythm/lead guitar), Garrett Sweeny (lead guitar), Chris Kosnik (bass guitar) and Bob Pantella (drums) deliver tenfold on the album's heaviness with their input of unbalanced reverb and quirky rhythm delivery.
In short, Mindfucker is the type of MONSTER MAGNET album that will be too busy keeping your cerebral activity on high alert throughout its hour-long performance for you to suddenly get easily bored. And, as we all know, the mind is a terrible thing to waste when it's left easily to be tampered - or, indeed fucked with.
5.0 Out Of 5.0
https://www.facebook.com/monstermagnet/
http://www.monstermagnet.net/

Please log in to view RANTS


ROBIN MCAULEY Alive

CRADLE OF FILTH, DEVILDRIVER In Santa Ana With Photos!

KAMELOT The Awakening

ALTER BRIDGE, MAMMOTH WVH In Houston, TX With Photos!

ACID KING Beyond Vision

STEEL PANTHER On The Prowl

NIGHT DEMON Outsider

YNGWIE MALMSTEEN In Ottawa, Canada

THEORY OF A DEADMAN, SKILLET, SAINT ASONIA In Houston, TX With Photos!

OFFICER X Hell Is Coming

PERIPHERY Periphery V: Djent Is Not A Genre

INSOMNIUM Anno 1696

STEEL PANTHER, CROBOT, TRAGEDY In Houston, TX With Photos!

BABYLON A.D. Live Lightning

ROTTING CHRIST, CARACH ANGREN, UADA, GAEREA In Houston, TX With Photos!

MOTÖRHEAD Bad Magic: Seriously Bad Magic

TRAGEDY I Am Woman

ROXANNE Stereo Typical