INHEAVEN, PALE WAVES In Chicago, IL


By Shelly Harris, Chicago Contributor
Tuesday, April 24, 2018 @ 8:35 AM


| | | |
| --- | --- | --- |
| | | At Lincoln Hall On April 7, 2018 |
Photos: Jess Rosiak
A Facebook tour posting by drummer Joe Lazarus was the impetus for taking a spontaneous trip to Lincoln Park in Chicago to catch south London band INHEAVEN at the Lincoln Hall, a very cool new music showcase venue in Chicago where Joe's band were opening for another hot trending Manchester, England co-ed band called PALE WAVES.
I had last seen Joe, also the nephew of IRON MAIDEN's Steve Harris, three years ago in London, England, at the Underworld (when his then band, the hard rocking VOOODOO SIX opened for WINERY DOGS). While VOODOO SIX were on hiatus, he joined INHEAVEN, and has a European and now American tour under his belt with the latter. This Chicago gig, on the last third of the tour, also saw INHEAVEN film a live concert for JBTV Music in River North in Chicago earlier in the day, a sure sign that they are moving on up on the U.S. music scene.
That said, there were uncertain expectations from the gig apart from knowing that both bands are English, young, with a growing audience,and feature intriguing females at the forefront, an alternative sound (INHEAVEN's leaning rock and PALE WAVES' leaning pop). In addition, both bands have been recent darlings of the UK pop/rock music press, and it was intriguing to find out just why.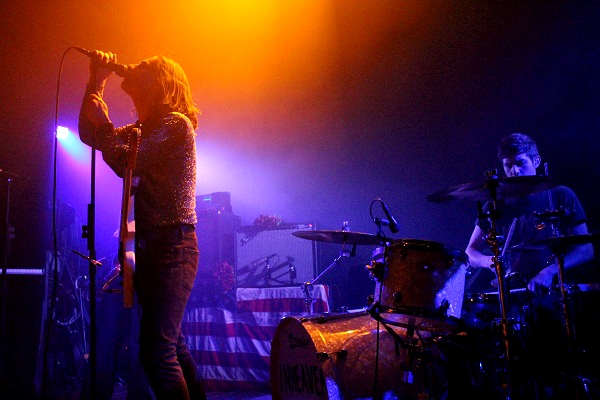 Nevertheless, the first surprise, when arriving on Lincoln Hall venue on Lincoln Avenue, was that it was actually the site of a long standing art movie theater called the Three Penny Cinema, which Roger Ebert often frequented, and which I had lived next door to back in my early 20s. (The renown Biograph theater - with an alley that was famously the site of John Dillinger's demise - is also diagonally across the street.)
With all that old history surrounding it, Lincoln Hall - a sister venue of Schuba's, another Chicago original music showcase club - was updated in modern black and chrome minimalism, with solid acoustics, and balcony to supplement its main floor (no seats and G.A.). But, ironically, when both bands came on, it felt clear that what seems new is indeed old, in more ways than one, and not in a bad sense. Both bands are retro, but in different ways.
First out, and squeezed to the very forefront of the stage, INHEAVEN's music and self-titled debut album (released Sept. 2017) may have been new to me, but it definitely wasn't new to the many and diverse audience, many of whom seemed familar with their songs enough to sing them. Although it has been described as "it's shoegaze-y British punk rock with '90s American influences," I found it more reminiscent of early New Wave, with short, tough, melodic songs with real hooks along with a balanced blend of broody nonchalance and peppy enthusiasm. (Singer/guitarist James Taylor provides the bulk of the former, and bassist/singer Chloe Little the latter, in conjunction with guitarist Jake Lucas and the aforementioned drummer, Joe Lazarus.) Highlight tune: "Televison Romance". It was a short, sweet set that definitely begged for more.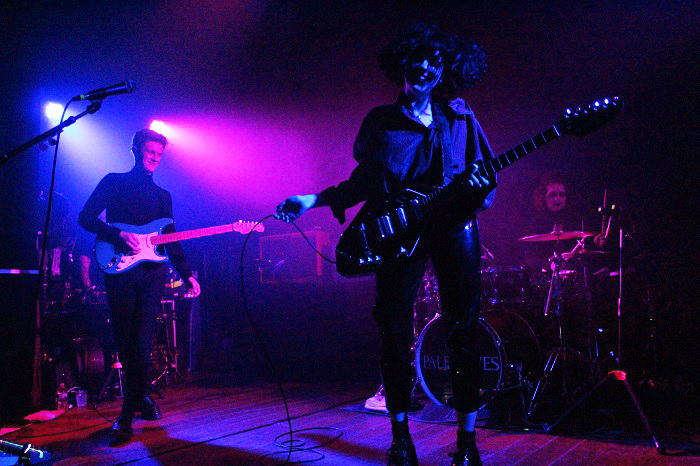 Next up, the PALE WAVES singer and guitarist Heather Baron-Gracie commanded the stage with a distinct charisma and confidence, with a CURE-like persona and attitude that reflects one of her biggest influences. Whether you call it pop, indie, synth, or goth rock, the band's tight hooky songs were contagious with an ethereal lightness that is sure to appeal to a mainstream audience. The band's heavy 80s influence is very evident and you will see and hear shades of Debbie Harry, Cyndi Lauper, and Chrissie Hynde, but whatever you call it, PALE WAVES had an audience there that knew, and loudly sang to, each and every song from the band's newly released album, All the Things I Never Said. Along with co-founder, drummer Ciara Doran, lead guitarist Hugo Silvani, and bassist Charlie Wood, there is no doubting that PALE WAVES next Chicago visit is likely to be in an arena setting.

Please log in to view RANTS