Heavy Metal 101: Required Reading


By Mick Stingley, Contributor
Sunday, February 8, 2004 @ 11:40 PM


| | | |
| --- | --- | --- |
| | | Book Reviews: Sound of the Bea |
When this reviewer was in high school and college, there were three books that were considered "must-reads" about music: Catch A Fire (about Bob Marley), No One Here Gets Out Alive (Jim Morrison/The Doors) and Hammer of the Gods (Led Zeppelin). Since then, there have been many "rock" books that have come along, but not many that really stand out and grab you. Crazy From The Heat (David Lee Roth) comes to mind, as does The Dirt (Motley Crue)… but amidst all the books languishing in the music section of Barnes & Noble, there aren't many that stand out as much. Apart from personal musings by Henry Rollins, Zodiac Mindwarp and Jizzy Pearl, and perhaps a Ted Nugent cookbook, there is little out there that captures the readers attention: I know KNAC's Frank Meyer has a book on The Ramones; someone told about a pretty good Aerosmith book…

In the meantime: below, four books I would highly recommend on the subject of Rock. I had the pleasure to read these over the Christmas/Winter holiday, and feel obliged to honor them with some attention. Hopefully, others will seek to do the same…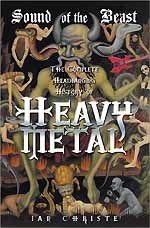 Sound Of The Beast:
The Complete Head-Banging History Of Heavy Metal
By Ian Christie
(Harper Entertainment)
A rock fan and journalist, Ian Christie has compiled a book that best captures the genre from its inception to the present and covers everything from Sabbath to The Strip, thrash and grunge, to black, death, speed, gore, doom, goth, hardcore, alternative, nu- metal and more. At once a thoroughly engaging read, and an enjoyable education, Ian Christie is the Kenneth Clark of rock/metal, and this, "SOTB," is his "Civilization." In short, he has written the definitive text on the subject.
Comprehensive in its attention to all forms of hard rock/metal and the evolution of each genre, Sound Of The Beast is a chronological work, which pleasantly refrains from subjective commentary. This book showcases the evolution of rock/metal. Christie's approach allows for the injection of quotes from a myriad of notables in the business, from musicians to industry-types which give the book an additional kick. There are some color plates, as well as a slew of b&w photos of bands, flyers, and the like which enliven the read. (Though, the inclusion of laundry-lists of "The Top… In Metal" may irk some, it should largely engender metal fans appreciation as a whole.) This book breaks it all down and explains everything -- raises the bar on rock-journalism by not insulting its audience and examining everything under the sun "metal."
Out on paperback this spring.
* * * * *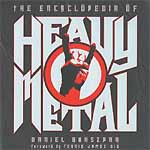 The Encyclopedia Of Heavy Metal
By Daniel Buhszpan
(Barnes & Noble Books)
A "coffee-table book" for metal-heads.
Starting with a foreword by Ronnie James Dio, (who better?), this book is rocking and rolling with each successive turn of the page.
A more colorful "A to Z" of the genre: this book follows the template of the old annual series from Harmony books, (The Harmony Illustrated Encyclopedia Of Rock), which was a broad overview of all forms of music. This book, specific to metal, is far more comprehensive than it's spiritual forerunner, larger in size (11" x 11"), and offers biographies, killer photographs, band roasters and discographies. It doesn't ignore any specific genre (Fates Warning, Mr. Bungle, and Rose Tattoo, for example, all get a full-page), and gives great coverage to a select group of bands and performers widely regarded as legends (Zeppelin, Queen, Judas Priest, Maiden, Metallica, et al; in addition to a full-blown feature on the impact of Spinal Tap). The visual treats within are too tempting to ignore: a full-page picture of LA Guns from the '80s with Tracii looking like Ben Stiller in a fright-wig, Lita Ford in all her glam-metal glory, side by side pictures of Raven and Riot that might cause nausea, Dino from Fear Factory covered in mud, Glen Danzig covered in blood, Bruce Dickinson from his Samson days, Maynard from Tool in drag and even Judas Priest on roller-skates in Central Park from 1979!
With the pictures comes a realistic, if not occasionally rueful, commentary, the finest of which might be the hilarious history of The Mentors. This colorful book leaves no stone unturned (i.e., Cycle Sluts From Hell, Iced Earth) and ought to amuse any metal fan. Entertaining as well as educational.
* * * * *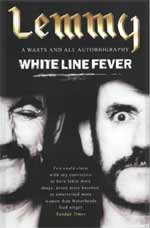 White Line Fever: (The Autobiography of) Lemmy
By Lemmy Kilmister with Janiss Garza
(Simon & Schuster)
Now currently available in paperback in America, Lemmy's book reads like an "as-told-to," which is to suggest that it reads as if Lemmy is talking to you, perhaps over a few Maker's & Cokes on the patio of The Rainbow. You can almost see him exhaling smoke as you read along…
Spanning his life and career, (for those who didn't know, he was once a roadie for Jimi Hendrix), this book reads like a great Motorhead song: amazing, fun, fast and unrelenting. As the founder and leader of the World's Most Underrated Band discusses his upbringing to from a working-class birth to his life after 50 as the rogue-gentleman of rock, Lemmy entertainingly charms us on any number of subjects from Christianity (knocking it down on the very first page!), to "9/11." However, the best stories come in the longer tales which include his adolescent shenanigans, his adult shenanigans, his music career, rock, punk, and metal, "birds," his penchant for speed in any form, as well as behind-the-scenes of the recording of various records.
Lemmy has the disarming, self-effacing charm of Johnny Carson, and it carries book throughout: if only he'd do an audio-version of this… you don't have to be a Motorhead fan to enjoy this, although you might well become one after.
* * * * *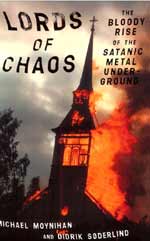 The Lords Of Chaos (New Edition):
The Bloody Rise Of The Satanic Metal Underground
By Michael Moynihan and Didrik Soderland
(Feral House)
Since being re-released, this book just missed the news-breaking story of its anti-hero and focus, Varg Vikernes, who recently escaped authorities in Norway during a three-day "leave" from prison, only to be captured again in a stolen vehicle with a cache of guns, maps and other goodies indicative of his intent to flee the country.
Vikernes, a.k.a "Count Grishnacht," is the leader of the seminal band, Burzum, which was the vehicle to his rise to deification. The back-story on Varg, and the in-depth history of "Black Metal" and it's evolution as a genre, is packed tightly with interviews and first-hand accounts of church-burnings and murder.
Part In Cold Blood and part Hammer of the Gods, this book is a chilling journal of this extreme form of metal that begins with a brief history of the darker side of rock (Robert Johnson, Black Sabbath, Venom) and explores the origins of the genre in Norway. Replete with interviews, thoroughly compiled news-stories, thoroughly annotated (footnotes galore); Chaos… is filled with gusto. The only disappointment is in the semi-deification of Varg Vikernes (not by the author, but rather, by his fans): he has since become less of an angry metal stalwart, and more of a neo-Nazi amidst his fascination with Norse mythology. That aside, this book is an incredible read. It takes you through the whole spectrum of music and the small world of the people in Norway who came to prominence as a result of their fascinations, however nefarious. And, speaking of nefarious, there is a scintillating interview with the late Anton LeVey, who comes across more eloquently than most heads-of-state: (LeVey is the founder of The Church Of Satan; author of The Satanic Bible).
It continues onward, into the ramifications of this music, and captures the results (which give over to the title) as unfortunate as they may be. It covers the rampant church-burnings and the "evil-doers" who perpetrate the deeds. Investigation uncovers depths of seediness, and the rise of the new wave of black-metallers, who seem harmless and fun by comparison to Varg and those this book examines more closely.
There is also the rise of the satanic/black/death scene in the US, and the odd additions that complete the book: a group of kids in Ft. Myers, Florida, who rob, vandalize and commit murder under the name, "The Lords Of Chaos" (not a band, by the way).
Although it never mentions "Columbine," (perhaps intentionally): the reader still wonders "Why not?"… that said: it never loses the luster in capturing the seamy underside of "Black Metal." A riveting fascinating read. The Lords Of Chaos brings you to the rim of Hell, that you might gaze wild-eyed at the flaming furnace below.
* * * *

Please log in to view RANTS