SHADOWKEEP Shadowkeep


By Alex Yarborough, Orlando Contributor
Tuesday, May 15, 2018 @ 10:19 AM


| | | |
| --- | --- | --- |
| | | |
SHADOWKEEP
Shadowkeep
2018 Pure Steel Records




SHADOWKEEP is an English-American progressive power metal band. We last heard from them 10 years ago with their release The Hourglass Effect. The band has surprised me with an amazing return, featuring their new frontman, the legendary American vocalist James Rivera (HELSTAR, SEVEN WITCHES).

This self-titled album, the band's fourth, begins with an acoustic intro named "Atlantis", which segues into "Guardian of The Sea". This is a driving power metal track, accentuated by Rivera's trademark high octave notes. Longtime guitar team Nicki Robson (rhythm) and Chris Allen (lead) deliver riffs aplenty and a nice solo here. Check out new drummer Omar Hayes' drumming in "Flight Across The Sand" and "Horse of War". He is aggressive and precise, delivering compelling fills on these songs and throughout the album. These tracks also benefit from American bassist Stony Grantham's solid playing.

"Little Lion" is a track consisting solely of acoustic guitar and Rivera's voice, while "Angels and Omens" returns to power metal with some up-tempo riffs and interesting percussion accents. "Isolation" is a double bass-driven song featuring a soaring vocal from Rivera. "Never Forgotten" is a haunting acoustic eulogy to those who died in World War II, beginning with a portion of Winston Churchill's "Their Finest Hour" speech in 1940. "The Sword of Damocles" is a good instrumental piece, with several spiraling riffs. Rivera was able to inject one of his essential vampire tales into the album with the excellent "Immortal Drifter". He uses his upper register to full effect in this awesome song. The album ends with possibly the strongest (and at over nine minutes, the longest) track called "Minotaur". The song features several time changes, an acoustic interlude, and some of Rivera's most impressive vocals.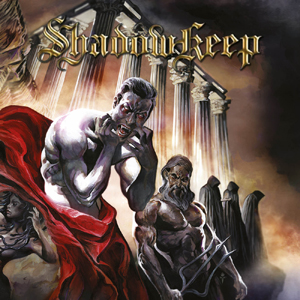 Early SHADOWKEEP was heavily influenced by QUEENSRYCHE, featuring some progressive elements and styles. This album tends to lean heavily on a modern power metal style; much more than anything they've done before. In fact, it's not too far removed from most of the bands that Rivera fronts. There is more power here than prog. Adding a talented monster vocalist like James Rivera was a very smart move. Hiring drummer Omar Hayes was another winning decision as well. If you are a HELSTAR fan, I think you're going to find a lot to enjoy on this album. I liked it immediately, and would rank this near the top of the list of SHADOWKEEP's four albums. There are 11 songs total, clocking in at 55 minutes. Shadowkeep is available now from Pure Steel Records in CD and limited vinyl formats.
4.6 Out Of 5.0

Please log in to view RANTS


THE WINERY DOGS, BLACK HEART SAINTS In Houston, TX With Photos!

ROBIN MCAULEY Alive

CRADLE OF FILTH, DEVILDRIVER In Santa Ana With Photos!

KAMELOT The Awakening

ALTER BRIDGE, MAMMOTH WVH In Houston, TX With Photos!

ACID KING Beyond Vision

STEEL PANTHER On The Prowl

NIGHT DEMON Outsider

YNGWIE MALMSTEEN In Ottawa, Canada

THEORY OF A DEADMAN, SKILLET, SAINT ASONIA In Houston, TX With Photos!

OFFICER X Hell Is Coming

PERIPHERY Periphery V: Djent Is Not A Genre

INSOMNIUM Anno 1696

STEEL PANTHER, CROBOT, TRAGEDY In Houston, TX With Photos!

BABYLON A.D. Live Lightning

ROTTING CHRIST, CARACH ANGREN, UADA, GAEREA In Houston, TX With Photos!

MOTÖRHEAD Bad Magic: Seriously Bad Magic

TRAGEDY I Am Woman