BURN THE PRIEST Legion: XX


By Peter Atkinson, Contributor
Wednesday, May 16, 2018 @ 3:09 PM


| | | |
| --- | --- | --- |
| | | |
BURN THE PRIEST
Legion: XX
Epic Records




As it nears its 25th anniversary, Virginia's LAMB OF GOD steps into the WABAC Machine to revisit its formative years and early influences on this collection of cover songs being issued under the BURN THE PRIEST banner — a name the band wisely ditched in 1999. As the names changed, though, so too did the band's sound, cementing a shift to the thrashier, groovier, fundamentally metal style that has earned LAMB OF GOD (LOG) legions of fans over the past two decades.

Despite the BURN THE PRIEST, or BTP, moniker, the band was never one for satanic/black metal dumb-assery. Indeed, that name was more of an attention-getter which inevitably would have gotten the band the wrong kind of attention, especially since its initial sound had a pronounced crossover feel — equal parts rough-and-tumble hardcore punk bludgeon and metal finesse. And Legion: XX – a nod to the label that issue BTP's self-titled debut nearly 20 years ago – shows where that sound came from.

It's rather telling that there really isn't any straight-up metal to be found here. The 10 tracks featured on the album were originally done by hardcore bands (CRO-MAGS, AGNOSTIC FRONT, BAD BRAINS); crossover and post-hardcore acts S.O.D., THE ACCUSED, BIG BLACK and QUICKSAND; and a few industrial-tinged/noise rock curiosities from MELVINS, MINISTRY, BAD BRAINS and the super obscure SLIANG LAOS, who hail from BTP/LOG's hometown of Richmond. And the remarkably faithful renditions BTP present here speak to the reverence the band had for those who inspired it.

Sure, the sound is better, thanks to the modern studio and budget a band with BTP/LOG's stature can afford — something that largely eluded the original acts. And there's no mistaking Randy Blythe's tenacious, snarling vocals, even on the more poignant "Dine Alone" from QUICKSAND, where he approximates Walter Schreifels' earnest warble as much as he can. But aside from some more agile, athletic drum work by Chris Adler, this is definitely not a case of reinterpretation, as the songs are almost eerily note perfect — all the way down to the nonsensical banter and film-clip snippets that accompany MINISTRY's madcap "Jesus Built My Hotrod".

And in sticking so closely to the script of the originals, the album does come off as bit stiff overall. A modestly more freewheeling approach might have better tapped the raw, primal energy and spunk that made the songs so vital and pure in the first place. METALLICA was able to find that balance on its Garage Days/Garage Inc. collections, but BTP comes up a bit short in that regard here.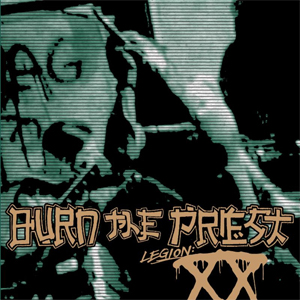 Still, it's great to hear some of these songs again, and there's certainly no lack of crunch or bite in the band's presentation — in spite of it being so spot-on. The caustic air of THE ACCUSED's "Inherit The Earth", S.O.D.'s "Kill Yourself", BAD BRAINS' "I Against I" — where Blythe valiantly tries to capture H.R.'s enigmatic vocal style — or AGNOSTIC FRONT's "One Voice" is there in abundance, as are the abrasive riffs and buzz-sawing bottom end of BIG BLACK's "Kerosene" or MELVINS' "Honey Bucket".
Oddly enough, Legion: XX is being released as LAMB OF GOD embark on what is shaping up to be this summer's ultimate "metal" event — SLAYER's farewell tour, a cavalcade that includes ANTHRAX, TESTAMENT, BEHEMOTH (for the first leg) and NAPALM DEATH (for the second). But SLAYER and ANTHRAX have never been shy about their hardcore roots — with SLAYER serving up the covers album Undisputed Attitude in 1996 and ANTHRAX guitarist Scott Ian and drummer Charlie Benante anchoring S.O.D. a decade earlier. And with S.O.D. being covered here, what goes around comes around.
While perhaps not an essential album, as a gap-filler, Legion: XX certainly does its job. And it shows, yet again, the enduring influence early hardcore has had in metal, even over several generations, no matter how loath some fans still are to admit it.
3.0 Out Of 5.0

Please log in to view RANTS