OVERKILL Live In Overhausen


By Ruben Mosqueda, Contributor
Tuesday, May 22, 2018 @ 11:27 AM


| | | |
| --- | --- | --- |
| | | |
OVERKILL
Live In Overhausen
Nuclear Blast Records 2018




Frontman Bobby 'Blitz' Ellsworth and bassist D.D. Verni have been the mainstays in OVERKILL during their 38 years of existence. OVERKILL have endured lineup change after lineup change and shifts in trends and they remained unphased. When METALLICA, MEGADETH and ANTHRAX bowed down to the mainstream, OVERKILL did not. Perhaps, that might contributed to their missed opportunity at a platinum status, but their integrity is more important to 'Blitz' and D.D.

OVERKILL have issued record after record over the years, and their blue collar work ethic is to be commended. The latest The Grinding Wheel [2017] is among one of the best records of their career and the tours are getting rave reviews by fans and critics alike. This brings us to the latest release from OVERKILL, Live In Overhausen, a Blu-Ray and double CD set recorded live in Oberhausen, Germany. 'Blitz' and the guys elected to do something special rather than simply film the set from the current tour. Oberhausen got OVERKILL performing two classic records; Horrorscope, their 1991 album, their best selling and highest charting as per the band, and their debut album 1985 Feel The Fire.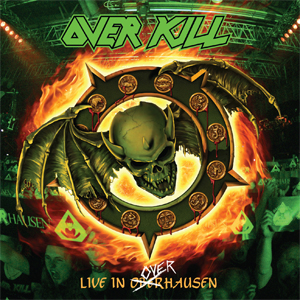 Horrorscope features favorites "Coma", "Thanx For Nothin'", "Horrorscope", "New Machine" and the cover of Edgar Winter's "Frankenstein" which are stellar. If that weren't enough you get "Rotten To The Core", "Hammerhead", "Feel The Fire", "Kill At Command", "Overkill" and "Fuck You" [from their controversial E.P. Fuck You] which replaces the cover of "Sonic Reducer" from the Feel The Fire set [and album].
As you might have expected, the show looks stunning, it sounds outstanding sonically. You get the set as is, warts and all. There is a part in "Kill At Command" where 'Blitz' misfires and it was left in there. Throughout the show there is interview, backstage and soundcheck footage intertwined in between blocks of songs. I'm not a fan of this as it tends to distract from the performance aspect of the show. Such is not the case with Live In Overhausen. If you're a fan, either casual or die-hard you need this concert film in your collection.
4.0 Out Of 5.0

Please log in to view RANTS