GHOST In Riverside, CA With Photos!


By Chris "Chili" Pirri, So Cal Contributor
Thursday, May 31, 2018 @ 8:12 AM


| | | |
| --- | --- | --- |
| | | At Riverside Municipal Auditorium May 5th |
All Photos By Chris Pirri
It's official, GHOST is out on tour and KNAC.COM was there opening night on May 5th at the Riverside Municipal Auditorium in Riverside, California. With their new album Prequelle less than a month away from being released worldwide tonight's congregation were treated to five songs off their new album. Before the curtain dropped there was a buzz going throughout the crowd. The question on everyone's lips was will we see a new transforming from Cardinal Copia? One of the absurd theories I overheard in the crowd was that we would see a conclave on stage and by the end of the Ritual (concert) Cardinal Copia would be the new Papa. I'm very happy to report that neither happened. However, the congregation was treated to a twenty-four song set list that even had a brief intermission for His Eminence Cardinal Copia Archbishop of Sweden to rest and rehydrate for the second half of the Ritual.

As the curtain was pulled aside we were greeted by the Nameless Ghouls who were dressed up in their usual all too familiar garb. The set was reminiscent of a gothic church located somewhere in Europe that looks creepy but at the same time fascinating. Even the stained glass windows that accompany a church were present in the background. Instead of holy images we were treated to a likeness of Papa Emeritus on the windows. When Cardinal Copia walked out on the stage the crowd went crazy as we were treated to their first single off their new album "Rats". Cardinal Copia (Tobias Forge) was on point and was full of energy. Throughout the night the whole band had spunk to them. Probably because this was the first show of the tour but also they know how to put on a show. The sold out Auditorium was treated to a great production and numerous wardrobe changes by Tobias that would even make Jennifer Lopez envious. However, we were here for the music and they delivered. The Ghouls were tremendous and are very talented musicians. They may be hiding behind a mask but not their instruments. Whoever these Ghouls are, my bet is that they could form their own band and have just as much success as GHOST.

I had two moments during this ritual that just made the night complete for me. One was during the instrumental of their new song "Miasma". This is when the crowd was treated to a saxophone solo featuring Papa Nihil with two Nuns flanking him. This is just another clever nod to the pageantry that is GHOST. The other was during "Mummy Dust", one of my favorite songs by the band. Towards the end of the song gold confetti was shot out of a cannon that seemed to last for up to a minute. Not only was it confetti there were actually fake six hundred and sixty-six dollar bills featuring Papa Nihil scattered within. I was unfortunate to grab one. Oh well.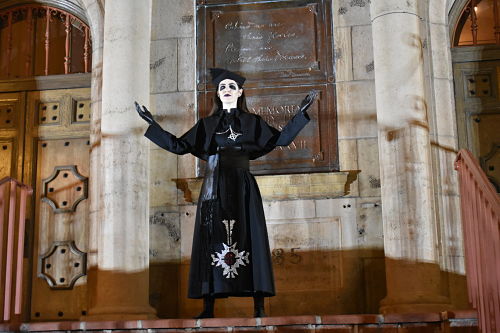 GHOST is a band that people seem to either love or despise. There is no neutrality. I of course fall into the category of deep devotion for this band. This being my first time seeing them live I even felt more infatuation to the entity that is GHOST. I now consider myself part of the clergy and looking forward to their next appearance in Southern California when they play The Forum in Inglewood on November 16th.

Set I
"Ashes"
"Rats "
"Absolution"
"Ritual"
"Con Clavi Con Dio"
"Per Aspera Ad Inferi"
"Devil Church"
"Cirice"
"Stand By Him"
"Miasma" (feat. Papa Nihil on sax)
"Jigolo Har Megiddo" (Acoustic)
"Pro Memoria"
"Deus In Absentia"
Set II
"Spirit"
"From The Pinnacle To The Pit"
"Faith"
"Year Zero"
"Spöksonat"
"He Is"
"Prime Mover"
"Mummy Dust"
"If You Have Ghosts"
"Dance Macabre"
"Square Hammer"
Check out some more photos from the show!
All Photos By Chris Pirri

Please log in to view RANTS


ROBIN MCAULEY Alive

CRADLE OF FILTH, DEVILDRIVER In Santa Ana With Photos!

KAMELOT The Awakening

ALTER BRIDGE, MAMMOTH WVH In Houston, TX With Photos!

ACID KING Beyond Vision

STEEL PANTHER On The Prowl

NIGHT DEMON Outsider

YNGWIE MALMSTEEN In Ottawa, Canada

THEORY OF A DEADMAN, SKILLET, SAINT ASONIA In Houston, TX With Photos!

OFFICER X Hell Is Coming

PERIPHERY Periphery V: Djent Is Not A Genre

INSOMNIUM Anno 1696

STEEL PANTHER, CROBOT, TRAGEDY In Houston, TX With Photos!

BABYLON A.D. Live Lightning

ROTTING CHRIST, CARACH ANGREN, UADA, GAEREA In Houston, TX With Photos!

MOTÖRHEAD Bad Magic: Seriously Bad Magic

TRAGEDY I Am Woman

ROXANNE Stereo Typical

ANTHRAX, BLACK LABEL SOCIETY, EXODUS In Houston, TX With Photos!