Review By Daniel Licitra
I was looking forward to this double bill for a while. I arrived early for a meet and greet with both bands which include pictures and signings. I then had a little time to kill before both bands played, so I went to a nearby pub for food and drinks. After I ordered I heard a voice asking me if I would like to order. I wondered if another waiter mistakenly came by? It was Joacim Cans, the singer from HAMMERFALL having some fun! Both bands decided to eat and drink at the same pub as me.
It was my second time seeing HAMMERFALL. I saw them last year in Tampa, Florida. This was their first time playing in South Florida. This was my third time seeing FLOTSAM AND JETSAM but it's been about twenty years since the last time I've seen them play live.
FLOTSAM AND JETSAM sounded as great as ever. I'm a fan of their first two albums and they played a few tracks from both of them. The highlights for me were "Hammerhead", "She Took an Axe", "Hard on You", and "I Live You Die". After that great set HAMMERFALL had to bring their 'A' Game.
HAMMERFALL did not disappoint. In spite of playing in a club they had an arena look to their show with all the smoke and lights to rival a band playing an arena stage. The crowd was with them from the beginning, singing right along with the band.
I've followed HAMMERFALL from the beginning so I was familiar with all the songs. Some highlights from their set were "Hector's Hymn", "Riders of the Storm", "Blood Bound", and "Hearts on Fire". I was also lucky enough to get a guitar pick thrown out into the audience by lead guitarist Pontus Norgren.
All in all it was great night of Metal by two great bands.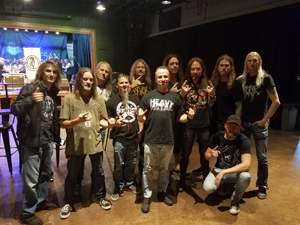 FLOTSAM AND JETSAM setlist
"Hammerhead"
"Me"
"Monkey Wrench"
"She Took An Axe"
"Hard On You"
"Life Is A Mess"
"I Live You Die"
"Iron Maiden"
"No Place For Disgrace"
HAMMERFALL setlist
"Hector's Hymn"
"Riders of the Storm"
"Renegade"
"Dethrone and Defy"
"Blood Bound"
"Any Means Necessary"
"BYH"
"Crimson Thunder"
"Threshold"
"Built To Last"
"Last Man Standing"
"Legacy of Kings" Medley
"Heeding The Call"
"Let The Hammer Fall"
"Hammer High"
"Bushido"
"Hearts On Fire"