CANDLEMASS House Of Doom EP


By Daniel Höhr, European Correspondent
Tuesday, June 12, 2018 @ 8:27 AM


| | | |
| --- | --- | --- |
| | | |
CANDLEMASS
House Of Doom EP
Napalm Records, 2018




A church bell chiming, a sludgy guitar riff and you know where you are, namely right in the House Of Doom, to which Swedish doom metal veterans CANDLEMASS give you a warm welcome right in the chorus of the title track of their new EP, released through Napalm Records on May 25. Back in 2016, the five-piece around composer and bass player Leif Edling celebrated their 30th anniversary with the release of the Death Thy Lover EP. The reason behind the present EP, however, is quite a different one. As part of a collaboration with the game company Hyperfrost, House Of Doom is the soundtrack of a game of the same name (check out https://houseofdoom.com/). Additionally, the purpose of this EP is also to get CANDLEMASS fans sufficiently warmed up for a full-length studio effort to be released later on this year.

The four tracks on this EP are unmistakably CANDLEMASS and sound fresh, energetic and straight-in-your-face, showing a diversity of different styles and moods within the slightly blurry boundaries of what is called doom metal. As written above, the title track leaves no doubt where you are musically. Mesmerising riffing by guitarists Mats Björkman and Lars Johansson, deep grooves and driving drums provided by the band's mastermind Leif Edling on bass and drummer Jan Lindh and epic vocals by singer Mats Levén, who has been on board of CANDLEMASS since 2012. Interestingly enough, the title song bears more than just a superficial resemblance to "Into The Fire/Into The Storm", the opener on the most recent AVATARIUM album, Hurricanes And Halos. The main riff is very similar, in both songs the beat in the chorus is half-time and the riff that kicks in right in the middle of "House Of Doom" is almost identifcal to the one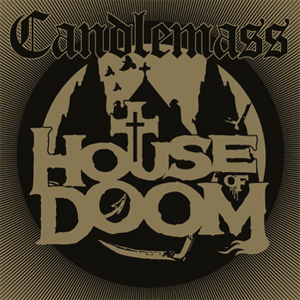 that starts "Into The Fire/Into The Storm" – what a nice cross-reference, which is hardly surprising since CANDLEMASS mastermind Leif Edling is AVATARIUM's musical godfather, who has written a lot of their material, and AVATARIUM guitarist Marcus Jidell produced the present CANDLEMASS EP. He did an awesome job, by the way, the EP sounds superb. The second track, "Flowers Of Deception", comes along heavier, doomier and riffier than the previous one but incorporates the same musical qualities. There are some great bass guitar passages many a bassist will find worth listening to more closely. "Fortuneteller" is a folk-style ballad stripped down to mainly vocals and acoustic guitar. This track gives singer Mats Levén a chance to demonstrate his outstanding vocal qualities. The EP closes with the instrumental "Dolls On A Wall" and features all the qualities associated with doom metal – slow, grinding early BLACK SABBATH-style guitars, expressive lead parts and tons of sludge, somehow arousing the need to crank up the colume and to smoke a spliff.
House Of Doom is a great appetizer for the full-length CANDLEMASS album. Excellent stuff that truly deserves five out of five.
5.0 Out Of 5.0

Please log in to view RANTS


ALTER BRIDGE, MAMMOTH WVH In Houston, TX With Photos!

ACID KING Beyond Vision

STEEL PANTHER On The Prowl

NIGHT DEMON Outsider

YNGWIE MALMSTEEN In Ottawa, Canada

THEORY OF A DEADMAN, SKILLET, SAINT ASONIA In Houston, TX With Photos!

OFFICER X Hell Is Coming

PERIPHERY Periphery V: Djent Is Not A Genre

INSOMNIUM Anno 1696

STEEL PANTHER, CROBOT, TRAGEDY In Houston, TX With Photos!

BABYLON A.D. Live Lightning

ROTTING CHRIST, CARACH ANGREN, UADA, GAEREA In Houston, TX With Photos!

MOTÖRHEAD Bad Magic: Seriously Bad Magic

TRAGEDY I Am Woman

ROXANNE Stereo Typical

ANTHRAX, BLACK LABEL SOCIETY, EXODUS In Houston, TX With Photos!