An Evening With Dream Theater in Seattle


By Chris Slack, Contributor
Thursday, March 11, 2004 @ 12:13 AM


| | | |
| --- | --- | --- |
| | | Dream Theater Live at the Moor |
I've seen Dream Theater every time they have played Seattle but have never looked forward to seeing them as much as I did for this tour. Why? Because this time there was no opening act, which ensured the band would be able to do a lot more material from their extensive back catalogue. Seattle was given the honor of being the opening date on their US tour supporting their latest (and one of their greatest) album Train of Thought.

At 7 PM sharp the pre-show tunes were replaced by a track by Andy Rowland and Ant Law of Edinburgh, Scotland, winners of a songwriting contest Dream Theater sponsored before the tour. Shortly after that the house lights went down and a brief history of the band was shown on a large video display with highlights of the bands career from the Majesty days to the present. Once that was done, the band took the stage to some very loud applause and kicked off the night with the single from "T.O.T", "As I Am." Shooting photos from in front of the stage proved to be difficult as it was all I could do to hold back from headbanging and singing along with James LaBrie! After "This Dying Soul" I was asked to return to my seat, once I got there it was a bit easier to enjoy the show as I no longer had to crouch to stay out of the way of the people up front. I'm not sure if it was due to being in front of the stage but the sound seemed a lot better once I got back to my seat, during the first two songs Petrucci's guitar was very hard to hear over the keyboards and John Myung's bass was utterly inaudible. From my seat the sound was absolutely fantastic although I would have liked the bass mix to be a little louder.

As would be expected, the performance was going along very well at this point, with the stellar musicianship of the band and three large video screens which alternated between close-ups of the band members and various clips and patterns which accompanied the songs. After James finished his work on "Beyond This Life," the rest of the band took off into an extended jam based off of the music of Frank Zappa, with footage of Frank appearing on the video screens throughout -- very cool indeed. Once the band finished up the first 90 minute set with "Finally Free," my neck and voice were definitely ready for the 15 minute intermission, which I used to get outside to catch some fresh air. As I was leaving the theater they were playing Porcupine Tree over the house PA, a nice touch.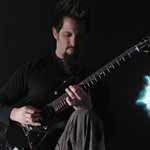 I came back in to the pleasant sounds of Opeth over the house PA. If the band was responsible for programming the intermission music then kudos to them! We were then treated to another set that ran close to 90 minutes in length. After a couple of songs, Mike began his drum solo which was as impressive as one would expect. Much to everyone's surprise Mike was joined on his monster kit by Scott Rockenfield, reprising their dual solo from last year's Dream Theater/Queensryche encore. This, of course, drew much applause from the Seattle crowd who hasn't seen Scott on stage since last summer, despite QR doing two national tours since then. Jordan Rudess' keyboard solo was breathtaking; it reminded me of the keyboard solos heard on old Deep Purple bootlegs. After finishing the set off with an emotional "In the Name of God," the band left the stage, at which point the audience whooped it up for the band to return. After a few short minutes a clip from "Dead Poets Society" was displayed on the center video screen which could only mean one thing; they were going to play "A Change of Seasons," the 23 minute long opus from the EP of the same name! Due to its length, it generally isn't a regular part of their set -- out of the 22 dates on this tour they have only played it 6 times. This was the first time for me to see this song played live so needless to say I was very happy about it.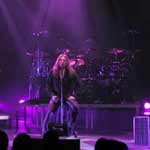 I haven't been to many shows this year but this one was undoubtedly the best thus far and one of the best I have ever seen. The set list didn't have a single clunker on it (not that Dream Theater has many) and the extended jams and "A Change of Seasons" encore pushed it's greatness over the edge, making it a classic concert in my mind. Out of the five times I have seen Dream Theater, this was easily the best. The musicianship was simply flawless, but that's pretty much a given for the band. James' voice was in great form -- he nailed almost every high note and the occasional slurring of words I have come to expect was unnoticeable, if it happened at all. Hopefully the long tour with such long shows won't have a detrimental effect on his voice as he is currently sounding better than ever. The songs from Train of Thought were even heavier than they are on the album, there is no doubt now that Dream Theater can play bonecrushing metal as well, if not better than any other metal band. If Dream Theater is coming to your area on this tour do not hesitate to see them, they are at the top of their game!
More photos from this show can be found at http://www.shadows.com/ and http://www.blizzardbeast.com.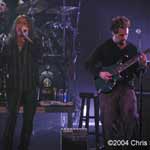 Set List:
SET 1
Intro Tape
As I Am
This Dying Soul
Under a Glass Moon
Beyond This Life (with extended Frank Zappa-based jam)
Hollow Years
War Inside My Head/The Test That Stumped Them All
Endless Sacrifice
Finally Free

Intermission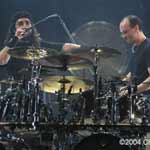 SET 2

Intro Tape

Metropolis
Caught In a Web
Drum Solo (with guest appearance by Scott Rockenfield)
Honor Thy Father
Key Solo
Erotomania/Voices/The Silent Man
In The Name of God

ENCORE

A Change of Seasons

(Photos by Chris Slack)

Please log in to view RANTS