OPERATION: MINDCRIME In Houston, TX With Photos!


By Cynthia Fields-Jalil, Writer/Photographer
Thursday, July 12, 2018 @ 8:21 AM


| | | |
| --- | --- | --- |
| | | Celebrating The 30th Anniversary OF Operation: Mindcrime At The House OF Blues |
Photos By Cynthia Fields-Jalil
Hey there KNAC.COM friends and family! I am super excited and feeling extremely thankful to "the one and only" Geoff Tate, former lead singer of QUEENSRYCHE and currently fronting his own band Geoff Tate's OPERATION:MINDCRIME for extending me the grand opportunity of shooting and reviewing his show in celebration of the 30th Anniversary of his brilliant masterpiece, the rock opera Operation: Mindcrime. It truly was a sincere pleasure to witness Geoff in celebration mode!
The show started promptly at 8pm with a band that I had never heard of called TILL DEATH DO US PART. It turns out the beautiful vocally talented lead singer clad in a edgy black outfit (body-clinging black top, black mini skirt and black boots), with a head of purple hair and heavy dark gothic make-up was none other than Geoff's daughter Emily Tate, who has been gifted with her father's pipes and his intense theatrical stage presence. Miss Tate entertained the very interested and inquisitive HOB audience by captivating them with her charismatic stage presence, theatrical dance moves and although not in exact order, the band's alternative rock debut CD Detached in its entirety that has some very well written lyrics and music. Thanks to dad's extensive musical career and coaching abilities, Emily is very comfortable on stage and was able to keep the audience entertained with her no holds barred humor and her amazing vocals throughout TDDUP's entire set beginning with the second song from their CD, "Watch Me Burn", followed by "Monster", "Cannonball", "Run", "Blue Boy", "Ink", "Salt Water Taffy", and ending the set with "We Killed Romance", again, all of which are on TDDUP's CD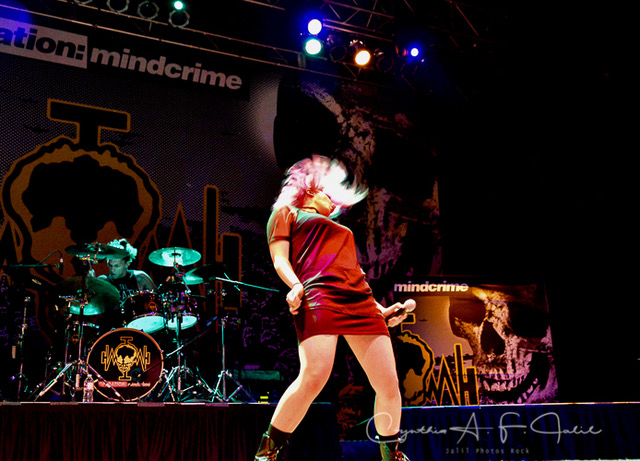 Detached. Keep in mind Miss Emily is the daughter of one of our music industries greatest talents and professionals who very clearly has been brought-up to be all that she can be on her own terms, and it shows! At one point midway through the band's set, she introduced her band members, who are vocalist and lead guitarist, Keiran Robertson, bassist Jack Ross, drummer Josh Watts and then pausing to thank the HOB crowd for the opportunity to play and for the "fun" show. After which she then directed the audience to the merch table to buy a CD and t-shirt so that she and her band could afford to eat! I for one happily and very enthusiastically obliged by purchasing a CD and a t-shirt to show TDDUP some well-deserved love and support. I predict that it won't be too long before TILL DEATH DO US PART will be performing for the masses on their own terms in the very near future! Make sure y'all catch'em wherever and whenever they come to a city near you, I promise y'all won't be disappointed!
After a quick intermission, the man of the evening, Geoff Tate, and his band OPERATION: MINDCRIME that currently includes TDDUP band members Keiran Robertson, Josh Watts and Jack Ross serving double duty, hit the stage along with OPERATION:MINDCRIME's longtime band member, lead guitarist Scott Moughton, and vocalist, keyboardist and lead guitarist Bruno Sa, formerly of ANGRA, Joe Lynn Turner, and Doogie White in full character with the opening song/act of Operation" Mindcrime's "I Remember Now", followed by "Anarchy-X", "Revolution Calling", the title track "Operation: Mindcrime", "Speak", "Spreading The Disease", "Mission" and every track in order thereafter with only the kind of vocal precision and passion that is Geoff Tate's. One of the show's highlights was when Emily Tate, aka Sister Mary, joined her dad to belt-out "Suite Sister Mary".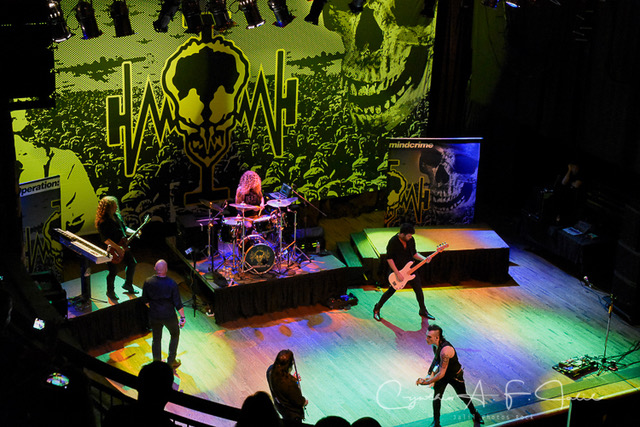 Watching both Tate's switch leads and harmonize together was truly mesmerizing. After Geoff ended what was the entire Operation: Mindcrime tracklist with "The Eyes Of A Stranger" to roaring cheers paired with his captivated audience singing with sheer joy to its chorus, he then introduced his band members with a quick comment about each member. The crowd all had a nice laugh when Geoff introduced Bruno Sa as he said "yes, that's his real last name! Now let's say it all together SAAAAAAAA!", all in the name of fun!
Afterwards, he very excitedly asked if the crowd wanted more? Of course we did, and of course he very willingly obliged, but not before he expressed his feelings of joy and wonderment about how he himself could not believe that "It's had been 30 fuckin' years since I first released this! Can you believe it? 30 fuckin' years for what is one of the greatest concept and trilogy albums of all time! He then graciously thanked us all for all of the love and support through out the year's, and then we were all treated to a QUEENRYCHE Greatest Hits four-song encore that was kicked off with "Best I Can". Afterwards, he introduced his next song with "I've been told that this song has been played at weddings, at funeral's, while making babies, and during the delivery of those babies, this is "Silent Lucidity"." He then proceeded to sing his heart and soul out to what is my Geoff Tate QUEENSRYCHE-era all-time favorite rock/opera ballad. Next up, he introduced yet another band favorite "Empire", ultimately ending our magical evening with the ever popular "Jet City Woman". The evening truly was an epic event to bear witness to, and that my friends was priceless! The pure energy, joy and roaring cheers & hand clapping from the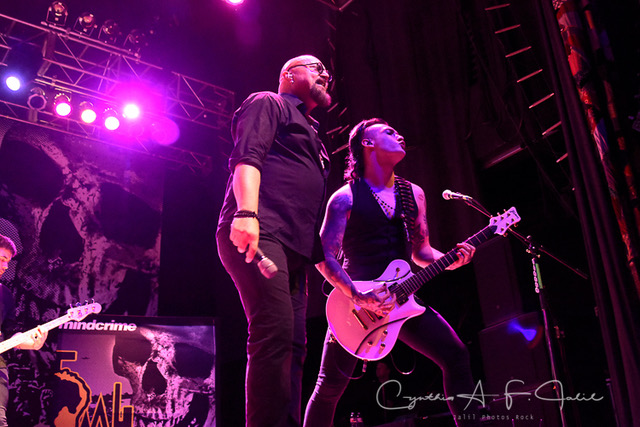 audience during Geoff and his bandmate's who took their grand finale bow to a standing ovation will no doubt be remembered by all in attendance with a smile for years and years to come! Let me tell y'all folks Geoff's 30th Anniversary of Operation: Mindcrime show is without a doubt a must-see not to be missed one. So, make sure y'all catch it when it passes through y'all's city too! And If y'all haven't already done so, make sure y'all head over to Geoff's social media platforms to stay up to date with Geoff Tate, and Geoff Tate's OPERATION: MINDCRIME band. Don't forget to also head-over to TILL DEATH DO US PART's social media platforms to discover what they have to offer too!
Check out some more photos from the show!
Photos By Cynthia Fields-Jalil

Please log in to view RANTS


ROBIN MCAULEY Alive

CRADLE OF FILTH, DEVILDRIVER In Santa Ana With Photos!

KAMELOT The Awakening

ALTER BRIDGE, MAMMOTH WVH In Houston, TX With Photos!

ACID KING Beyond Vision

STEEL PANTHER On The Prowl

NIGHT DEMON Outsider

YNGWIE MALMSTEEN In Ottawa, Canada

THEORY OF A DEADMAN, SKILLET, SAINT ASONIA In Houston, TX With Photos!

OFFICER X Hell Is Coming

PERIPHERY Periphery V: Djent Is Not A Genre

INSOMNIUM Anno 1696

STEEL PANTHER, CROBOT, TRAGEDY In Houston, TX With Photos!

BABYLON A.D. Live Lightning

ROTTING CHRIST, CARACH ANGREN, UADA, GAEREA In Houston, TX With Photos!

MOTÖRHEAD Bad Magic: Seriously Bad Magic

TRAGEDY I Am Woman

ROXANNE Stereo Typical

ANTHRAX, BLACK LABEL SOCIETY, EXODUS In Houston, TX With Photos!