DEVILDRIVER Outlaws 'Til The End Vol. 1


By Chris "Chili" Pirri, So Cal Contributor
Thursday, July 12, 2018 @ 11:09 AM


| | | |
| --- | --- | --- |
| | | |
DEVILDRIVER
Outlaws 'Til The End Vol 1
Napalm Records




Some of the best storytellers in the world of music belong to country legends. Sorry Pure Rockers but no one can tell an anecdote in a song quite like Johnny Cash, David Allan Coe, or George Jones to name a few. Now take these wonderful songs and give them to Dez Fafara and his band DEVILDRIVER and what happens is Pure Country Madness with a twist only Satan himself could imagine.

The album starts off with a great rendition of "Country Heroes", originally sung by Hank Williams III who even makes an appearance on the song. It sets the mood for the album as it starts off with a good classic guitar and a melody that would come straight out of a Roy Rogers film. Don't snub your nose too fast as the blaring drum blasts kick in soon after and show you why DEVILDRIVER has improved with each and every album that they put forth to us. Dez's deep and guttural voice just brings magic to this song. The next number is "Whiskey River", originally done by Country icon Willie Nelson. Willie had a unique voice and you immediately knew it was him singing. The same can be said for Randy Blythe of LAMB OF GOD who makes an appearance on this song along with his bandmate Mark Morton. Mark's riffs are just pure genius and would probably make Willie roll up another joint and smile with pleasure. Randy also does guest vocals along with John Carter Cash, the son of the Man in Black Johnny Cash on "Ghost Riders In The Sky".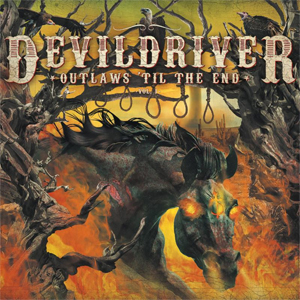 Other guest performances on this album include Wednesday 13, Brock Lindow (36 CRAZYFISTS), Burton Bell (FEAR FACTORY) & Lee Ving (FEAR). There are a total of twelve songs on this album and all seem to work very well except "Outlaw Man", originally done by THE EAGLES and "Copperhead Road" from Richard Thompson. They just seem to fall flat and don't get me in the mood to bang my head or even tap my foot. However, all the other songs bring solid country gold to the present world of metal. By far the best song on this album is "The Ride", originally done by David Allan Coe. It is a tremendous song and story about a hitchhiker's encounter with the ghost of Hank Williams. Lee Ving and Dez Fafara bring this song justice just like David did back in 1983.
This concept worked very well. The one thing that makes me somber about this album is that we probably will not get to see these songs performed live too much. Hell, I wish all these musicians involved would come together and do a couple of gigs, but it would be hard since most are always on the road. If for some reason you don't want to try this album because they are country songs, shame on you. That's all they are, words written by country icons. It's still hard grinding in your face metal and you will not be disappointed. The album does say Volume One so Dez if you are reading this I think a Volume Two should come out between the next albums you conceive. Just throw in a Buck Owens or Waylon Jennings song. I would love to hear your versions of their songs.
4.0 Out Of 5.0

Please log in to view RANTS




YNGWIE J. MALMSTEEN, GLENN HUGHES In Worcester, MA With Photos!

ALICE COOPER Road

RAT ROD Four On The Floor

GIRLSCHOOL WTFortyFive?

DANKO JONES Electric Sounds

AVATAR, ORBIT CULTURE, THE NATIVE HOWL In Houston, TX With Photos!

THE DEAD DAISIES In Hollywood, CA With Photos!

KILL DEVIL HILL Seas Of Oblivion

THE DEAD DAISIES In Ottawa, Canada

MAMMOTH WVH In Santa Ana, CA

UADA Crepuscule Natura

BARONESS Stone

KAMELOT, BATTLE BEAST, XANDRIA In Houston, TX With Photos!

CRYPTOPSY As Gomorrah Burns

RAY ALDER II

GHOST, AMON AMARTH In Houston, TX With Photos!

U.D.O. Touchdown

DETHKLOK Dethalbum IV

STEVE VAI In Ottawa, Canada

PANTERA, LAMB OF GOD In Houston, TX With Photos!